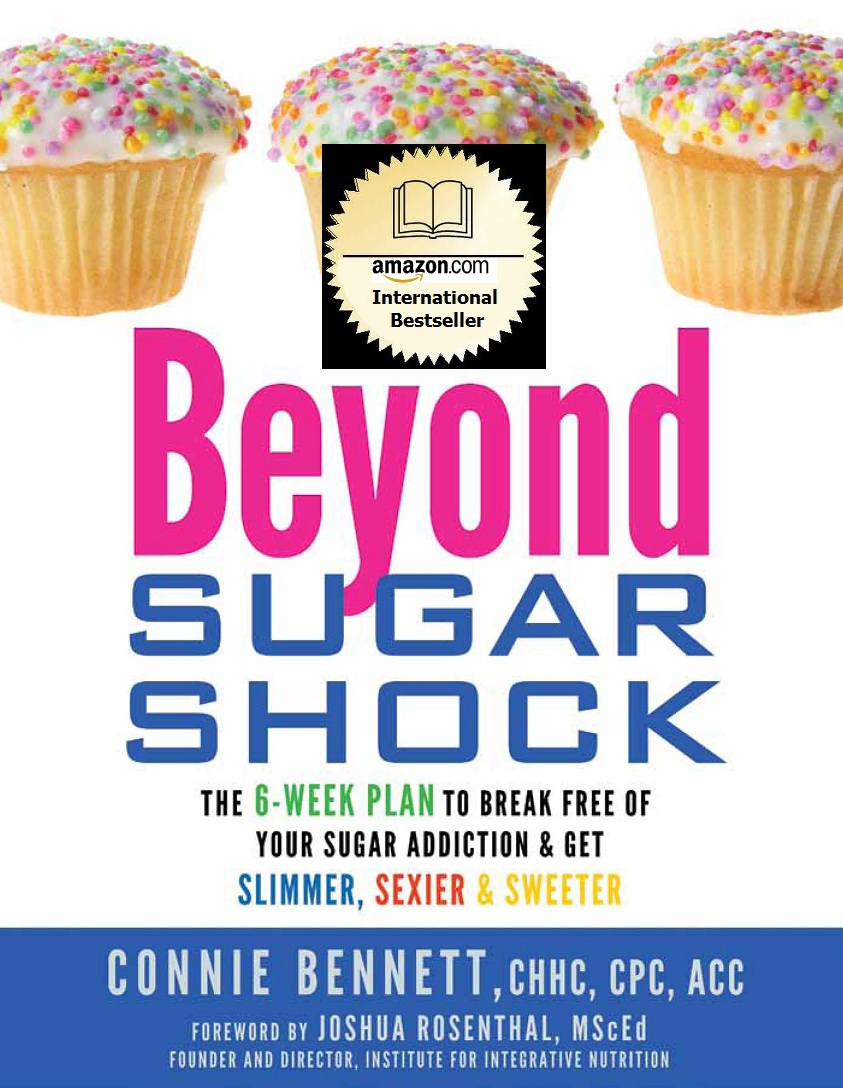 Beyond Sugar Shock (Hay House, 2012)
From Connie Bennett, author of the bestseller Sugar Shock! — the book that Mehmet Oz said "spills the beans" on the shocking impact of sugar and simple carbohydrates — comes Beyond Sugar Shock, the first book to provide a simple, practical, mind-body-spirit plan to help readers break free of their sugar or carb addiction.
For the millions of people worldwide who suffer with such frustrating problems as excess weight, low libido, overpowering fatigue, and many other unexplained ailments, Beyond Sugar Shock provides a simple, step-by-step, six-week program to gently guide readers to a healthier, happier, sweeter life.
In this friendly, compassionate book, readers will get:
A playful, but serious Sugar Shock Quiz to help them learn about their personal sugar addiction;
Easy, tried-and-true techniques that Connie, her clients and Sugar Freedom Now participants have used to successfully conquer their dangerous sugar habits;
Dozens of easy tips and tactics to stomp out carb cravings;
Simple meal plans,
Tasty recipes;
Entertaining, interactive "adventurcises" (adventurous exercises) such as "Do Sugary Soul Searching," "Party with the Produce," and "Snatch the E-Z Vitamins" ;
Affirmations to refresh, rejuvenate, and renew the mind, body, and spirit;
Remarkable Sweet Success Stories with before-and-after photos.
In Beyond Sugar Shock, readers will find out that letting go of their sugar or carb addiction is much simpler than it seems-and it can even be fun! And once they've addressed their addiction, readers will not only look and feel better, but will also experience an overpowering sensation of joyous freedom and a sweeter, balanced life. Order now on Amazon!
ENDORSEMENTS FOR Beyond Sugar Shock
"I have taken the advice and guidance that Connie offers here and used it to reclaim my  own well being. We have unknowingly and unwittingly become a nation of addicts, and here in this book you are given a blueprint for living a life of perfect health. Follow the easy-to-apply guidelines, and then you will be able to look in the mirror and say, `I AM finally living a healthy life.' There is no greater feeling and it is your birthright. You were not designed to walk around in shock. A much needed book. —Dr. Wayne W. Dyer, internationally renowned author and speaker and bestselling author of more than 30 books
"We are born loving sugar for its sweetness and its ability to help us store up fat for lean times. Times are no longer lean for most and too much sugar is ruining our health and our lives. Beyond Sugar Shock gives you everything you need to bring more sweetness and health into your life….. without the risk of sugar!" — Christiane Northrup, M.D., ob/gyn physician and author of the New York Times bestsellers, Women's Bodies, Women's Wisdom and The Wisdom of Menopause
"If you are ready to love yourself and your body, abandon the wounds of your past, and free yourself from unhealthy addictions, then read Beyond Sugar Shock. Then, combine the information it contains with your new-found inspiration." –Bernie Siegel, M.D., author of A Book of Miracles and Faith, Hope & Healing
"Sugar is NOT good for your brain. It increases erratic brain cell firing, promotes inflammation and is clearly addictive.  Beyond Sugar Shock can help you get sugar out of your life and replace it with health and vitality.  It is a powerful program full of easy tips and tactics." –Daniel G. Amen, M.D., bestselling author of Change Your Brain, Change Your Body, Magnificent Mind at Any Age, and Change Your Brain, Change Your Life 
"This enjoyable book shows you how to change your diet, reduce your sugar intake, lose weight and enjoy greater energy than ever before." –Brian Tracy, motivational speaker and author, Earn What You're Really Worth 
"If you have any trouble at all losing weight and keeping it off or feel like you may be aging too fast, then you absolutely must read Beyond Sugar Shock by Connie Bennett. Everyone must seek out this life-saving information before it's too late." — Dharma Singh Khalsa, M.D., President/Medical Director, Alzheimer's Research and Prevention Foundation
"Quitting sugar is no easy feat, but Connie Bennett's life-changing book, Beyond Sugar Shock, makes it simple, fun, and do-able. I'll be recommending this book to my clients." – JJ Virgin, Ph.D., Celebrity Fitness Nutrition & Fitness Expert, author of Six Weeks to Sleeveless and Sexy co-star of the TLC reality series, "Freaky Eaters"
"If you're a sugar addict like most people, you need to read Beyond Sugar Shock. This compassionate, comforting, uplifting book will change your life." —Kathy Smith, International Fitness Expert
"Connie Bennett's Sugar Shock! is one of the best books ever written about the toll taken by excess sugar consumption, and Beyond Sugar Shock! is a worthy and logical follow-up. Anyone can use her six-week action plan to break their sugar addiction—and make no mistake, sugar is addictive, not to mention complicit in diabetes, heart disease, kidney disease, and an long list of other health calamities when consumed to excess. Connie is a true expert in the field, and this latest book of hers represents yet another major contribution. I give it my highest recommendation." –Jeff O'Connell, Bodybuilding.com Editor-in-Chief, author of Sugar Nation  
"Tired of being a sugar junkie? Ready to feel better instead of guilty? Then this book is for you. Connie Bennett, Sugar Freedom Coach extraordinaire, will show you how to ditch your sugar addiction by treating your body, mind and spirit with tenderness, compassion, and even humor!"–Jacob Teitelbaum, M.D., integrative physician and author, Beat Sugar Addiction Now!
"Thank you, Connie, for continuing your important mission to WAKE America up to our S.A.D. relationship with SUGAR and what to do about it!!!!! Your new book, Beyond Sugar Shock, answers a huge hunger millions have for an easy way out of their horrible addiction. You're changing people's lives with your powerful, amazing books!–Kathie Dolgin (a.k.a. "High Voltage," health and pioneer; author, Sugar Savvy Solution, and founder of the first Sugar Free public school in New York City
"Connie has written another engaging book that makes the reader a participant in a fun ride to better health. Beyond Sugar Shock offers an engaging, interactive, approach to quitting sugar and losing weight in which the reader not only becomes an active participant but becomes the conductor to gain control of his or her own health.  Bravo, Connie!" –Richard J. Johnson, M.D.,  Tomas Berl Professor of Medicine, Chief, Division of Renal Diseases and Hypertension, University of Colorado, Denver, and author, The Sugar Fix: The Sugar Fix: The High-Fructose Fallout That Is Making You Fat and Sick
"Beyond Sugar Shock fearlessly tackles the nation's Number One health crisis – the diabesity epidemic. Connie Bennett offers real life solutions, recipes, take-action programs and spot on science to help break the sugar addiction that is fueling our nation's health epidemic.  In the right hands,  this book could change the course of America's health with Connie Bennett's unique 6-week plan for a slimmer, sexier and sweeter YOU!" –Ann Louise Gittleman, Ph.D., C.N.S. author of The Fat Flush Plan and Fat Flush for Life
"Break free! This refreshing and enlightening book shows how to release sugar addiction easily. It can save your life. Read it!" –Dr. Joe Vitale, author, The Attractor Factor
"Beyond Sugar Shock ambitiously breaks new ground in the field of sugar addiction! Connie shows you how to bravely and easily shift away from negative and harmful thinking to positive and productive thinking to help get you healthier and happier. She will show you how to develop hobbies and activities that nurture and nourish you; and use cutting-edge techniques that lift you to a higher plane. You must read this book if you are serious about making a change in your health and lifestyle to finally live the life you want and more importantly, deserve!" —John Assaraf, New York Times Bestselling Author, The Answer and Having It All and featured in the featured in the Blockbuster Movie, "The Secret"
"As I've discovered myself, one of the keys to being happy is eating well, which includes limiting sugar consumption. But as any sugar addict knows, this is a tough habit to kick! In Beyond Sugar Shock, Connie Bennett shows you an easy and empowering way to say farewell to those `sweet poisons.'" —Marci Shimoff, NY Times bestselling author, Happy for No Reason and Love for No Reason
"Sweet! Connie Bennett has done it again. Only this time she offers a step-by-step guide that includes the best tools to detox from all levels of sugar addiction. This informative handbook for the mind, body and spirit includes quizzes, affirmations and "adventurcizes."  It's a simple and fun approach to a more joyous life — just like having Connie by your side." –Debbie Phillips, Founder, Women on Fire and author Women on Fire: 20 Inspiring Women Share Their Life Secrets (and Save You Years of Struggle!)