Message from Connie: Special thanks to Dr. Mark Hyman, author of the new book, What the Heck Do I Eat? Dr. Hyman, a 10-time # 1 New York Times bestselling author, who is dedicated to tackling the root causes of chronic disease by harnessing the power of Functional Medicine to transform healthcare. He is medical director at Cleveland Clinic's Center for Functional Medicine and founder of The UltraWellness Center.
Join us on my Gab with the Gurus Show on Mon., Feb. 26 (at 12:00 pm PT/ 3:00 pm ET), when Dr. Hyman will tell you how the food industry plots to make you a "a heavy user"; how you're being fooled by so-called healthy foods; how to save money eating healthily an what to eat to have vibrant health. Now here's his post: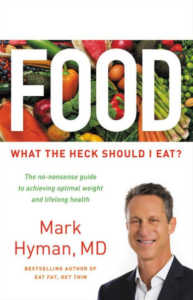 "Most Americans don't eat food anymore. They eat factory-made, industrially produced food-like substances – what I call Frankenfoods—that contain things like trans fats, high-fructose corn syrup (HFCS), monosodium glutamate (MSG), preservatives, pesticides, and antibiotics.
"Today's industrial food-like substances have hijacked our taste buds and brain chemistry. Food giants have taste institutes, where they hire cravings experts to identify the `bliss points' of foods to create `heavy users.'
"Our industrial food system, sponsored and supported by our government policies, has taken over our bodies, minds, and souls. Most of us have no clue. And worse, most of us blame ourselves for our bad habits, cravings, and weight gain.
"Even so-called healthy foods are hijacking our health. Manufacturers know that we're becoming more health-conscious, and they're staying three steps ahead of us. Most `healthy' foods today are owned by big-food manufacturers. (more…)