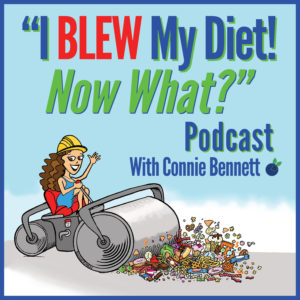 Since 2007, I've been hosting the Gab with the Gurus Show, where I've interviewed hundreds of renowned experts and bestselling authors in health, wellness, fitness, sugar, personal empowerment and blogging. I will continue that show but on a less regular basis.
Soon, I'm also starting a new "I Blew My Diet! Now What?" Podcast," for which I'll bring on leading  authors, bloggers and podcasters, who specialize in weight loss, fitness, mindset, and willpower so you can get the slim, trim body and beautiful life you seek.
Now, I'd like your help to pick the cover art for the podcast. First cover option is included to your left. (See end of this post to find out how to vote for these covers.)
First, learn about the premise behind the podcast by seeing if you can relate to this.
For weeks, months, years, you've been diligently cutting out carbs, avoiding white sugar and processed carbs and banning most anything that's unhealthy. You're oh-so-excited. Your slim pants are finally fitting, your energy is soaring, your enthusiasm is high, and then …. something life-changing, challenging or heartbreaking happens. For instance:
You could be reeling after the death of a loved one.
Maybe you're going through a difficult divorce.
Perhaps you're healing after verbal or physical abuse.
Or you're under massive stress at work or at home.
In short, you may have been TAGGED™ — that's my acronym for Traumatized, Abused, Gripped by Grief or Emotionally Devastated.
What do most of you do when our hearts are breaking, times get tough and/or we feel terribly stressed? About two-thirds of us—mostly us ladies—behave badly around food. In short, we blow our diets.
Whatever your emotional drivers, you began to do what you swore would happen again. You buy and then mindlessly gobble on sugary cookies, chips, bread, doughnuts or ice-cream – or, perhaps all of the above. Plus, you may even guzzle a soda or sweet ice tea.
Shortly, you get angry, upset and fed up with yourself, because you had a Carb Relapse or Sugar Relapse, as I call it. How could this happen after you were doing so well?
I'm intentionally using the word relapse although I'm not talking about drugs, booze or porn. I'm using the word relapse to refer to sweets and toxic carbs, because ample research now reveals that sugar—and, by extension, processed, fiber-stripped carbs, which quickly send sugar into your bloodstream—are as addictive as cocaine or heroin.
Then you just can't stop your sugar or carb bingeing. Let's face it, for most, you can't have just a one-time binge. Once you're surfing the Carbs-Clamoring, or Sugar-Sinning wave, it's hard to climb out of that sugar sea.Then, days or weeks, or even years, go by and you're off doing more and more Heartbreak Bingeing™ (as I call it).
You become filled with self-loathing. You're so disappointed in yourself. And you keep wondering, "Where did my willpower go?"
Then, you keep complaining to a close friend, a work colleague, a close relative or all who'll listen: "I'm so mad at myself! I Blew My Diet! Now What do I do?"
Does this sound familiar? Have you been in this dismal place, too? As I shared previously, I had this dreadfully difficult experience myself in late 2012. After my Mom died, I Blew My Diet bigtime, had a massive Carb Relapse, packed on 21 embarrassing pounds, and quickly flipped from empowered to powerless.
But out of that pain my new expertise was born. For the past few years, I've been in deep research mode to find out how to help you Take Back Your Power using tools that are FEPPP™.  That's my acronym for Fast, Easy, Proven, Powerful, Portable.
Now, it's time to share the exciting news. I'm wrapping up my next book, which will be titled, I Blew My Diet! Now What? The Super-Simple Plan to

R

ebound After Your Carb Relapse and Lose Weight for Good
In addition, as I shared earlier, I'm starting my I Blew My Diet! Now What? Podcast. (That way you'll be able to get tips, tactics and help to Rebound After Relapse before my book comes out.)
For now, please share your thoughts. Which of these two cover images do you like for the new cover art for my new podcast? I'm eager to hear what you think.
Just post here or email me directly to tell me which one you like best:
Option # 1: The Cartoon Connie on the Bulldozer — My cartoon character (to your left is flattening
tempting, dangerous, fiber-stripped "treats."
Option # 2: Rebound Ninja Connie —
Cartoon Connie is kicking those carb-stripped junk
foods to smithereens.
Which choice do you like best?
Option 1 or Option 2?
If you don't like either option and have an idea for something else, let me know here.
Stay tuned for updates about my upcoming "I Blew My Diet! Now What?" Podcast.