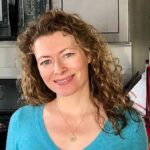 Note from Connie: March is National Noodle Month. Up until a few years ago, you had to use vegetables for fake noodles. But now, when you're on a low-carb food plan, you can enjoy the fat-free, calorie-free, fat-free, gluten-free noodles. Meet the healthy, no-sugar Shirataki or Miracle Noodle (which I discussed five years ago).
Check out the tasty, low-carb noodle dish, which my friend Angelika Ilina developed.
Please note that this tasty recipe features oysters, which are often considered an aphrodisiac.
Make sure to share photos of the noodle dishes you create, thanks to Angelika's recipe:
Serves 2
Ingredients:
2 packages Shirataki noodles (I use Miracle Noodle® Angel Hair or House Foods brands)
2 packages smoked oysters in pure olive oil (I use Crown Prince Natural brand)
2 tablespoons grass-fed butter (or cooking fat of choice such as ghee, coconut oil, or avocado oil)
2 cloves garlic, minced
4 cups baby greens such as spinach, arugula, kale, Swiss chard or a blend
¼ teaspoon sea salt, or to taste (I use Himalayan pink salt)
1/8 teaspoon ground white pepper, or to taste
Flat-leaf Italian parsley for garnish (optional)