Have you heard about the rats, who found sugar or saccharin more tantalizing than cocaine?
In this study, most of the critters studied — a whopping 94 percent — wanted sugar or saccharin, NOT cocaine.
Recently, while planning my upcoming Crush Your Cravings Boot Camp, I was reminded of a fascinating study from Dr. Serge Ahmed, a scientist with the University of Bordeaux in France.
Back in 2009, I had the pleasure of meeting Serge while taking a ferry to a Food Addiction conference on IslandWood in Bainbridge Island, where I had the honor to give fitness guru Jack LaLanne a Lifetime Achievement Award.
I invite you now to "eavesdrop" on my fascinating conversation with Dr. Serge Ahmed.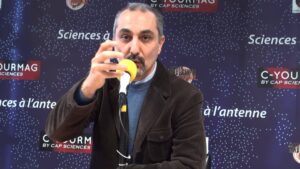 Instead of practicing my rusty French, I asked Serge in English so I wouldn't miss anything about his sugar addiction research.
Just imagine Serge speaking with his adorable French accent.
He told me, "Connie, I was so surprised. We discovered that sugar may be as addictive as cocaine."
You had to see Serge's face to get a sense of this monumental discovery.
His eyebrows lifted. His eyes grew big. His face registered shock. He moved his hands about dramatically.
The next day, at the conference, Serge laid out his findings in more detail to the attendees of this event about Food Addiction: The Obesity Epidemic Connection."
The title of Serge's presentation told it all. It posed the question, "Is Sugar as Addictive as Cocaine?"
Ultimately, Serge and his research team discovered that intense sweetness "is much more rewarding and probably more addictive than intravenous cocaine."