Here are all the endorsements for my upcoming book SUGAR SHOCK! Pretty darn exciting!
"Connie's work spills the beans on the shocking impact of simple carbohydrates on aging and quality of life—a double whammy for humanity."
– Mehmet Oz, M.D., coauthor of the # 1 New York Times bestseller, YOU: The Owner's Manual
"When I finally decided to turn my life around through exercise and better nutrition, one of the first things I did was give up eating refined, processed sugar. SUGAR SHOCK! by Connie Bennett is the definitive look at how Americans are simply eating too much sugar and how this is having a profound negative impact on millions of people. This well-researched book should be considered must reading for anyone interested in the complex health discussion underway in America today!"
– Arkansas Governor Mike Huckabee
"This book is long overdue. Millions of people, including me, have been plagued by their relationship with Sugar, and Connie Bennett has done a superb job bringing the topic into the public's eye. I wholeheartedly recommend SUGAR SHOCK! to anyone interested in improving their health."
– Film producer Harvey Weinstein ("Chicago," "The English Patient," "Pulp Fiction," "Life is Beautiful," "Good Will Hunting," and many more)
"Wow! This is an impressive, exceptional expose and self-help work! Just about every American—or anyone who regularly eats sugar and processed carbs—needs to read this eye-opening, hard-hitting, and ultimately inspiring book."
– Oz Garcia, Ph.D., "nutritionist to the stars" and author of Look and Feel Fabulous Forever
"This is really
a stunning piece of work — a major contribution to the popular literature on
blood sugar and carbohydrate addiction. Connie Bennett is a tireless researcher
who has gone to great lengths to get the facts right and to explain them in an
interesting and user-friendly way. She also managed to interview the absolute
best minds in the field of diet and health. Steve Sinatra has been in the
forefront of integrative medicine for a long time and is one of my favorite
go-to doctors. Together they have produced a book that really should be read by
everyone interested in improving their health."
– Jonny Bowden, Ph.D.,
C.N.S., author, The 150 Healthiest Foods On Earth (Jan. 2007, Fair Winds
Press) and Living the Low Carb Life: Choosing the Diet That's Right For You,
From Atkins to Zone
"How can the once-sickly, depressed, unfocused Connie—who sought medical treatment from me in 1998—be the same woman, who, years later, researched and wrote this groundbreaking book about sugar's many dangers? Little did I realize that by helping Connie to confront her sugar habit that she would turn around and help countless others to conquer their sugar problems, too. SUGAR SHOCK! is an easy-to-read encyclopedia of information about the negative effects of refined sugars and carbohydrates on the human body. I am sure that it will become the leading authority on this subject."
– Keith DeOrio, M.D., integrative physician and Connie's doctor (and hero) back in 1998
"This groundbreaking, hard-to-put-down book opens your eyes to little-known facts about how the typical American diet [high in sugar and refined carbs] could be wreaking havoc on your health, emotions, and relationships. You're hooked from the first chapter, when author and journalist Connie Bennett offers an entertaining, insightful account of how her sugar habit made her so moody that her boyfriend bid her farewell. SUGAR SHOCK! is a must-read—especially if you want harmony in your relationships."
– Human relations expert Barbara DeAngelis, Ph.D., author of 14 bestsellers, including the # 1 New York Times bestsellers, Secrets About Men Every Woman Should Know and Are You The One For Me?
"Wish this book had been around when I was a teen—my whole life would have been better. Connie's done enormous research, and millions of sugar addicts and hypoglycemics all around the world will benefit from this enlightening, entertaining, and fun book. SUGAR SHOCK! is a great read!"
– Naura Hayden, author of eight books, including the # 1 New York Times bestseller How to Satisfy a Woman Every Time…and have her beg for more! and New York Times bestseller Everything You've Always Wanted To Know About Energy…But Were Too Weak to Ask
"SUGAR SHOCK! offers the best kind of `sweet' that exists. This book is `Brain Candy' for the smart consumer!"

– Marilu Henner, actress and author of Marilu Henner's Total Health Makeover
"What's holding you back from having the energy and body you want? What's holding you back from being the best you can be? Connie Bennett has the answer! For so many people, it's the sugar habit. Like a poison, sugar takes your body on a roller coaster ride of highs and lows, wreaking havoc on your blood sugar and nervous system as you tailspin out of control and reach for more. Follow Connie's powerful advice in SUGAR SHOCK! and finally break the sugar habit for good."
– Fitness expert Kathy Smith, author/creator of bestselling books and DVDs
"This book accurately depicts sugar addiction as a disease, which has many similarities to and underlying mechanisms in common with drug and alcohol abuse. Through Connie's exhaustive research, interviews, and citations, she convinces us that, like drug addiction, sugar addiction is an environmental-biological disorder and a disease, not a moral weakness. Fortunately, Connie's interesting and clear writing, combined with a positive overtone, gives us hope that through behavioral change, people can reverse their SUGAR SHOCK! disease and live longer, healthier, and happier lives."

– Marilyn E. Carroll, Ph.D., professor of psychiatry and neuroscience at the University of Minnesota, who has spent 30 years researching drug addiction and its interaction with feeding behavior
"Sweet as sin and deadly as a bullet. Sugar will make you fat, ruin your health, and end your life. In SUGAR SHOCK! Connie Bennett tells us all about it—and how we can stop it. A must read!"
– Dharma Singh Khalsa, M.D., author of the international bestseller, Brain Longevity
"SUGAR SHOCK! tells the shocking truth about the devastating physical and mental effects of over consumption of sugar and refined carbs. And most importantly, it lays out the path to kicking the sugar habit and reclaiming your health!"
– Christiane Northrup, M.D., author of the bestsellers, Mother-Daughter Wisdom, The Wisdom of Menopause, and Women's Bodies, Women's Wisdom
"SUGAR SHOCK! gives us the opportunity to waken from our sweetened slumber to the serious, well-researched health implications of consuming a diet high in sugar and flour. Read this book. It could save your life."
– Mark Hyman, M.D., author of New York Times bestseller Ultra-Metabolism
"This book should be required reading for everyone who eats! SUGAR SHOCK! outlines, in a palatable and easy-to-digest style, the ravages of sugar and refined carbohydrates on the body, mind, and spirit, as well as its role in the mounting toll of degenerative and malignant diseases. Like Fast Food Nation and `Supersize Me,' SUGAR SHOCK! provides a much-needed wake-up call. Not only is this book a valuable, well-referenced resource replete with medical input, but it spotlights Connie's triumphant journey, which will hopefully inspire countless readers to free themselves from the sweet clutches of sugar!"
– Donald I. Abrams, M.D., Director of Clinical Programs, OSHER Center for Integrative Medicine, University of California, San Francisco, and Chief, Hematology-Oncology, San Francisco General Hospital
"Connie Bennett has written a compelling, highly readable, up-to-date book. SUGAR SHOCK! is a must read for anyone who cares about his or her health and well being!"
– Jill R. Baron, M.D., integrative medicine physician and stress-management expert
"For years, I've been warning my patients about the dangers of sugars and refined carbohydrates. At long last comes a book that tells the full story! SUGAR SHOCK! is hard to put down—it's a fascinating, easy-to-read, very well-researched book. I'll be recommending this to all of my patients."
– Fred Pescatore, M.D., author of The Hamptons Diet
"SUGAR SHOCK! will shock you! Connie Bennett has dedicated her life to studying the detrimental effects of sugar. She has written a detailed, compelling, and scientific book that will become an instant classic."
– Joshua Rosenthal, director of the Institute for Integrative Nutrition
"How far Connie has come! Back in spring 1998, she would cry to me over the phone about how bad she felt, both physically and emotionally, because of her hypoglycemia, and she wondered if she would ever get better. Today, she is author of a book that is like none other. SUGAR SHOCK! tells it like it is—in a pure, simple, non-sugar-coated way. Everyone, whether hypoglycemic or not, will benefit from these provocative stories, powerful information, and health-healing messages."
– Roberta Ruggiero, founder and president of The Hypoglycemia Support Foundation, Inc., and author of The Do's and Don'ts of Hypoglycemia: An Everyday Guide to Low Blood
Sugar
"SUGAR SHOCK! is an engrossing, ultimately hopeful book that is brimming with fascinating, little-known facts and insights. After reading Connie's labor of love, you'll learn the hard truth about sugar in its various forms—sucrose, fructose, glucose, maple syrup, fruit juice, honey, barley malt, rice syrup, agave, etc. If you do consume sugar, it should be the last ingredient on your food label— or preferably not there at all. Better yet, eat only whole, unpackaged foods, without added sugar."
– Nancy Appleton, Ph.D., author, Lick the Sugar Habit and Lick the Sugar Habit Sugar Counter; who has studied sugar's dangers since the 1980s
"SUGAR SHOCK! is the ultimate anti-aging, weight-loss, mood-management, optimal-health-and -detoxification book! Not only will it convince you FINALLY to give up your sweets—but it will give you effective strategies from national experts to help you succeed. I would love to see this book become required reading for every high school student, every expectant mother, every med student… EVERYONE… Our health crisis could turn around overnight if people really understood how dangerous and damaging sugar, refined carbs, and artificial sweeteners truly are to their health."
– JJ Virgin, C.N.S., C.H.F.I., nutritionist for Dr. Phil's "Ultimate Weight Loss Challenge"
"Connie does a remarkable job in explaining in lay terms the plethora of research, myths, and associated health concerns of the sugar addict. Any sugar addict should read this book between sugar bingeing. Maybe he or she will stop!"
– Kenneth Blum, Ph.D., the first to associate the dopamine receptor gene with alcoholism and creator of the term, "Reward Deficiency Syndrome"
"Connie Bennett delivers a potent 1-2-3 knockout punch to the sugar demons infiltrating our lives and threatening our health and well being. SUGAR SHOCK! is a `must-read' for all parents-to-be, especially women and men challenged by insulin overload, carb over-nourishment, and metabolic infertility."

– Ronald F. Feinberg, M.D., Ph.D., reproductive endocrinologist and author, Healing Syndrome O: A Strategic Guide to Fertility, Polycystic Ovaries, and Insulin Imbalance
"The world has been waiting for a book such as SUGAR SHOCK! It contains powerful, cutting-edge and very accurate information that can help millions. The next time you're about to sit down to a piece of cheesecake or a soda, this book will certainly make you think twice. I predict that SUGAR SHOCK! will be a huge bestseller because of the copious and understandable information provided. If you care about your own health or the health of family and friends, read this book and buy it for them! And disregard the majority of non-nutritionally trained doctors' counsel (or so called experts), who tell you `all sugars are alike and metabolized alike'—it's simply NOT true."
– Russ Bianchi, managing director, Adept Solutions, Inc., a global food and beverage product development firm
"Sugar is sweet. Tasty to eat. But, it mightily depletes. Read SUGAR SHOCK! your wisdom to complete. It's deep and will take your health to new peaks."
– Mark Victor Hansen, co-author of One-Minute Millionaire and co-author of more than 65 titles in the bestselling Chicken Soup for the Soul series
"If you can't go a day without eating sweets or living on soft drinks, SUGAR SHOCK! will change your life. Depression, obesity, mood swings, anxiety, insomnia, diabetes, heart disease, and more have been linked to sugars. Connie Bennett has done an awesome job of pulling the research together in an informative way that will really grab you. This is an important topic done in a professional and meaningful way. Buy it to change your life."
– Liz Lipski, PhD, CCN, Author, Digestive Wellness and Digestive Wellness for Children and founder of Innovative Healing and Access to Health Experts
"Connie Bennett delivers a mind-blowing, provocative, easy-to-read book about how eating lots of sweets can throw you into SUGAR SHOCK! and usher in a host of problems, from depression to crying spells to diabetes. She then offers the most sound, effective, and do-able plan to bust your sugar vice out of your life for good. Let my friend Connie lead you from a scary, destructive Candy Land to a life of better health and fitness—she knows the way because she has walked it and talks it better than anyone else."

– Julia Havey, eDiets.com Master Motivator and author of The Vice Busting Diet
"As primary health care providers for millions of families worldwide, we chiropractors will want to recommend this landmark book to all our patients so they can learn about the detrimental effects of sugar and artificial sweeteners. SUGAR SHOCK! provides helpful, much-needed information, and it is a more-than worthy descendant of Sugar Blues, which is now more than 30 years old."
– Chiropractor Dr. Eric Plasker, Founder and CEO, The Family Practice, Inc.
"Oh, my goodness, you're describing my sister in this book! I bet all the sugar she eats often makes her act quite unlike her sweet self. Maybe she simply needs to stay away from sweeteners! I've been telling her for years that sugar disrupts her emotional balance and makes her look unhealthy. Connie Bennett's SUGAR SHOCK! is amazing!"
– Anti-aging and facial-fitness expert Cynthia Rowland
"SUGAR SHOCK! insightfully, humorously, and convincingly presents a fresh look at what sugar can do to your body, mind and spirit. You will laugh, you may cry, but you will definitely learn surprising facts that you will long remember and that can help you and those you love avoid a lot of future problems. This is an eye-opening book that should be in every home and doctor's office."
– Barbara Reed Stitt, Ph.D., president, Natural Ovens Bakery; author, Food & Behavior and Roadmap for Healthy Foods in Schools; and former Chief Probation Officer in Ohio, who helped probationers kick sugar and stay out of trouble with the courts
"Connie Bennett has written one of the most important health books of the 21st Century in SUGAR SHOCK! Every single diabetic and obese person needs to read this book! Connie shows us that there are ways to overcome the preventable epidemics of obesity and diabetes and live a sweeter life in the process without sugar. When I was losing 180 pounds in 2004 on a low-carb diet, one of the keys to my radical transformation was ending my lifetime addiction to sugar before it literally killed me. I can proudly say I no longer consume sugar, because it is 'rat poison' to me, and my health and weight are better than they have ever been."
– Jimmy Moore, blogger and author of Livin' La Vida Low-Carb: My Journey From Flabby Fat To Sensationally Skinny In One Year
"SUGAR SHOCK! is a totally empowering look at a very disempowering problem. A WOW of a topic! This book is more yummy than any sweet `treat.' Everyone who struggles with sugar will see herself or himself in it. This truthful, courageous look at the dangers of sugars and refined carbs will help millions. The mind-bending information and unique approach will open everyone's eyes to something that we all suspected was true—but didn't want to see. Connie, thank you for putting your story and research out there."
– Devorah Cutler-Rubenstein, president, Script Brokers and Noble House Entertainment, and producer of "The Substitute," starring Tom Berenger
Please follow and like us: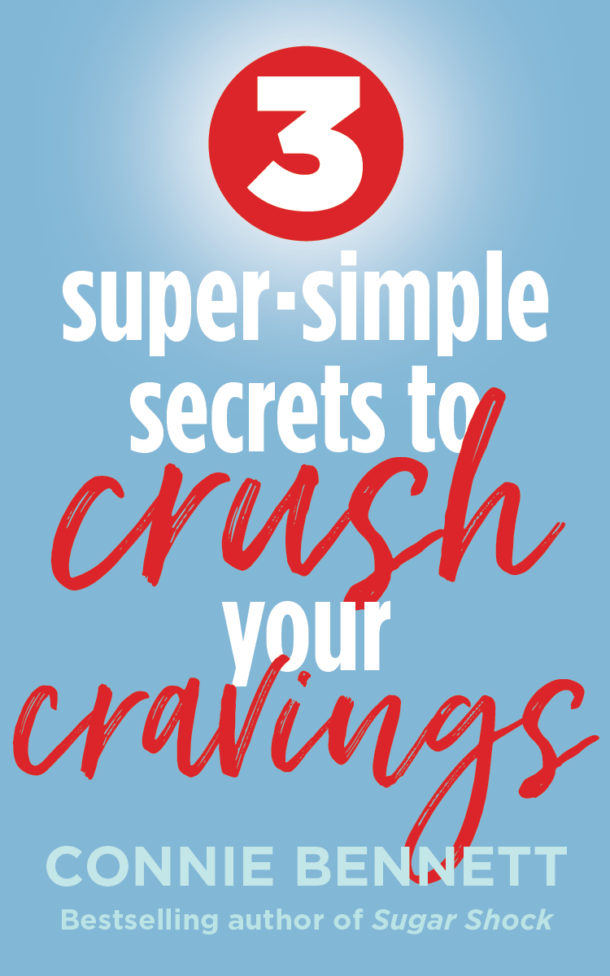 Get Your FREE Cravings-Crushing, Quick-Start Guide!
Do your cravings make you frustrated, frazzled and overweight?
Get Your FREE download now to Crush Your Cravings, starting today. 
This fun, fascinating, science-based, Cravings-Crushing, Quick-Start Guide will whisk you away from temptation for sugary, salty, fatty junk non-foods and and into the glorious, delicious, liberating world of self-control.
Welcome to the Cravings-Crushing Community. 
Please tell us here, on this blog, which of these tools you like best.