Four years ago, around this time, after a grueling year watching the difficult death of my Mom, Crazy Cravings for salty carbs and fatty cheeses hit me hard. Now, for the first time, I'm revealing via video (for a short time) how I fell into a massive, months-long Carb Relapse, gained 21 pounds and became determined to Crack the Cravings Code. I'm also here with help for you.
Learn in this video how — although I never went back to eating overt sugar (as in candies, cookies or cakes) and stayed away from sweets, as I had for the past 14 years — I had plenty of covert sugar from less obvious sources as movie popcorn, onion rings, corn nuggets, sweet potato chips and more movie popcorn.
For months, my Crazy Cravings kept hounding me while I sought to face and rise above TAG (my phrase for Trauma, Abuse and Anger and Grief) and much more.
"Connie, Eat Me, Eat Me, Eat Me," those crappy carbs called out to me while I was walloped by painful emotions.
For quite a while, I was mortified since a sugar and carb expert, for goodness sake!  In fact, it took me a full two years to get up the guts to publicly confess to my carb sinning on this blog.
These days, my Carb Relapse and TAG are long-ago history. My sense of humor, quirkiness and joie de vivre have returned.  Lately, the revelations have been pouring in.
Now, as I share in my new video, I realize that My Crazy Cravings Became My Greatest Teachers.  
[shareable cite="Connie Bennett, The Cravings Ninja™"]Are Your Cravings Your Greatest Teachers, too?[/shareable]
So I'm back to serving you. Woo Hoo! I'm here to help you first learn about your cravings for junk foods full of sugar, flour, fat or salt.
Then I'm here to help you Crush Your Cravings.
Check out my free video series to discover my fascinating findings about cravings. (Please note that the video is up for only a few more days.)
Make sure to post your comments on the video page. Tell us: Have you ever been waylaid by intense cravings that threw you completely off course and goaded you into self-destructive bingeing?
Please follow and like us: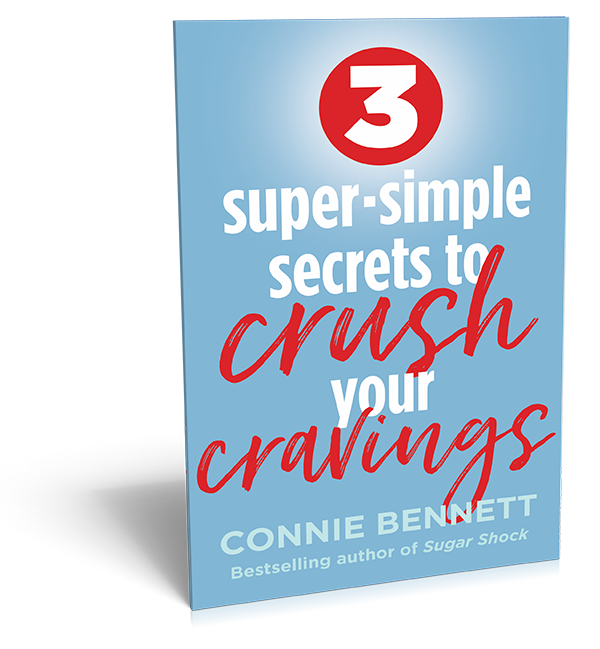 Get Your FREE Cravings-Crushing, Quick-Start Guide!
Do your cravings make you frustrated, frazzled and overweight?
Get Your FREE download now to Crush Your Cravings, starting today. 
This fun, fascinating, science-based, Cravings-Crushing, Quick-Start Guide will whisk you away from temptation for sugary, salty, fatty junk non-foods and and into the glorious, delicious, liberating world of self-control.
Welcome to the Cravings-Crushing Community. 
Please tell us here, on this blog, which of these tools you like best.