If you're like many Americans, you want to shed your excess weight so you can fit into your favorite slim outfit, have the trim, toned, sexy body you crave and be healthy.
Just imagine how you'd feel if you had more energy, more cheerful moods and more satisfying relationships.
Envision what your life would look like if you were more productive, thinking more clearly and experiencing a boost in your libido.
All of the above can happen if you eliminate sugar and refined carbs.
But losing weight, getting more energy, concentrating better, becoming happier and having a bigger sex drive are just a few of many benefits you can gain from eliminating sugar, as I pointed out in my book SUGAR SHOCK!
In fact, when I quit sweets and refined carbs on doctor's orders in 1998, a whopping 44 ailments disappeared and I felt reborn!
But, let's face it, cutting out sugar or those "culprit carbs" can be challenging for most people.
After all, you didn't develop a sugar habit overnight. So let me educate, inspire and guide you to become joyously sugar free.
Join me Tuesday, Jan. 5 at 6 pm for my fun, interactive, life-changing free introductory class, "SUGAR SHOCK! Breaking Free of Your Sugar Habit" at the New York Open Center, the largest urban holistic center in the United States.
On that one night, you'll get some tips and tactics to begin to break free of your sugar habits.
But, as you can imagine, since you've probably had a lifetime of being overly attached to sugar, one hour with me is isn't enough to change your destructive patterns for good.
That's why I'm also teaching a 4-week course at the New York Open Center, which begins next week, from Jan. 12 to Feb. 2.
In this four-week course, I'm sharing proprietary techniques that I developed and which worked for me when I removed sugar from my diet in 1998.
In addition, you're getting dozens of tips that have helped my clients. Plus, you'll receive many ideas from a variety of health experts, who kindly shared them with me.
For instance, in my 4-week course at the New York Open Center, you will:
Discover the 10 reasons people fail when making New Year's resolutions or when breaking a sugar addiction or other bad habits (what I call babits™).
Get 7 Smart Starter Strategies so you can conquer your sugar habit for good.
The most dangerous word in the English language that is disempowering when seeking to kick sugar.
Find out 5 ways to save money on food and beverages in this economy but still make healthy choices.
Find out why this course has the wrong title! (But we had to name
it "SUGAR SHOCK! Breaking Free of Your Sugar Habit" so you'd know what you're getting.)
Receive 50 simple, effective tips and tactics to squash your sugar cravings.
Get a helpful, comprehensive sugar-free shopping list and sample meal plans.

Discover what 3 most empowering questions to ask yourself whenever sugary foods "call out" to you to stop your destructive cycle.

Find out how you can use "failing" or being human (i.e., imperfect) to your advantage.
Have fun discovering tasty, sugar-free desserts from 2 guest bakers.
Taste delicious sugar-free treats from 2 local chefs.
Find out which 3 foods can drive away your "sweet tooth."

Get educated about 20 cutting-edge research studies, which reveal the dangers of sugars and refined carbs.

Receive a list of more than 100 ways your sugar habit is killing you.


Learn how you can lower your risk for type 2 diabetes, cancer, infertility, heart disease and Alzheimer's disease. 

Be trained as a "Savvy Sugar Sleuth" so you easily unmask sugar's many disguises and read food labels in the grocery store.
Get invited to one complimentary teleseminar. (This is one of many bonuses you get by signing up for my 4-week course.)
Learn to identify 10 surprising foods that contain hidden sugars.
Get inspired by successful "Sugar Kickers," whose sour-to-sweet tales you can listen to at any time via complimentary audio downloads.


Determine how your sugar habit is harming your health, weight, moods, relationships, work, spirituality and ability to get things done.

Learn how to talk to your loved ones about your sugar habit.

Uncover your 5 "W's" that drive you to sweets and refined carbs.
Acquire simple, juicy, valuable, always-accessible tips and tools to help stomp out your sugar habit for good and to prevent binging, relapsing and self-loathing
Get 10 ways to "Say No With Sass!" when offered desserts.
Develop your special, do-able, personalized plan.
Learn easy techniques to topple stress so you won't feel a need to turn to sweets.

Discover how sugar wreaks havoc on your body.

Gain insights so you can decide your best course of action — to quit cold turkey, phase our sweets or still take tastes from time to time
Receive at least 2 helpful handouts and undertake at least 2 fun, revealing, life-changing adventur-cises™ (adventurous exercises) every week.
Do valuable "Sugary Soul Searching."
Learn to surf when cravings strike. (You heard me right!)
Determine how to embrace your triggers and saboteurs rather than avoid them.
Invite "The 4 P's" into your life.
Meet your Kind, Know-It All.
Get the
truth about sugar substitutes and learn which sweeteners are safe to use.

Be coached to help you succeed.

Have a chance to listen to interviews with a who's who of world-renowned experts in the field of nutrition, diet, fitness, motivation and spirituality. 

Receive supportive emails and audio messages to "hold your hand" and guide you through the program.

Find out ways to to nurture and nourish yourself without candies, cakes and chips and how to live a sweeter life without needing to turn to sweets. 

Get your questions answered.

Register now for my complimentary introduction on Jan. 5 and 4-week course, from Jan. 12 to Feb. 2 at the New York Open Center.
Please note: If you're in another part of the re in another part of the country or world and cannot make my talk at the New York Open Center, please join us
virtually or telephonically in other upcoming programs so you can still get helpful tips, tactics and
tempting tidbits.
Register now for four-week course, staring Jan. 12 at the New York Open Center.
If you sign up for the course because of learning about it on this Sugar Shock Blog, you will receive a free gift from me.
Hope to see you there.
Please follow and like us: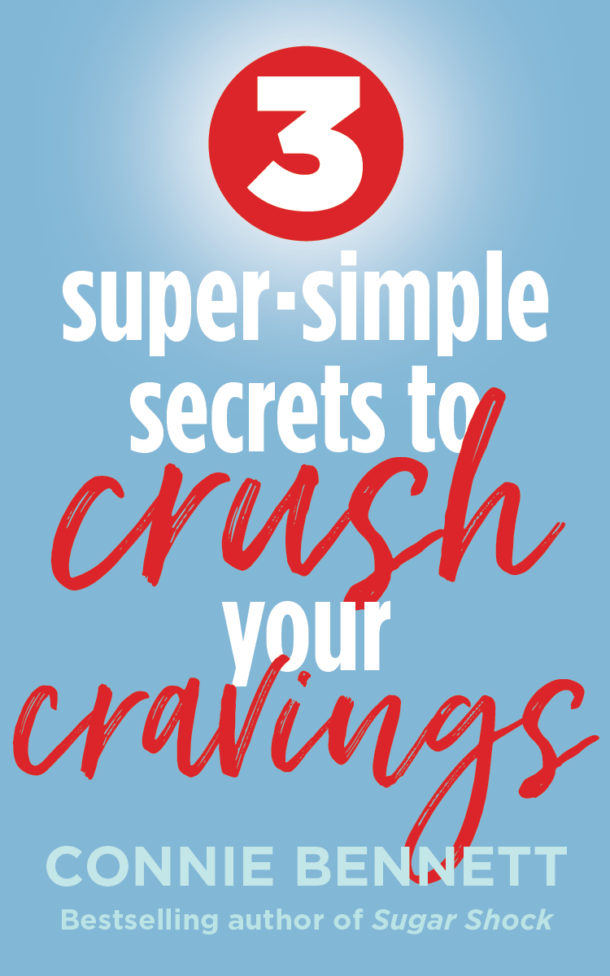 Get Your FREE Cravings-Crushing, Quick-Start Guide!
Do your cravings make you frustrated, frazzled and overweight?
Get Your FREE download now to Crush Your Cravings, starting today. 
This fun, fascinating, science-based, Cravings-Crushing, Quick-Start Guide will whisk you away from temptation for sugary, salty, fatty junk non-foods and and into the glorious, delicious, liberating world of self-control.
Welcome to the Cravings-Crushing Community. 
Please tell us here, on this blog, which of these tools you like best.