Oh goodness! An obese 35-year-old North Carolina woman who can't get enough of McDonald's' carb-and-cheese covered, tartar-sauce-dipped Filet-O-Fish told the Raleigh News & Observer that she's lost 33 pounds just by eating 1,400 calories per day from her favorite fast food joint!
I'm nauseous just hearing about this unorthodox regime being followed by the single mom of two, who gets and eats her food (if you want to call it that) in her car at drive-throughs.
Hasn't the single mom of two heard of the brilliant, insightful Academy Award-nominated documentary, "Super Size Me" from Morgan Spurlock, in which his body gets wider and wider and gets all out of whack from eating at those Golden Arches?
Actually, the 5-foot, 9-inch Merab Morgan — (yeah, I know, another Morgan) — who dropped from 228 pounds (a size 24), to 195 pounds (a size 15) since April 22 — thinks that Spurlock's film insulted the intelligence of fat people by implying that they couldn't pass up the humongous portion for a few cents more. (So she records herself turning down those offers.)
Interestingly, Morgan (the female dieter) finds eating this way more palatable price-wise (9-to-$11 per day) than the Atkins or Weight Watchers plans, which require more time and money. (OK, she does have a very valid financial point, one that's consistently tough for critics to dispute.)
While she's only had French fries twice (or so, she claimns) and salads often (which is apparently getting tediuous), Morgan isn't eating well, according to Barry Popkin, director of the Interdisciplinary Obesity Center at UNC-Chapel Hill and a professor of nutrition and public health. (Popkin is an expert I also had the pleasure of interviewing for my upcoming book, SUGAR SHOCK!).
Popkin worries that she's not getting enough vitamins, minerals, and fiber, but he applauds her "restraint" in limiting porition sizes.
Another dieter, Soso Whaley of New Hampshire, said she's peeled off 35 pounds on the McDonald's diet, and in July, she'll release her independent film, "Me & Mickey D."
Whatever is this world coming to nutritionally?
How can people get healthy, weight-reducing foods at moderate prices?
What is the allure of those Golden Arches? Would somebody please explain this to me? Is it the low cost? The convenience? The ease of access? Do people really think this stuff tastes good?
Am I on memory-loss autopilot — why can't I remember the days years ago when I once occasionally ate and even liked some of these things?
Nowadays, I just can't fathom that a fatty, carb-and-sugar-filled Happy Meal could lift my mood to anywhere approaching cheerfulness. Though, come to think of it, the last time I visited a McDonald's, I was indeed very, very happy, though it had nothing to do with the food. (I finally found an easy-to-get-to ladies' room while en route to upstate Connecticut.)
I'd sure like to get author Eric Schlosser's take on this woman's fast-food diet. (For those of you out of the loop, Schlosser wrote the muckraking, disturbing, exhaustively researched, beautifully written, well-reviewed New York Times bestseller, Fast Food Nation. If you haven't checked it out, go buy it.)
And I'd also like to hear Spurlock's thoughts on the rip-off phenomenon his film is generating.
Please follow and like us: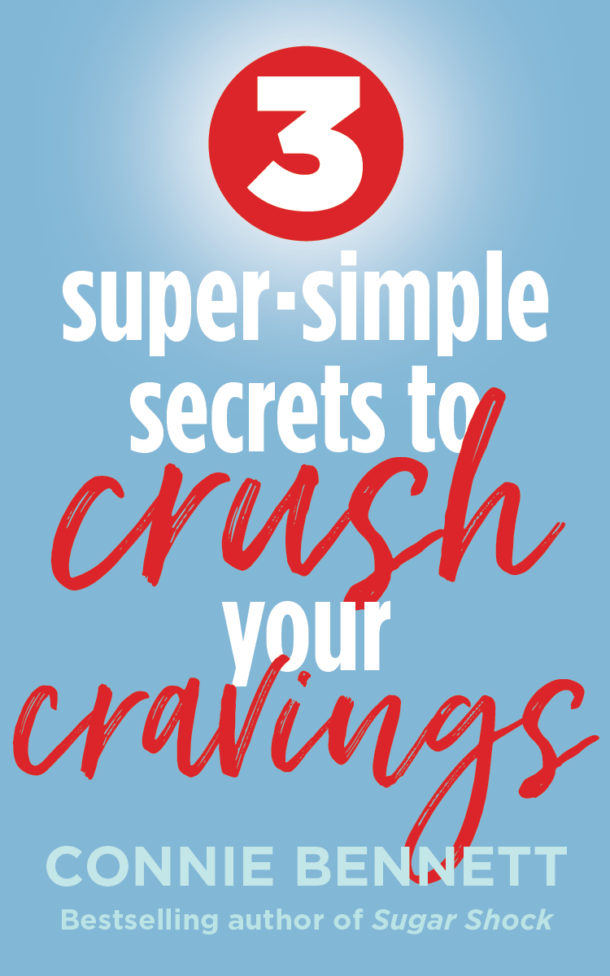 Get Your FREE Cravings-Crushing, Quick-Start Guide!
Do your cravings make you frustrated, frazzled and overweight?
Get Your FREE download now to Crush Your Cravings, starting today. 
This fun, fascinating, science-based, Cravings-Crushing, Quick-Start Guide will whisk you away from temptation for sugary, salty, fatty junk non-foods and and into the glorious, delicious, liberating world of self-control.
Welcome to the Cravings-Crushing Community. 
Please tell us here, on this blog, which of these tools you like best.