Today, I'm Zumba® happy, thanks to this morning's exhilarating, upbeat, high-energy class, which combined salsa, merengue, mambo, squats, lunges and many other fitness steps.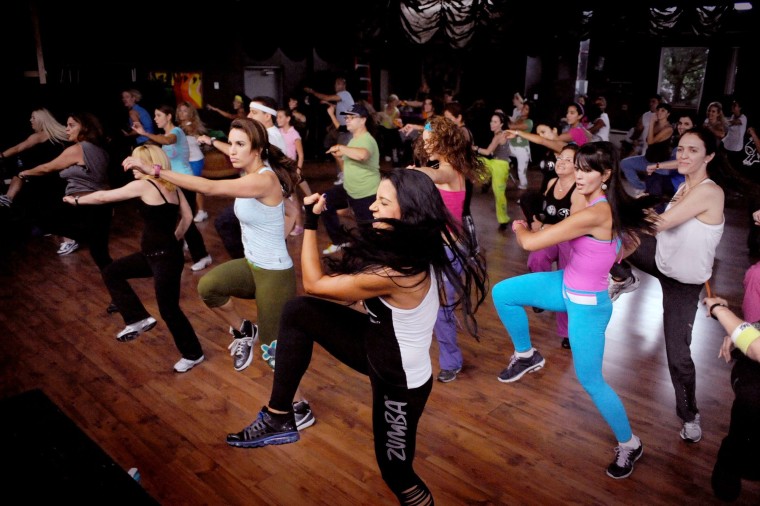 If you're not among the 15 million fans, who take Zumba classes in over 200,000 locations in 180 countries, you're missing out on so much fun!
You're missing an invigorating, fun, high-intensity, calorie-burning experience, which can incorporate movements from flamenco, cumbia, flamenco, samba, mambo, reggaeton and rumba. Some lively instructors even add elements of hip-hop, belly dance or Indian Bollywood. Oh are these classes are so good!
Zumba isn't just fun. It's an awesome way to exercise, because you burn a lot of calories and improve your aerobic efficiency, as confirmed by an independent study commissioned by the American Council on Exercise (ACE.
Not only that, but Zumba gives you an amazing high, which lasts all day long. In short, this type of exercise can lift your moods and make you happier. Zumba also relieves stress and boosts endorphins — you know, the much touted "runner's high." Talk about getting a sweet, healthy, exhilarating after-Zumba glow. And thanks to Zumba, you can kiss your cravings good bye!
The Zumba fitness craze was accidentally started by Colombian trainer Alberto "Beto" Perez, who tells you this remarkable story on a Gab with the Gurus Show. See below to listen.
Learn how Perez forgot to bring his regular aerobics-style music for a fitness class he was about to teach, and how his happy accident led to a fun-filled, Latin dance-style experience, that millions around the world now adore.
Clearly, I'm an unabashed fan, but so are millions around the world.
Intrigued? Click here to find a class in your area.
I also invite you to learn about the amazing story of Richard Martinez, who lost 75 pounds doing Zumba.
Today, I'm ready to finish tackling an important, time-consuming, organizing project while still Zumba happy.
So have you discovered the joy of Zumba yet?
Listen now to this fun Gab with the Gurus show with Beto.
Get Your FREE Cravings-Crushing, Quick-Start Guide!
Do your cravings make you frustrated, frazzled and overweight?
Get Your FREE download now to Crush Your Cravings, starting today. 
This fun, fascinating, science-based, Cravings-Crushing, Quick-Start Guide will whisk you away from temptation for sugary, salty, fatty junk non-foods and and into the glorious, delicious, liberating world of self-control.
Welcome to the Cravings-Crushing Community. 
Please tell us here, on this blog, which of these tools you like best.