On April 21, the American Diabetes Association announced that it was receiving a multi-million dollar three-year gift from large soft drink producer Cadbury Schweppes Americas Beverages to fight obesity and diabetes in America. Then, nearly a month later, the ADA's top medical official told a reporter that sugar consumption has nothing to do with diabetes.
"What is the evidence that sugar itself has anything to do with diabetes? …There is not a shred of evidence that sugar per se has anything to do with getting diabetes," Richard Kahn, the ADA's chief scientific and medical officer said in an interview, published May 16 by the Corporate Crime Reporter.
Curiously, when asked if sugary drinks have anything to do with diabetes, Kahn replied, "No one has a clue of whether they do or don't."
Since I've devoted more than three years researching the undeniable connection between our nation's excessive intake of sugars and numerous such diseases as obesity, diabetes, heart disease, and cancer, I'm dumfounded by these remarks, to say the least.
Over the years, a number of researchers have uncovered results that point to this link. In fact, some recent studies specifically cite soda as a contributing factor to obesity and diabetes.
For example, one study published in the Lancet in 2001 found that the likelihood of obesity in children "increased 1.6 times for each additional can of sugar-sweetened drink that they consumed every day." And sadly, as we well know, obese children have been getting type 2 diabetes at an unparalleled rate.
Yet another research project in the Journal of the American Medical Association in 2004 observed that women who drank more than one soft drink per day were more likely to gain weight and develop type 2 diabetes than those who consumed fewer sweetened drinks.
Not surprisingly, some health advocates are apalled by Kahn's assertions and furious that the ADA even took the donation in the first place.
"Saying that sugar has nothing to do with diabetes is like saying that tobacco has nothing to do with emphysema," fumed Gary Ruskin, executive director of Commercial Alert, a non-profit group opposed to commercial exploitation of children.
"The American Diabetes Association has been so corrupted that they have sunk to the mentality of 'tobacco scientists' who denied the link between tobacco and lung cancer," charged Ruskin, echoing a refrain that's being heard increasingly in the past couple of years.
Health journalists such as myself are now speaking out, too. For instance, after posting this article, I found a compelling story from Jessica Fraser of News Target, in which she made several telling observations.
For starters, Fraser observes that the ADA release to the media just happens to leave out the fact that Cadbury Schweppes will be allowed to use the ADA logo on its diet soft drink products in exchange for its generous contribution. (Her article also contains a fascinating section, "The Experts Speak on Sugar and Diabetes," featuring a well-researched compilation of quotes from medical sources attesting to the diabetes-sugar connection.)
The ADA's Kahn made other curious comments, too. The organization wouldn't take money from the sugar industry, he told the Corporate Crime Reporter. "If they are selling bags of sugar, that doesn't satisfy our food guidelines."
Wait a minute here. On the one hand, the ADA won't accept sugar industry donations, but on the other, it will accept contributions from a major soda company?
Allow me to point out the obvious. Soft drinks are comprised, in large part, of sugars, mostly in the form of high fructose corn syrup. More specifically, a 20-ounce bottle of one brand of the sweet beverage contains roughly 16.87 teaspoons of sugars. That's a large part of the bottle. (So much of soda is sugar that Michael F. Jacobson, Ph.D. , executive director of the nutrition advocacy group, Center for the Science in the Public Interest, calls it "liquid candy." See the fascinating report of the same name.)
The new financial agreement between the soft drink company and the American Diabetes Association is baffling in other ways, too. While Kahn says his group "not helping them promote high sugared products," the company does, in fact, make its money from suc drinks as Dr Pepper, 7 UP, Snapple, RC Cola, Sunkist Soda, and Hawaiian Punch. And its parent company makes Cadbury chocolate, Hall's cough drops, and other confectionary goods. So I'm puzzled by Kath's assertion, "In fact, we are trying to move the country toward eating better foods."
"In the Cadbury case, we have only allowed them to associate their name and ours with diet colas," added Kahn. (But as readers of this SUGAR SHOCK! Blog know by now, some recent research links drinking diet sodas with weight gain. See related item.)
The ADA is in an awkward, if not embarrassing predicament. Clearly, the ADA does a tremendous amount of good by funding research and dispensing invaluable, perhaps life-saving information to pre-diabetics and diabetics.
In fact, the Cadbury Schweppes funds are allocated to support worthwhile educational programs, including the American Diabetes Association's Weight Loss Matters initiative, which seeks to educate people about the link between overweight/obesity and type 2 diabetes.
What's more, the soft drink company will feature "healthy living messages" on its promotional, advertising, and point-of-sale materials–featuring messages that stress the importance of reducing calories, controlling portion sizes, and the benefits of physical activity. And Cadbury Schweppes will sponsor the ADA's signature fundraising event, America's Walk for Diabetes, which promotes the value of exercise.
But let's face the tough financial reality. It is tough to turn down more than $ 1 million, even if the company giving the money just happens to make sugary, empty-calorie soft drinks. That said, correct me if I'm wrong, but isn't accepting a large gift from a soft drink company a little bit like sleeping with the enemy, even this foe is financing some wonderful programs?
Think about it. What would you do if you're an important national organization with humongous financial needs? Take the money? Or pound other doors to find a more worthy donor?
Please follow and like us: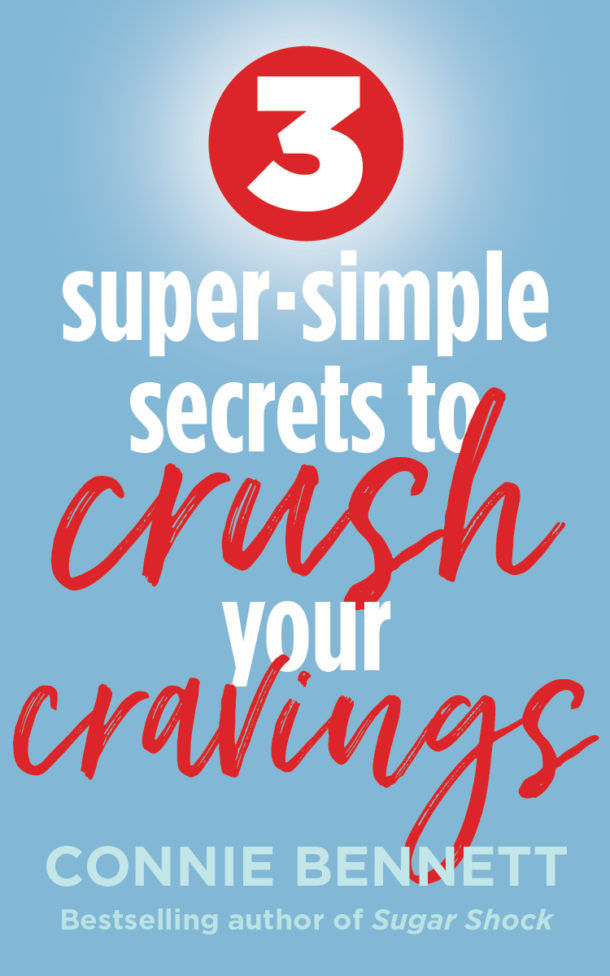 Get Your FREE Cravings-Crushing, Quick-Start Guide!
Do your cravings make you frustrated, frazzled and overweight?
Get Your FREE download now to Crush Your Cravings, starting today. 
This fun, fascinating, science-based, Cravings-Crushing, Quick-Start Guide will whisk you away from temptation for sugary, salty, fatty junk non-foods and and into the glorious, delicious, liberating world of self-control.
Welcome to the Cravings-Crushing Community. 
Please tell us here, on this blog, which of these tools you like best.