Even if you blew your diet last week, this week you can Start Again.
Today's Adventurcise™ (my word for Adventurous Exercise) will be fun to do.
The best part is that you'll be able to benefit ALL week, month, year long.
Today's Adventurcise offers you an easy way to take an important first step to get the slimmer, happier, lovely body you want.
Here's what you'll do today.
Find three words to describe the body that you want to have.
Now bear in mind that slim isn't all you want.
You want — and already have a body — that nurtures, supports
and helps you all day long.
Ready for some fun?
Here are a few words you can choose/use:
Agile
Alert
Amazing
Attractive
Awesome
Beautiful
Fabulous
Flexible
Friendly
Durable
Elegant
Gorgeous
Happy
Lean
Lithe
Lovely
Marvelous
Nimble
Remarkable
Slender
Slim
Spectacular
Splendid
Striking
Stunning
Strong
Tremendous
Come up with your own words, too.
Just use a thesaurus to keep you going. (You can even find an automatic one in MS Word.)
Now put all three words into a one remarkable Love Potion (LP).
Yes, a Love Potion!
This short, snappy Love-Potion sentence will be your travel-along companion, even when the nutrient-lacking junk foods are about to taunt you.
Try this, for instance:
I, [Your Name], have slim, stunning, splendid body.
Or:
I [Your Name] have a striking, strong, awesome body.
Bear in mind that today's Adventurcise (that's my word for Adventurous Exercise) is FFEPPP™.
That means it's Fast, Fun, Easy, Proven, Powerful and Portable.
Now come up with your body Love Potion.
Now share your body LP with us.
Just go to my Facebook page here and share your GREAT new
body LP (Love Potion).
Again, your LP (Love Potion) will be your new "best friend" —
the empowering sentence that will encourage, support and
nurture you wherever you are, especially when you're out and
about or tempted in the convenience-driven, fast-foods world out there.
Share your LP (Love Potion) now at www.Facebook.com/ConnieBennettFans
Eager to see your Love Potion!
As you may have noticed, I didn't tell you to go on a diet today.
You want to do some pre-diet-play.
So instead, I encouraged you to praise your awesome body by
giving it a day-long, oft-repeating verbal Love Potion.
Go now and share your Love Potion on my Facebook page.
Please follow and like us: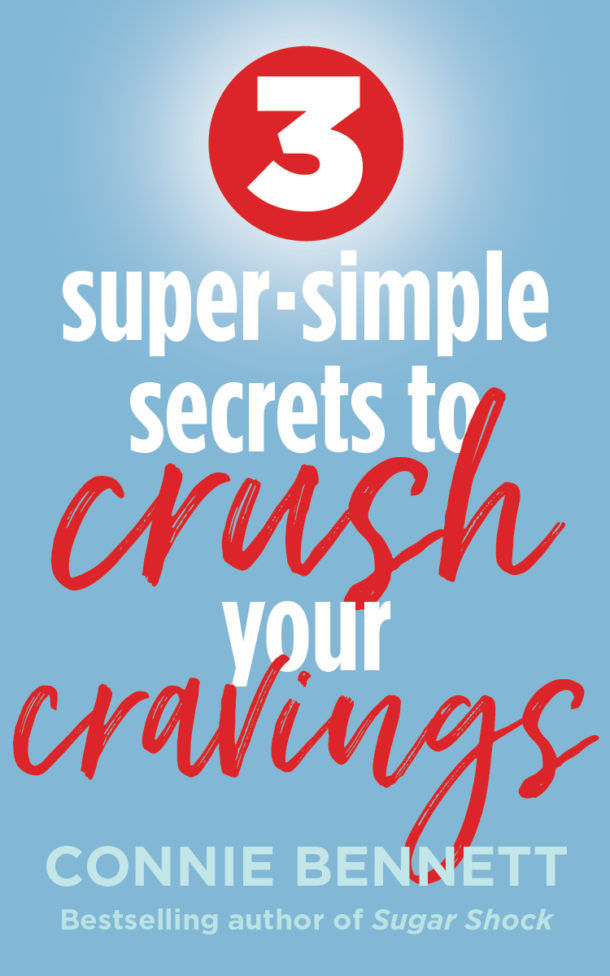 Get Your FREE Cravings-Crushing, Quick-Start Guide!
Do your cravings make you frustrated, frazzled and overweight?
Get Your FREE download now to Crush Your Cravings, starting today. 
This fun, fascinating, science-based, Cravings-Crushing, Quick-Start Guide will whisk you away from temptation for sugary, salty, fatty junk non-foods and and into the glorious, delicious, liberating world of self-control.
Welcome to the Cravings-Crushing Community. 
Please tell us here, on this blog, which of these tools you like best.