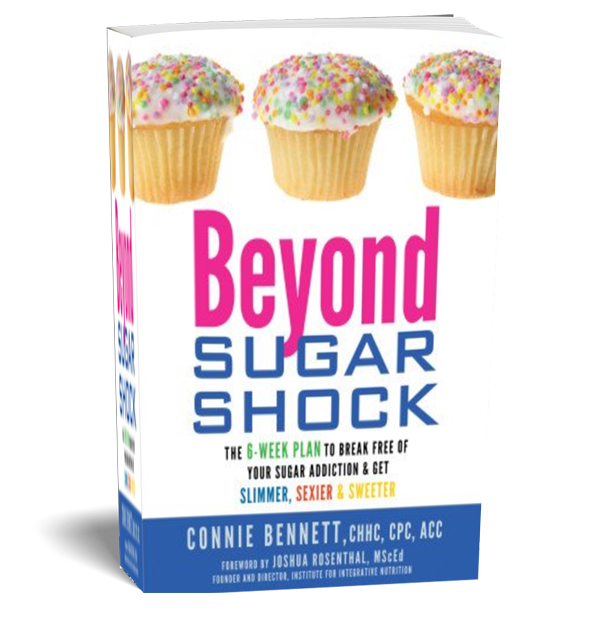 Did you know one of the best ways to build your immune system is to limit or completely cut out sugar and processed carbs?
Of course, during this Coronavirus pandemic, it may be tempting to nervously nosh on sweets and carbage (that's what I call "carb garbage.")
But before you mindlessly eat—or overeat—processed cookies, cakes or chips, you want to know what research shows: Viruses thrive on sugar.
To help you let sugar go during this trying time, I have a gift for you.
For the first time ever, I'm offering a free download of my last book, Beyond Sugar Shock: The 6-Week Plan to Break Free of Your Sugar Addiction & Get Slimmer, Sexier & Sweeter.
Now, learn more my book, Beyond Sugar Shock.
In this friendly, compassionate book, you'll get:
A simple, step-by-step, six-week program that gently guides you to a healthier, happier, sweeter life.
A playful, but serious Sugar Shock Quiz to help you learn about your sugar addiction;
Easy, tried-and-true techniques that I, my clients and Sugar Freedom Now participants have used to successfully conquer their dangerous sugar and carb habits;
Dozens of easy tips and tactics to stomp out your sugar or carb addiction;
A complete shopping list, simple meal plans, and tasty recipes;
Entertaining, interactive "adventurcises" (adventurous exercises) such as "Do Sugary Soul Searching," "Party with the Produce," and "Snatch the E-Z Vitamins" ;
Affirmations to refresh, rejuvenate, and renew your mind, body, and spirit;
Remarkable Sweet Success Stories with before-and-after photos.
In Beyond Sugar Shock, you'll find that letting go of your sugar or carb addiction is much simpler than it seems-and it can even be fun! Plus, you'll look and feel better and experience joyous freedom and a sweeter, balanced life.

Get Beyond Sugar Shock now for free.
ENDORSEMENTS FOR Beyond Sugar Shock
"Beyond Sugar Shock gives you everything you need to bring more sweetness and health into your life….. without the risk of sugar!"

—Christiane Northrup, M.D., ob/gyn physician and author of the New York Times bestsellers, Women's Bodies, Women's Wisdom and The Wisdom of Menopause
"Sugar is NOT good for your brain. It increases erratic brain cell firing, promotes inflammation and is clearly addictive. Beyond Sugar Shock can help you get sugar out of your life and replace it with health and vitality. It is a powerful program full of easy tips and tactics."
—Daniel G. Amen, M.D., bestselling author of Change Your Brain, Change Your Body, Magnificent Mind at Any Age, and Change Your Brain, Change Your Life
"If you're a sugar addict like most people, you need to read Beyond Sugar Shock. This compassionate, comforting, uplifting book will change your life."
—Kathy Smith, International Fitness Expert
Download Beyond Sugar Shock at no cost now (for a limited time) during the Coronavirus epidemic.
Please follow and like us: