Get inspired today (or later) for part 2 of my "Keys to Sweet Glee, Naturally" radio show when I interview the following incredibly motivating, inspiring people, who like the 16 experts two weeks ago, will share all kinds of jewels of wisdom:
"The King of Fitness" Jack LaLanne — Now 93, the inspirational has more energy than people half his age — or even one-third his age.
This is going to be a real treat!
The "Los Angeles Times" says, "LaLanne got his spoken word across lightning fast, packs more punch in one paragraph than a boxing champ in 15 rounds."
Jack LaLanne is a legend. His list of firsts is amazingly long. For instance, he:
Opened the first modern health spa
And he was:
The first to have a nationally syndicated exercise show on television
The first to have athletes working out with weights
The first to have women working out with weights
The first to have the elderly working out with weights
The first to have a coed health club
The first to combine weight training with nutrition
The first to sell vitamins and exercise equipment on television
The first to teach scientific body building by changing the program every 2 to 3 weeks
The first to encourage the physically challenged to exercise… to work around their disabilities
The first to do feats of strength and endurance to emphasize what exercise and nutrition can do for you
Speaking of lightning, Jack and I will rapidly touch on several topics, including:
Anything in life is possible and you can make it happen.
Your waistline is your lifeline.
Exercise is King, nutrition is Queen, put them together and you've got a kingdom.
Don't exceed the feed limit.
The food you eat today is walking and talking tomorrow.
Ten seconds on the lips and a lifetime on the hips.
Better to wear out than rust out.
Do – don't stew.
People don't die of old age, they die of inactivity.
First we inspire them, then we perspire them.
You eat everyday, you sleep everyday, and your body was made to exercise everyday.
Work at living and you don't have to die tomorrow.
If man makes it, don't eat it.
What's it doing for me?
Your health account is like your bank account: The more you put in, the more you can take out.
It's not what you do some of the time that counts, it's what you do all of the time that counts.
Eat right and you can't go wrong.
In addition, during the Stop SUGAR SHOCK! Radio Show — which you can listen to live or later — you'll get words of inspiration and information from:
"Mr. Fire" Joe Vitale, one of the stars of the hit movie, "The Secret," who will share "How to Use the Law of Attraction in Business and Life."
"First Lady of Nutrition" Ann Louise Gittleman, who will discuss "How Kicking Sugar Can be the Key to Longevity"
"Secret Weapon" Donna LeBlanc, M.Ed., who will share "How to Find Out What's Eating You So You Can Quit Overeating"
Remember, if you miss the show live, you can listen later here.
Thanks to BlogTalkRadio for featuring this show on their blog.
Please follow and like us: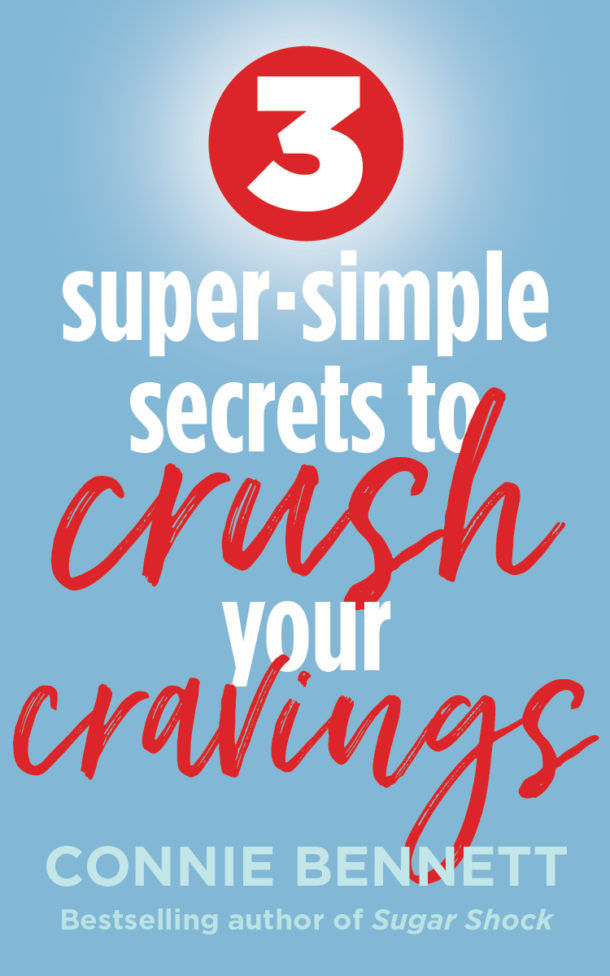 Get Your FREE Cravings-Crushing, Quick-Start Guide!
Do your cravings make you frustrated, frazzled and overweight?
Get Your FREE download now to Crush Your Cravings, starting today. 
This fun, fascinating, science-based, Cravings-Crushing, Quick-Start Guide will whisk you away from temptation for sugary, salty, fatty junk non-foods and and into the glorious, delicious, liberating world of self-control.
Welcome to the Cravings-Crushing Community. 
Please tell us here, on this blog, which of these tools you like best.