Did you know that if you have low blood sugar (hypoglycemia) today, it could turn into type 2 diabetes tomorrow — well, maybe not tomorrow, but five, 10, 20, 30 years from now?
But what if you were able to prevent that from happening? Better yet, what if you could Thrive Sugar-Free for 20 Years after you were diagnosed with hypoglycemia (low blood sugar)? How would you mark the occasion?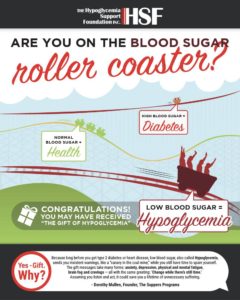 That was my challenge. Earlier this week (April 15), I marked 20 Years Sugar-Free.
Initially, I kicked sugar on doctor's orders in 1998 because I had hypoglycemia (low blood sugar), which triggered a whopping 44 ailments, including brain fog, heart palpitations and anxiety.
A few months ago, I began to consider my challenge. How could I celebrate 20 Years Sugar-Free? After all, I couldn't or wouldn't eat a sugar-filled cake or processed carbs. After all, I'm a recognized sugar and carb expert, the woman people call The Cravings Ninja™, and the bestselling author of the books, Sugar Shock and Beyond Sugar Shock.
Then, a few months ago, it hit me. The best way to celebrate 20 Years Sugar-Free would be to support the amazing woman, Roberta Ruggiero , who'd been so instrumental to my kick-sugar success. 
The hard-working, dedicated, charming Roberta Ruggiero is founder and president of the 38-year-old non-profit Hypoglycemia Support Foundation, Inc., which provides support, advocacy and information about the causes, prevention and management of low blood sugar. (That's hypoglycemia's other name.)
…So today, to celebrate my Thriving 20 Years Sugar-Free, I'm pleased to share what my gift to the Hypoglycemia Support Foundation has made possible. Roberta and the HSF CEO Wolfram Alderson worked hard to develop this HSF infographic, which will teach you about low blood sugar, a little-understood blood sugar disorder.
[shareable cite="Connie Bennett, The Cravings Ninja"]Share this important infographic about low blood sugar or hypoglycemia. Let the HSF help you and your loved ones.[/shareable]See the amazing HSF new infographic now on the Hypoglycemia Support Foundation website.
Then share this infographic with your friends, loved ones and social media buddies so you all can find out if you or your loved ones are one of millions on the blood sugar roller coaster.
You could save people of sooooo much suffering!
Share this infographic with millions of people worldwide, who badly need this information.
See the infographic here on the HSF website and then share this infographic with all your favorite peeps.
Please follow and like us: