If you've ever felt like you just can't turn down sweets or processed carbs, you'll relate to my tale.
My health journey began more than a decade ago when I was a huge sugar addict, carb  junkie, night owl and frazzled, overworked journalist. Not only that, but my awful eating and lifestyle habits led to a whopping 44 ailments.
On any given day, I was walloped by scary heart palpitations, overcome by crushing fatigue, hit by unpredictable mood swings, suffering from ferocious headaches, attacked by severe PMS, overcome by embarrassing sobbing spells; seized by monstrous sugar and carb cravings, dragged down by unsettling depression, and more.
Feeling so horrible led me to the doctor's office — well a number of them, because it took several to come up with the answer I sought. Then one day, I got the answer I was seeking.
"You have severe reactive hypoglycemia," my doctor told me.

"All you need to do is  to quit eating sugar and processed carbohydrates. Otherwise, you'll die young."
Shocked by the simple "solution," I was intrigued. Plus, since I was desperate to feel better, I gave up my favorite, sugary and processed "treats." 
With weeks, ALL 44 symptoms vanished. Woo Hoo! I felt delighted, excited and energized.
I also became intrigued. Just by following doctor's orders and kicking the sweet stuff and carbage (carb garbage) and sweets, all of my symptoms vanished, and my energy and concentration returned with a vengeance! How could that be?
Almost overnight, I became driven and determined to discover The Sour Scoop about Sweets. In short, my unexpected transition from brain-fogged, wiped-out, sugar-addicted journalist to bestselling author, wellness advocate and motivational speaker came about because I hit rock bottom.
But, kicking sugar wasn't always easy. So while letting go of sugar, I began to create and find easy, effortless, powerful tools to quit the sweet, dangerous stuff.
Impressed by my ability to kick the sweet stuff, people soon began asking me my Secrets to Let Sugar Go. That led to  my coaching, guiding, and inspiring thousands of people worldwide, and I became recognized as The Sweet Freedom Coach and Sugar Liberator™ because I helped thousands worldwide achieve Sweet Freedom, as I call it.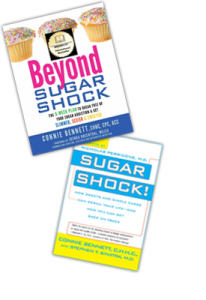 In late 2006, my first book, Sugar Shock: How Sweets and Simple Carbs Can Derail Your Life–And How You Can Get Back on Track, was published (Berkley Books).
Dr. Stephen T. Sinatra was contributing author, and Dr. Nicholas Perricone wrote the foreword.
Thankfully, many world-renowned experts praised it, including such luminaries as Dr. Mehmet Oz, Dr. Mark Hyman, JJ Virgin, and actress/author Marilu Henner.
Then, in 2012, after a decade-plus of helping sugar addicts and hosting The Sugar Freedom Course, my next book, Beyond Sugar Shock: The 6-Week Plan to Break Free of Your Sugar Addiction & Get Slimmer, Sexier & Sweeter (Hay House), quickly became an international bestseller.
I was thrilled when it was endorsed by Dr. Wayne Dyer, Dr. Christiane Northrup, Dr. Daniel Amen, Bernie Siegel and many other health and empowerment heroes.
But in late 2012, after years of walking my Clean Carbs Talk, I had a massive Carb Relapse.
The trigger?
I endured a grueling, heartbreaking, gut-wrenching year standing by my angry terminally ill mother. After moving across country for her, I was on hand while she died. 
It was excruciating painful. After losing my Mom, my heart was breaking, I was bombarded by persistent stress, I got walloped by PTSD (Post-Traumatic Stress Syndrome), and I was struggling with the aftermath of her (inadvertent but massive) abuse and betrayal.
For months after that
heartbreaking time
— while struggling with depression, anger, confusion, jumpiness, nightmares, insomnia and concentration issues — I was attacked by overpowering Crazy Cravings.
Of course, those Crazy Cravings "made me" pig out on on processed carbs (not sugar) for months and gain 21 pounds. I was so embarrassed.

Eventually, after many grief support groups, lots of therapy, healing workshops, and lots of writing, it hit me that I could put my Crazy Carb Cravings to good use. They could become my great teachers.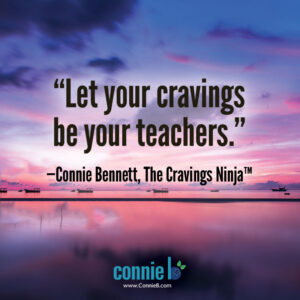 Fast forward six years.  After shedding the excess weight and recovering from other scary health issues, I've now emerged stronger, slimmer and determined to help you if you, too, blew your diet and caved into your overpowering cravings for unhealthy junk foods filled with sugar, carbs, fat or salt.
I've also found or developed many ways to help you learn from your Crazy Cravings.
Now, I'm here to inspire, motivate and encourage you with motivating posts and
Shareable Images or Cartoons
here on my blog, podcasts on my Gab with the Gurus Show (coming soon), and inspiring weekly or bi-weekly emails
subscribe here.
In addition, I'm recognized as The Rebound Ninja™, and I'm doing lots of planning: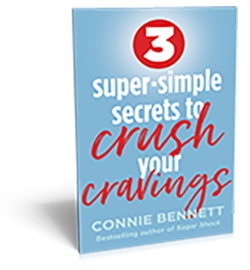 As for my background, I'm an experienced journalist, who has contributed to or been written about by many websites and publications such as AOL News, HealYourLife, eDiets.com and The Chicago Tribune. I've also appeared on many TV and radio programs, including CBS News Sunday Morning," "Oprah & Friends Radio," and "The Howard Stern Show."
Since I'm committed to coaching people to Sweet Freedom, I became a certified life coach with the Institute for Professional Excellence in Coaching (iPEC), a certified health coach through the Institute for Integrative Nutrition (IIN),  and a tapping practitioner through the Association for Comprehensive Energy Psychology (ACEP).
Now, let's keep in touch so I can help you. I invite you to:
See you soon!