WAIT! 2 Quck Steps Left to Get Your Free Gifts
Thanks for registering for your three gifts to have a Sweeter Holiday Season.
ACT NOW, PLEASE!
You're 2 quick two steps away from activating your registration. First, you'll receive an email from me within the next 5 minutes or so telling you to:
1) Click on a opt-in link to get your registration information for the teleseminar.
2) Whitelist me (approve me) so my emails to you with your registration information don't end up in your 'Junk' or 'Spam' folders. (This means you'll be asked to put me on your Safe Senders list.)
Remember: To ensure that you receive my emails in the future please be sure to whitelist/approve my email connie@coachingwithconnie.com or connie@sugarshock.com in your email program.
Otherwise, my e-mails may get caught in your ISP's spam filters and you won't receive them, which means you'll miss getting health-habits tips, invites to future teleseminars and more.
Keep a lookout from the RESPONSE REQUIRED email from me so you can get link to listen to the program.
If you do not receive any information from me about this free audio program with Dr. Teitelbaum and me, please contact me, and I'll personally handle it.
Feel free to tell your friends about this free gift. Just send them to this sign-up page.
By the way, if you'd like to make peace with your sugar habit, you're also invited to get my book, Sugar Shock!
See you soon with your valuable information!

Please follow and like us: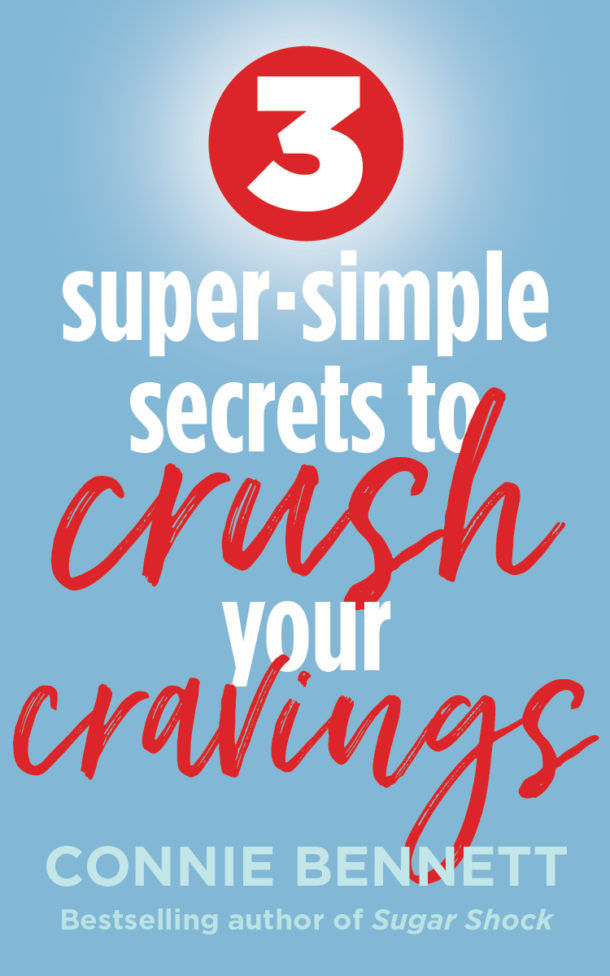 Get Your FREE Cravings-Crushing, Quick-Start Guide!
Do your cravings make you frustrated, frazzled and overweight?
Get Your FREE download now to Crush Your Cravings, starting today. 
This fun, fascinating, science-based, Cravings-Crushing, Quick-Start Guide will whisk you away from temptation for sugary, salty, fatty junk non-foods and and into the glorious, delicious, liberating world of self-control.
Welcome to the Cravings-Crushing Community. 
Please tell us here, on this blog, which of these tools you like best.