As many of you restless, must-have-time-off vacationers venture out for the Labor Day weekend into nature for the the wilderness or the beach for one last summer hurrah, I encourage you to be careful.
Please, for the sake of your health, don't lie on the grass, run barefoot in fields or get too up close and personal with any trees, no matter how beautiful they are.
You may think me a nature spoil sport — and I wouldn't blame you — but, as I discovered much to my sadness two years ago, it's imperative that you be  watchful for those nature-loving, disease-carrying ticks, which can transmit Lyme disease, a confusing malady that may give you mysterious ailments such as mental confusion, fatigue and muscle pains.
Learn about this often-misunderstood disease by reading my recent AOL News op ed piece.
Unfortunately, many people are ignorant about these freckle-sized dangers that lurk in nature.
In fact, last night, on a conference call for a transformational women's program that I'm taking, one of the women with whom I was partnered up with in a group literally laughed when I recommended that she be careful of ticks when she goes off into the wilds in Holland this weekend.
Given that I'd been working into the wee hours (shame on me!) on the follow-up to my book, Sugar Shock, my next book, Beyond Sugar Shock, wee hours (shame on me!), I was too tired to plead with her to take me seriously, but lo and behold, I just discovered that Lyme disease is on the rise in Holland.
So I urge you, if you do go out into nature this Labor Day weekend, make sure to carefully inspect yourself for ticks after you return from grassy areas. You do not want to suffer the way millions have, as you can read about in my AOL News op ed piece.
On another matter entirely, if you yearn to let go of your sugar habit, tomorrow is the deadline for the Early Bird End-of-Summer Special for my upcoming Break Free of Your Sugar Addiction in 6 Weeks Program. This is a six-week mind/body/spirit, sugar-releasing program that will give you lectures, coaching, mini-audio messages all 42 days, guest interviews, several bonus audios, some 50 ways to combat sugar cravings, help to disover your Sugar Color Code, access to a private membership website, a shopping list, meal plans and more. (FYI, I've been developing this program for years.)
Why bother to kick sugar since it tastes so darn good? Well, as millions can testify, cutting out sweets and simple carbs is a very quick path to weight loss. The extra pounds just peel right off when you not consuming those quickie-carb "treats." Plus, if you Break Free of Your Sugar Addiction, you may get more energy, better relationships, a better libido and many other benefits.
To join us and get in before the rates increase, just sign up at www.BreakFreeWithConnie.com.
Please follow and like us: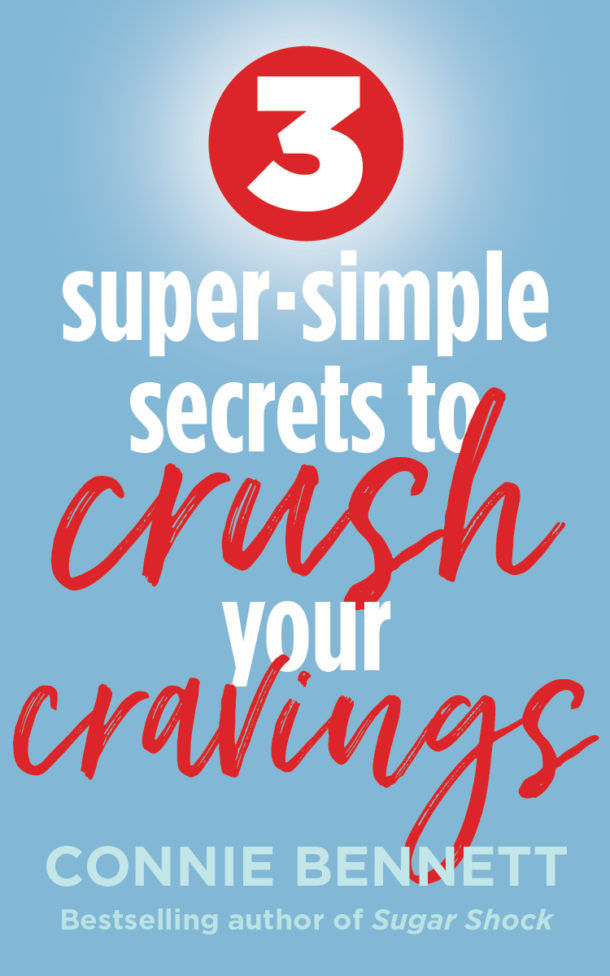 Get Your FREE Cravings-Crushing, Quick-Start Guide!
Do your cravings make you frustrated, frazzled and overweight?
Get Your FREE download now to Crush Your Cravings, starting today. 
This fun, fascinating, science-based, Cravings-Crushing, Quick-Start Guide will whisk you away from temptation for sugary, salty, fatty junk non-foods and and into the glorious, delicious, liberating world of self-control.
Welcome to the Cravings-Crushing Community. 
Please tell us here, on this blog, which of these tools you like best.