Here's a Letter I Sent to My Mailing List, which is now making its way around the Internet.
Have you heard about the rats who found sugar or saccharin more tantalizing than cocaine?
That's right, in a fascinating study, most of the critters studied — a whopping 94 percent — wanted sugar or saccharin, NOT cocaine.
Anyhow, today, while doing some research for my next book,  Beyond Sugar Shock — the follow-up to my first book Sugar Shock — I was reminded of this fascinating study from Dr. Serge Ahmed, a scientist with the University of Bordeaux in France.
Last year, I had the pleasure of meeting Serge while on a ferry en route to a Food Addiction conference on IslandWood, Bainbridge Island to give fitness guru Jack LaLanne a Lifetime Achievement Award.
Incidentally, LaLanne, who turns 96 on Sept. 26, has been sugar-free for more than EIGHT decades.
(By the way, you can listen to a special radio interview I conducted with Jack here.)
Back to the glorious commuter boat ride with Dr. Serge Ahmed.
Just imagine: There I am, grateful to have the good fortune to hang out with one of the most fascinating scientists, who is studying my top area of interest, sugar addiction!
In fact, I've been so intrigued by the topic that Chapter 9, "Proof Pours In: New Studies Show That You Can Become Dependent on Sweets," was the first one I wrote for my book Sugar Shock.
So there Serge and I are on the ferry. After practicing my rusty French on him, I asked Serge (in English this time so I wouldn't miss anything) about his sugar addiction research.
Now, just imagine Serge speaking with his adorable French accent.
He told me, "Connie, I was so surprised. We discovered that sugar may be as addictive as cocaine."
You had to see Serge's face to get a sense of this monumental discovery.
His eyebrows lifted. His eyes grew big. His face registered shock. He moved his hands about dramatically.
The next day, at the conference, Serge laid out his findings in more detail to the attendees of this event, called "Food Addiction: The Obesity Epidemic Connection."
The title of Serge's presentation told it all. It posed the question, "Is Sugar as Addictive as Cocaine?"
Ultimately, Serge and his research team discovered that intense sweetness "is much more rewarding and probably more addictive than intravenous cocaine."
Or, to put it another way, the French scientists' findings "clearly demonstrate that intense sweetness can surpass cocaine reward, even in drug-sensitized and drug-addicted individuals."
In the booklet presented to Food Addiction conference attendees, Serge concludes: "When society finally discovers that refined sugar is just another white powder, along with pure cocaine, it will change its mind and attitude toward refined food addiction."
At the same conference, I also had the pleasure of meeting renowned addiction researcher Dr. Bartley Hoebel of Princeton University's Neuroscience Institute, whose work I mentioned in a recent AOL News story about Ellen DeGeneres and Jeff Garlin kicking sugar. What a treat!
As I discussed in my book Sugar Shock, Dr. Hoebel — who has been studying sugar addiction for 10 years — found that sugar can act on the brain in ways similar to drugs of abuse.
Dr. Hoebel's rats even went into withdrawal symptoms within a half hour of being administered the opiate blocker naloxone.
Their "teeth started chattering," Dr. Hoebel told me.
"They waved their heads back and forth. Their forepaws quivered. They acted anxious in a maze test. These are all signs of sugar withdrawal. They weren't as pronounced as what we see with morphine, but it was withdrawal."
What happened? Well, Dr. Hoebel thinks that "sugar triggered production of the brain's natural opiates
or morphinelike compounds."
Wait a minute!
But the rats didn't have drugs. They just had sugar!
The rats would rather go into sugar shock than have cocaine!
So why am I bringing up these addiction studies?
Because, if you have an overpowering sugar habit, I want you to know that this addictive feeling is NOT all in your head. You actually can get hooked.
But more importantly, I'm here to bring you hope. You CAN cut out your pesky sugar or carb cravings.
Certainly, you can try on your own, but, well, it can be really tough, and frankly, I wouldn't wish this cutting-loose-on-your-own on anyone!
That's why for over 12 years — ever since I kicked sugar myself — I've been developing a program to
help you Break Free of Your Sugar Addiction — and to help you release your habit easily.
Alas, back in 1998, I used to be like those sugar-clamoring rats. (Are you, too?) But, thankfully, that's history, and I no longer crave sugary foods. You heard me right. You should know is that I do NOT miss the substance. Honest!
So, my mission these days is to show you that you don't have to be consumed by these gotta-have-
sugar-NOW feelings. You can achieve Sugar Liberation!
And, if you allow me, it would be my honor to take you to that delicious state of Sugar Freedom.
Just think: When you remove sugar from your diet (or at least cut back on your intake), you will get benefits galore! For instance:
Your weig*ht could easily peel off
You could become more cheerful
You may concentrate better
You may say bye-bye to severe PMS, infertility or a horrible menopause.
You could get along better with loved ones.
You could have a revved-up libido.
You may have lots of energy — more so than you've had in years.
And more.
And those are just a few of the many benefits!
Given that I used to be hooked on sweets myself, I don't want you to be like those sugar-craving rats!
So it would be my honor to help you Break Free of Your Sugar Addiction in 6 Weeks.
Please note that next Tuesday, I again begin holding my Break Free Program, and I'd love to have you.
If you act by 1:59 pm EST next Tuesday, you can get in at the Pre-Fall Early Bird Rate. You'll be shocked at how little you'll pay for what you get. For instance, in this program, you'll get:
6 live, hour-long teleseminars/webinars, during which you learn some 50 ways to combat sugar cravings, identify your Sugar Color Code, discover how to find Serene Sweetness™ and much more.
6 half-hour coaching sessions, where you get your questions answered, a fresh perspective on your personal situations, etc.
4 to 6 bonus programs with top experts in health and wellness.
Short, inspiring audio messages from me each of the 42 days (actually, there are more.)
A private, members-only website with lots of quality content, including three weeks of meal plans, a shopping list, recipes and access to fascinating audio downloads.
And much more.
You may think that this program will run you around $400 to $700. But I'm offering this Break Free of Your Sugar Addiction in 6 Weeks program for the ultra-reasonable rate of $147. People hae been asking me why it's so low (only about $3.50 a day for the 42-day program).
Most importantly, by offering this for such a reasonable price, my goal is to help as many people as possible around the world. I have other reasons, too, which you'll learn about later.  Sign up now and learn why else it's priced so low.
It would be my pleasure to serve you and to guide you to Sugar Liberation. "See you" soon?
Warmly,
Connie Bennett, Author, Sugar Shock  and Beyond Sugar Shock (Upcoming/Hay House)
P.S. Sign up now for this Pre-Fall Special of only $147 by Tues., Sept. 15  at 11:59 EST tonight. Just go to www.BreakFreeWithConnie.com
Special thanks to Mike Adams and NaturalNews.com for the above cartoon, which you can read about here.
You may republish this Sugar Shock Blog post, but please provide the following credit:
Connie Bennett is author of the bestselling book, Sugar Shock!, which has been praised by Dr. Mehmet Oz, Dr. Christiane Northrup, Marilu Henner and many others. She is now writing her next book, Beyond Sugar Shock, for Hay House. Connie is a certified life coach, certified health coach, experienced journalist, host of the Gab with the Gurus Radio Show, which is available on iTunes. Connie is also a former sugar addict, who is now dedicated to helping people around the world to Break Free of their Sugar Addiction and Other Bad Habits (what she calls Babits™). Connie is founder of the acclaimed Break Free of Your Sugar Addiction in 6 Weeks Program, which next begins Tues, Sept. 14. Listen to Connie's Free Tele-Party now to discover 10 Reasons You are Hooked on Sugar. Then, act now to take advantage of the Pre-Fall Special at www.BreakFreeWithConnie.com
Please follow and like us: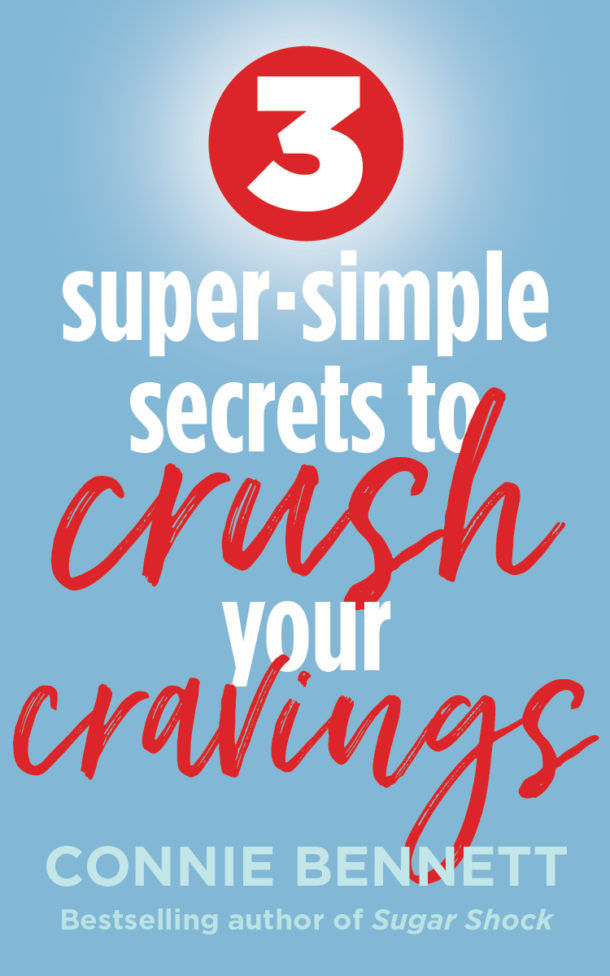 Get Your FREE Cravings-Crushing, Quick-Start Guide!
Do your cravings make you frustrated, frazzled and overweight?
Get Your FREE download now to Crush Your Cravings, starting today. 
This fun, fascinating, science-based, Cravings-Crushing, Quick-Start Guide will whisk you away from temptation for sugary, salty, fatty junk non-foods and and into the glorious, delicious, liberating world of self-control.
Welcome to the Cravings-Crushing Community. 
Please tell us here, on this blog, which of these tools you like best.