Wow! The support has been tremendous!
Quotes are coming in from numerous experts, who are supporters of the first-ever Great
Worldwide Sugar-Out Challenge, which kicks off my Gab With the Gurus Radio Show on Jan. 16 at 12 p.m. Eastern and via tantalizing tweets on the new TwitAsYouQuit site (from 12 noon Eastern on Jan. 16 to 12 p.m. on Jan. 17).
The response has been so phenomenal that we've decided to extend this event for two weeks so that the radio show kicks off the event and then you — dear readers of this blog — have two weeks to help us get a buzz going virally. We want to help you! We want to help obese and overweight people everywhere.
Check back here to this Sugar Shock Blog and to my new Gab With The Gurus Blog to get updates about this first-of-a-kind event that I'm co-coordinating with Dr. Scott Olson, a naturopathic doctor and author of Sugarettes through the end of January.
Here are some thoughts from supporters of our event:

"Many so-called mental health problems, including anxiety, depression,
insomnia, addiction and even bipolar illness have a strong relationship
to blood sugar imbalance, caused by eating–you guessed it, sugar!
These often-serious conditions can be overcome by eliminating sugar,
eating a healthy diet, and taking specific supplements, as needed. I
have helped many of my patients and readers replace medication using
this natural approach, with excellent results!…."
– Hyla Cass M.D., integrative psychiatrist and author of 8 Weeks to Vibrant Health and Natural Highs


"Sugar absolutely paralyzes the
immune system and is the major culprit behind diabesity."
– Ann Louise Gittleman, Ph.D., C.N.S., author of Get The Sugar Out: 500
Simple Ways to Cut the Sugar Out of Any Diet
"As a certified nutritional microscopist (live and dried blood analysis,
trained by Dr. Robert O. Young), I have seen the devastation caused by
the fermentation of sugar in the body.  You see, sugar will either burn
as a fuel (because you have enough oxygen present) OR since our body
has limits to how much oxygen we can intake…  sugar that cannot have
oxygen to be able to burn will ferment which increases acidity considerably."
– Rick Panson, Certified Nutritional Microscopist, Raw Food Creator of Raw Jaw Foods &  Water Filtration/ionization Consultant

"Sugar is a major cause of inflammation in the body and therefore a
cause of many modern diseases. I support your efforts fully!"
– Gerianne C. Geszler, M.D., The Center for Health and Restoration, Inc., Fayetteville, North Carolina
"I'm excited to be a part of Connie Bennett's and Dr. Scott Olson's First Annual
Great Worldwide Sugar-Out Challenge, because kicking my sugar habit five years
ago saved me from morbid obesity and certain heath destruction."
– Jimmy Moore, founder of the Livin' La Vida Low Carb Blogspot
Note from Connie: Please note that Jimmy also will join us on Friday, Jan. 16 on the special 90-minute Gab With the Gurus Radio Show on Blog Talk Radio. Jimmy will be one of several successful "Sugar Kickers," who will reveal how just removing that one substance made it easier to peel off the pounds.
Jimmy is a very captivating guest — as I learned when I interviewed him previously on my show. If you want to lose weight, you have to catch Jimmy's interview, because he'll tell you how he lost a whopping 180 pounds, mostly by kicking sugar.
"I am a registered nurse… and I have avoided sugars for 10 years now. I think that The Great Worldwide Sugar-Out Challenge is a great idea. Let's all decrease our sugar intake so that we can increase our intake of nutrient rich, delicious foods that will leave us healthy and satisfied. We'll feel better, look better, live longer, be more efficient, think more clearly and enjoy more."
– Laura Stanley, R.N., Author, Don't get Diabetes: a short and simple guide
"Sugar isn't just bad for our bodies. When we consider its history – how it changed the nature of meals, fueled the Industrial Revolution, generated a brutal new form of slavery, jump started the fast-food revolution and fueled the obesity epidemic through soft drinks, we realize that sugar is also toxic to society in general. The Great Worldwide Sugar-Out Challenge is a great way to begin to challenge the supremacy of the seductive sweet stuff."
– Dr. Elizabeth Abbott, author of Sugar: A Bittersweet History

"Connie, Dr. Olson and these other health experts participating in this Great Worldwide Sugar-Out Challenge could help cure the single largest cause of many diseases in America by exposing the fact that highly refined and processed foods and beverages are killing us, because they're full of harmful, refined sweeteners such as high fructose corn syrup that can… lead to obesity, cardiovascular disease, cancer and diabetes, as well as cause insulin harm and many forms of nutrient depletion. In particular, high fructose corn syrup (HFCS, which comes from corn), is dangerous because it's so pervasive in our food supply. In my opinion, corn is to real food what porn is to fine art. …You, your family, your friends, your colleagues, your associates, your clients and your fellow citizens are being led to early disease and death by processed food and beverages… Want to get well? Stop consuming any product or brand with refined sugar (cane or beet), high fructose corn syrup, fructose (which is not fruit sugar), agave (which is criminally fraudulently labeled and is chemically refined hydrolyzed high fructose inulin syrup), etc. It's shocking how much sugar we consume. The per capita consumption of refined sweeteners in the U.S. is almost 190 pounds per year when a century ago, it was less than 6 pounds per year. Perhaps it's so popular, because after air, water and salt, refined sweeteners are the least costly (for-profit) bulking ingredient in the food and beverage chain. We are what we eat and will we die (much faster, costlier and more painfully) when we eat junk, fast, take-out, processed, refined, food or beverages, full of bad-for-you sweeteners. We need to eat real foods in their natural state. Like Mark Bittman says in his short lecture, "What's Wrong with the Food We Eat" on www.youtube.com or www.tedtalks.com, 'It's not the beta carotene, it's the carrot.'"
– Russ Bianchi, Managing Director and CEO, Adept Solutions, Inc., a global, natural product development firm

"Sugar is so last millennium! We now know that refined carbs and sugar get us high (great fun for the moment!), then wreck our moods, endocrine system and, ultimately, our health. It's time to Sugar-Out this Friday and every day after. And for crying out loud, don't teach your kids to use sugar to get high. Instead give them the natural highs that come with playtime, holding hands and laughter. The Great Worldwide Sugar-Out Challenge: what a great idea!"


– MeMe Roth, Nutrition Adviser, National News Pundit and President, National Action Against Obesity
"Connie, you are doing more for the world than than any doctor or scientist. Keep it up."
– Jeraldine Saunders, author of Hypoglycemia: The Complete Health Care Handbook
"Cholesterol is not your enemy when it comes to heart disease. It's sugar. Cholesterol may be found at the scene of the crime, but sugar is the major perpetrator, not cholesterol."
– Cardiologist Stephen T. Sinatra, M.D., contributing author of SUGAR SHOCK!

"Dramatically reducing refined carbohydrate intake is one of the greatest health challenges the U.S faces in the next decade, as we seek to restore our national health and health care system."
 
– Woodson Merrell, M.D., Chairman, Department of Integrative Medicine, Beth Israel Medical Center & Assistant Clinical Professor of Medicine, Columbia University College of Physicians and Surgeons

"Sugar and high glycemic starches rapidly convert to sugar when eaten and they cause a highly destructive pro-inflammatory response in our bodies. This is the single greatest precipitator of aging and age-related diseases such as heart disease, diabetes, Alzheimer's disease, arthritis, certain forms of cancer, and wrinkled, sagging skin."
Nicholas Perricone, MD, CNS, Board certified dermatologist and best selling author

"We must focus on educating the public about the
significant health benefits of eating whole and unprocessed foods to combat the
growing public health epidemic of obesity."
– Jill R. Baron,
MD, Primary Care and Holistic Medicine Specialist New York, New York
Do you support our Great Worldwide Sugar-Out Challenge? Share with us now why.

Please follow and like us: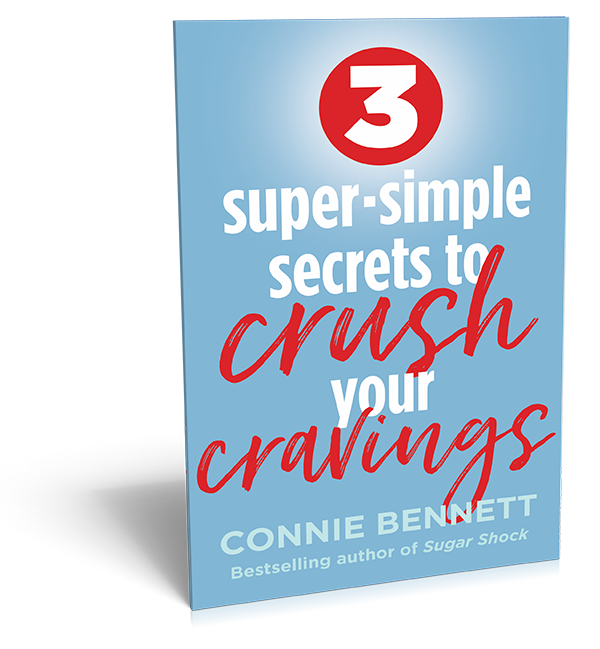 Get Your FREE Cravings-Crushing, Quick-Start Guide!
Do your cravings make you frustrated, frazzled and overweight?
Get Your FREE download now to Crush Your Cravings, starting today. 
This fun, fascinating, science-based, Cravings-Crushing, Quick-Start Guide will whisk you away from temptation for sugary, salty, fatty junk non-foods and and into the glorious, delicious, liberating world of self-control.
Welcome to the Cravings-Crushing Community. 
Please tell us here, on this blog, which of these tools you like best.