Millions of people are craving sweets and processed carbs and suffering from a blood sugar condition that just doesn't get enough press.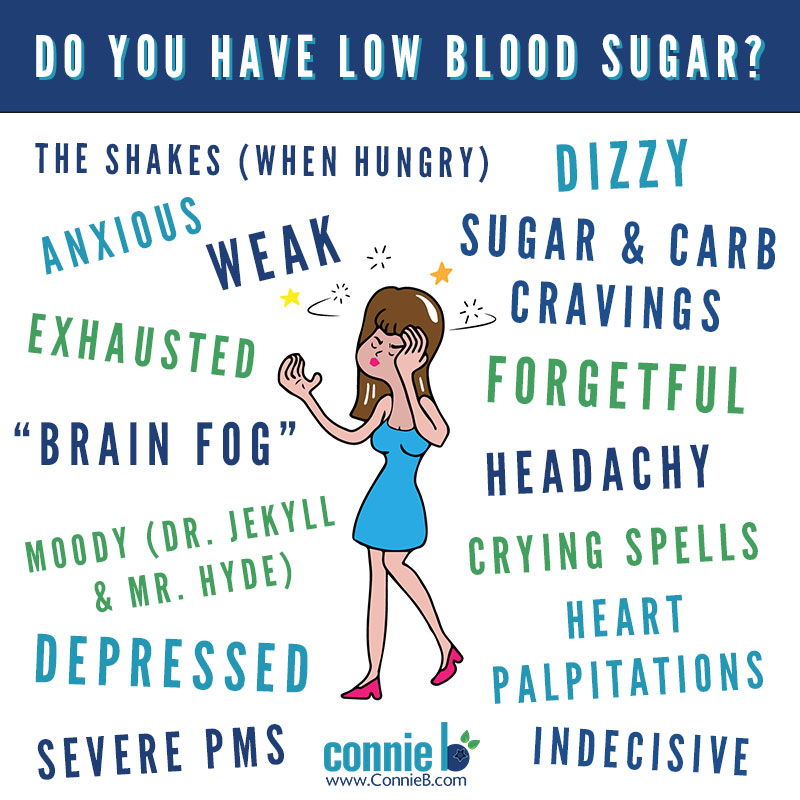 I'm not talking about pre-diabetes or type 2 diabetes.
Rather, if you feel moody, tired, or confused, you may have low blood sugar or hypoglycemia.
The good news is that, unlike diabetes, in most cases, you don't need insulin or other medication.
What's so easy about hypoglycemia is that it's very easy to manage, as I've discovered. (My condition is why I quit sugar in the first place.)
So, take a look at the list below to discover if you have any of these symptoms.
Which, if any, of these symptoms of hypoglycemia or low blood sugar do you have?
Exhaustion
Sudden fatigue
Nervousness
Anxiety
Irritability & moodiness
Waking up with a "hangover"
Weakness
Faintness
Headaches
Difficulty concentrating
The shakes (when hungry)
Mental confusion ("fog" on the brain)
Crying spells
Depression


Apprehensiveness
Tension
Mood swings (Dr. Jekyll and Mr. Hyde)
Dizziness
Forgetfulness
Nightmares
Digestive problems
Aching eye sockets
Indecisiveness
Heart palpitations
Bizarre behavior
Tremor (internal trembling)
Restlessness
Sleeping too much
Ravenous hunger
Craving for sweets/Sugar addiction
Backache and muscle pain
Cold hands and feet
Vertigo
Incoordination
Temper outbursts
Sensitivity to light
Negative thoughts and attitudes
Unnecessary and excessive worrying
Suicidal thoughts
Halitosis
Feeling best after 7 p.m.
Sighing and yawning
Premenstrual tension & bad cramps
Accident prone and loss of coordination
Shallow breathing
Family history of diabetes or low blood sugar
Itching and crawling on skin
Vertigo
Joint pain
Abdominal spasms
Craving for alcohol and coffee
Fearfulness
Blurred vision
Cold sweats
Edema
Numbness
Blackouts
Allergies
Lack of sex drive (women)
Impotence (males)
Leg cramps
Muscular twitching or twitching of eyelids
Gasping for breath
Smothering spells
Staggering
Slurred speech
Uncontrollable weight gain
Night terrors
Rheumatoid arthritis
Phobias and fears
Neurodermatitis
Nervous breakdown
Asthma
Hay Fever
Undue perspiration
Hives
Sinusitis
Colitis
Diarrhea
Arms and legs or body hurt when first rising in a.m.
"Motor-Mouth" (constant talking)
Alcoholism
Visual disturbances
Antisocial behavior
Sneezing
Skin tags
Feeling of "going crazy"
Dry or burning mouth
Ringing in ears
Hot flashes
Insomnia
Convulsions, coma, unconsciousness and seizures
Migraines
Aggression
Limited attention span
Learning disabilities
Bedwetting in children
Hyperactivity in children
Candidiasis (Candida Albicans)
Chronic fatigue syndrome
Menstruation disorders
Immune system disorders
Tachycardia – racing pulse due to high adrenaline
Rubbery legs
Twitching, jerking and cramping of leg muscles
Waking after two to three hours of sleep
Abnormal weight – too high or too low
A diagnosis of mitral valve prolapse
Lack of appetite
Red blotches on skin or circular arcs of red skin
Can't tolerate bright light or loud sounds
Hallucinations
Personality changes
Dilated pupils
Numbness around the mouth
Craving for sugar and salt
Unusual patterns in frequency of urination
Pain in neck and shoulders
Hypothermia
Inability to lose weight
Fat pad on the belly that won't go away
Common in people with fibromyalgia syndrome
Heavy dreaming
Nasal congestion
Hunger pains including acute stomach pain and nausea
Dry skin
High triglycerides and cholesterol
Fluid retention
Brittle hair and nails
Dry, small stools
Dry mouth
Studying is a tremendous effort
Disorganized
Feelings of guilt
Can't handle stress
Motion sickness
Remember, even if you have many symptoms of low blood sugar, it's very easy to manage your condition. Here's all you need to do:
You just need to kick sugar and sweet desserts full of sugar, honey, agave, barley malt, coconut sugar and other sweeteners.
You also need to cut out quickie carbs (that's my phase for processed carbohydrates).
And you need to eat several times a day so your blood sugar doesn't drop too low. (I'm talking about mini-meals or snacks.)
Of course, kicking sugar can be quite challenging so that's why I've been devoted to helping you kick sugar and quickie carbs.
Stay tuned for my upcoming announcement about my new Crush Your Cravings Virtual Bootcamp.
By the way, if you have a number of the symptoms I cited above, please consult your doctor, who may want to order a 5-hour Glucose Tolerance Test that tests for insulin levels.
By the way, if you you do have low blood sugar — like millions do — this is NOT a pleasant test. You might want to bring some food along, or even a friend.
Hope this helps you. Feel free to share this with a friend.
Bear in mind that you CAN feel better and get over your hypoglycemia.
Get more helpful info about hypo here.
Join the Conversation: Do you think you have low blood sugar? Tell us now about your experiences.
Sources include:
Safe Harbor Alternative Mental Health On-line, www.alternativementalhealth.com/articles/hypoglycemia.htm, "Conquering Anxiety, Depression and Fatigue Without Drugs – The Role of Hypoglycemia", Professor Joel H. Levitt of The Anxiety and Hypoglycemia Institute
EMedicine.com,  "Hypoglycemia, Kenneth J. Snow MD, instructor in the Department of Internal Medicine at Harvard Medical School
Gale Encyclopedia of Alternative Medicine
Pinksunrise.com, "Living with Hypoglycemia", Sue Spataro RN, BSN
"Reactive Hypoglycemia (RHG): FM/MPS Perpetuating Factor", Devin Starlanyl MD
Hypoglycemia Association Inc., Bulletin #44 "Symptoms of Hypoglycemia and Hypoadrenocorticism"
Saunders, Jeraldine and Ross, Harvey, M.D., "Hypoglycemia: The Classic Heatlhcare Handbook." Kensington, 2002, Revised. Formerly called "Hypoglycemia: The Disease Your Doctor Won't Treat," New York, 1980.
Ross, Harvey M., M.D., "Fighting Depression." Keats Publishing, Inc., New Canaan, Connecticut, 1975.
Fredericks, Carlton, Ph.D., "New Low Blood Sugar and You." Perigree Books, The Berkley Publishing Group, New York, 1985.
Krimmel, Edward and Patricia, "The Low Blood Sugar Handbook: You Don't Have to Suffer." Franklin Publishers, Bryn Mawr, Pennsylvania, 1992.
Ruggiero, Roberta, The Do's and Don'ts of Low Blood Sugar. Lifetime Books, Hollywood, Florida, 1983.
Rosenbluh, Edward S. Ph.D., "Hypoglycemia: Low Blood Sugar Real or Imaginary."