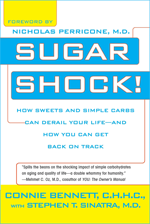 Most people know that over-consuming sweets can lead to obesity and type 2 diabetes. But what many don't realize is that too many "quickie carbs" can trigger a host of other maladies, including fatigue, mood swings, heart disease, cancer, and more. In my first book, Sugar Shock, you'll learn about the many nightmares that await you if you keep keep over-consuming sugar.  Learn the sour scoop now.
Get Your FREE Cravings-Crushing, Quick-Start Guide!
Do your cravings make you frustrated, frazzled and overweight?
Get Your FREE download now to Crush Your Cravings, starting today. 
This fun, fascinating, science-based, Cravings-Crushing, Quick-Start Guide will whisk you away from temptation for sugary, salty, fatty junk non-foods and and into the glorious, delicious, liberating world of self-control.
Welcome to the Cravings-Crushing Community. 
Please tell us here, on this blog, which of these tools you like best.