.
Counter Halloween Sugar Overload.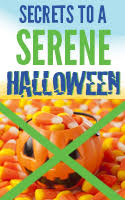 It's National Sugar Overload Season again. (That's what I call this time — from now to the end of the year.)
Yes, sadly, Halloween is the trigger for a year-end bout of sugar gorging.
Today, I come bearing a gift, a webinar I did on 7 Secrets to a Serene Halloween.