Let me bring you some good-natured mirth and merriment, giggles and guffaws, along with lots of smiles.
Meet Sugar Shock Cartoons, which are designed to lift your spirits, help you see the error of your unhealthy ways and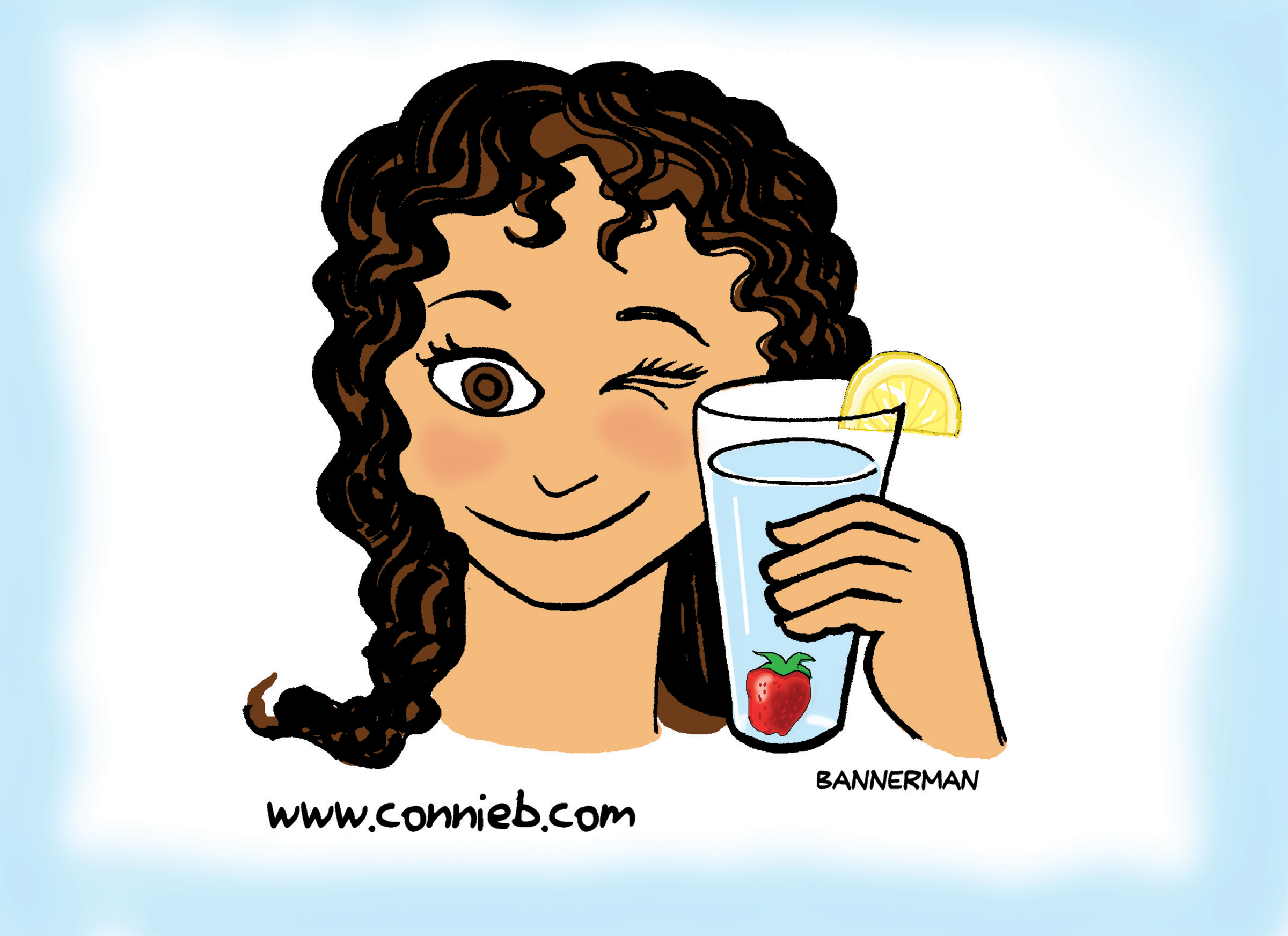 That's exactly what we all need, especially when we look at or are suffering from serious health and wellness issues.
Laughter, after all, has been hailed as the best medicine.
For more than a decade — since I became a wellness advocate after quitting sugar and processed carbs on doctor's orders and then an author (Sugar Shock and Beyond Sugar Shock) and Sweet Freedom coach — been saddened by the preponderance of seriousness.
Enough already!
It's time to ditch your glum, dour or morose feelings — even those about being hooked on junk foods filled with sugar, carbs, fat and salt.
When you quit those dangerous processed sugars and carbs and start eating cleanly, that's not the time to feel melancholy, dejected or peevish.
Eating wholesome, sugar-free, gluten-free, organic (if possible) foods and having smart habits means that you'll have a sweeter, happier and more joyful life.
It's time to get excited. It's time to smile, chuckle and laugh.
Which brings me to the point of Sugar Shock Cartoons.
Laughter is the missing ingredient in many diet plans and in many people's lives, for that matter.
So what if  every day, you can be taunted by unhealthy junk foods?
So what if unhealthy junk foods seek to tempt you in our convenience-driven, fast-paced world?
Instead become a calm, active charismatic person, who is dedicated to health and wellness.
Remember, levity is not only healthy for you, but it performs a valuable role to help you deal with serious subjects such as those I discuss.
Sugar Shock Cartoons are intended to be humorous, if not ludicrous, even shocking.
But they're also designed to be entertaining. But bear in mind that they have a strong element of truth.
So let's have some fun together taking a whimsical approach.
Join me in seeing the absurdity of your Crazy Cravings™ (as I call them) for junk foods full of sugar, carbs, fat or salt.
Then share these cartoons, which are intended to help you chuckle, laugh or smile at those and other unhealthy temptations.
Now, thanks to talented cartoonist Isabella Bannerman, you now can look at your health-harming sugar addiction, Crazy Cravings, and other unhealthy habits with
Why cartoons?
One day after I'd had enough seriousness, trauma and heartbreak, I'd had enough. So Shock Cartoons were born.
Bear in mind that you can find lots of research about the power of humor and laughter.
So join me. Chuckle, crack up or, at least, smile with us at the absurdity of our Sugar Shock World.
Remember, your friends, relatives and co-workers need some humor, too.
Please play fair; the good karma will come back to you.
Click here to get a complete list and links to Sugar Shock Cartoons.
Permissions Guidelines
Would you like to use one or more of our fun Sugar Shock Cartoons on your blog, website or elsewhere? Sure, feel free to share them… But first, see these Cartoon Permission Guidelines below.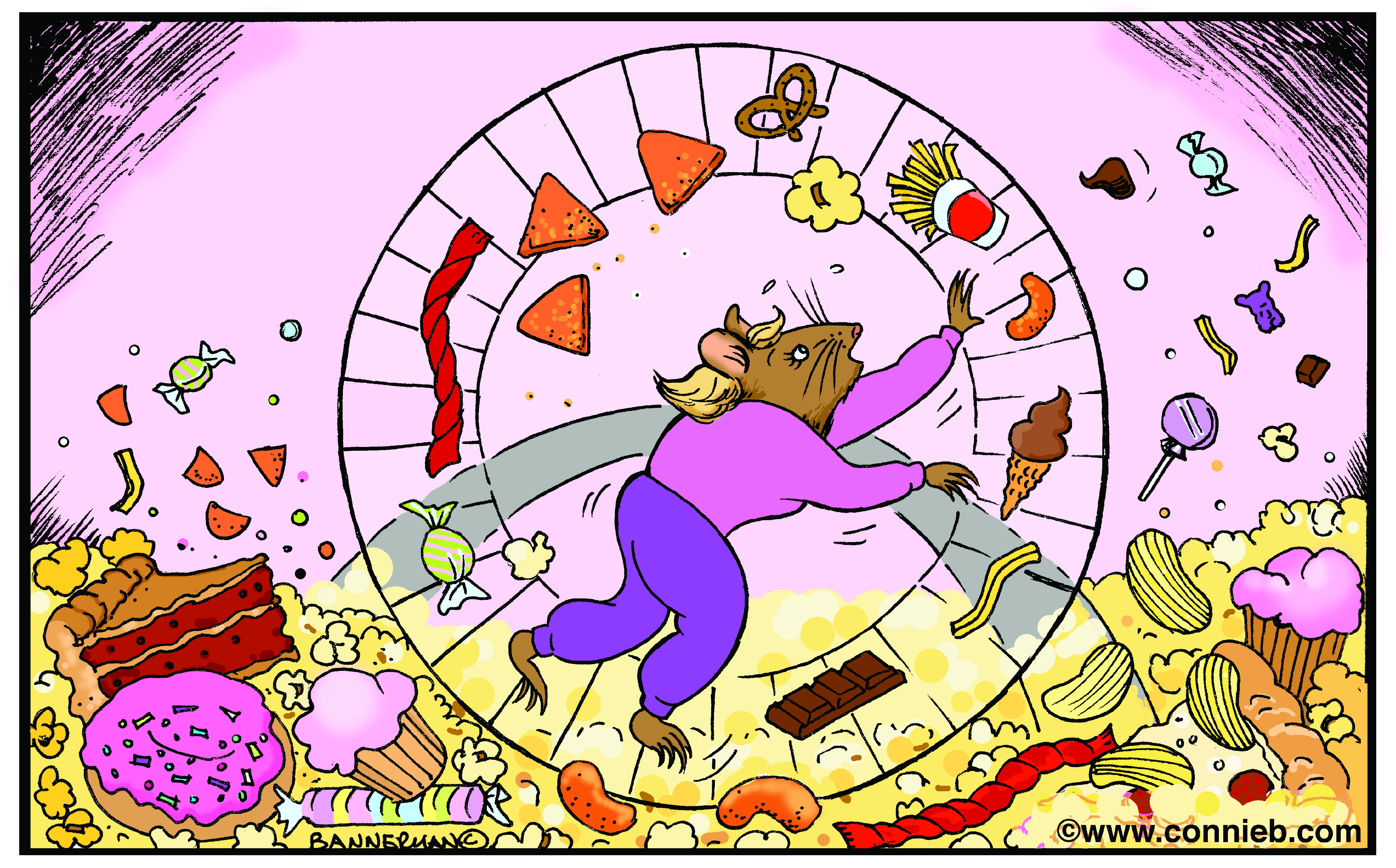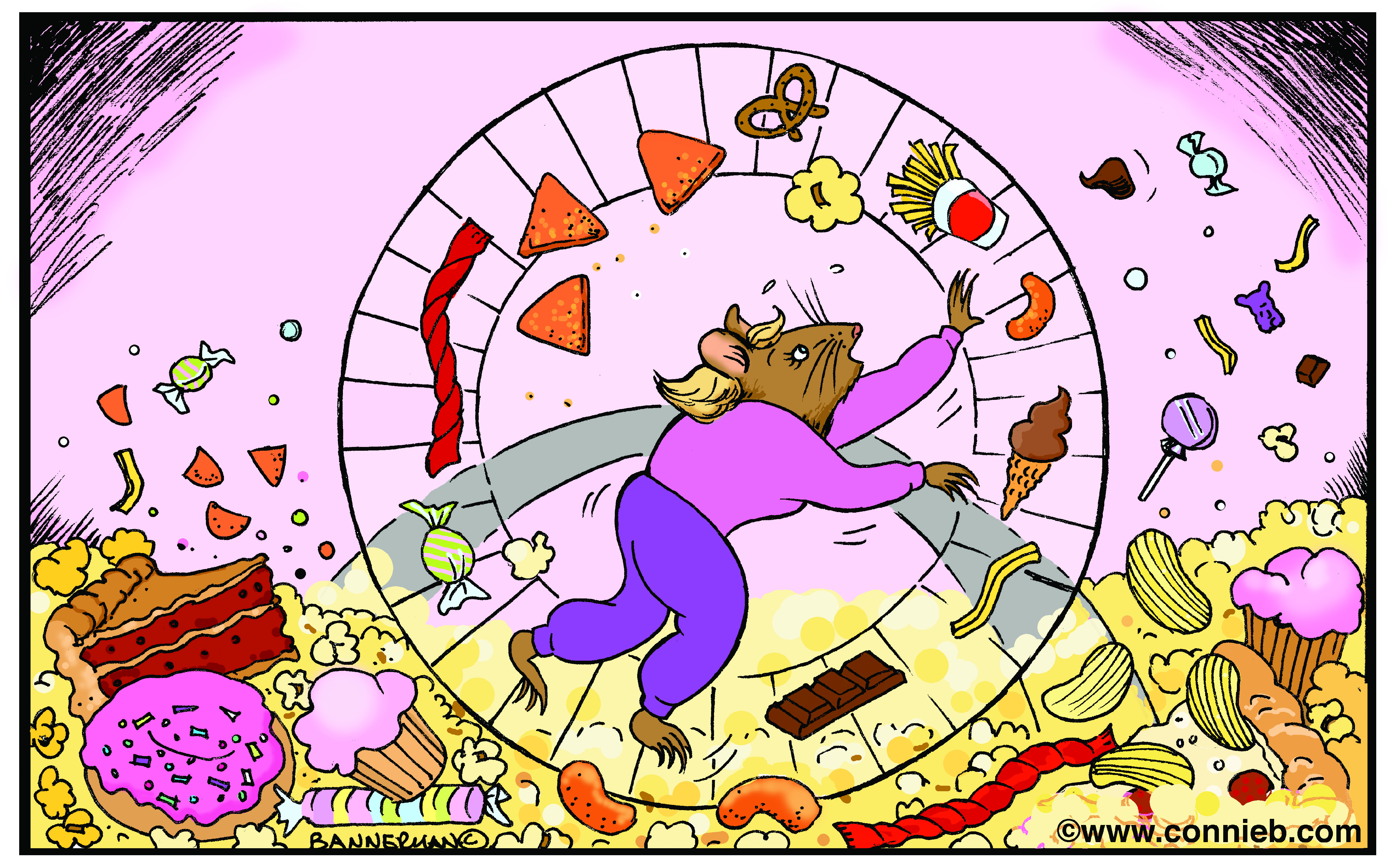 Here are some permissions guidelines you need to know before you reprint any cartoons.
Permission Guidelines: How to Run a Sugar Shock Cartoon on Your Site, Show
You're granted specific, limited permission to reprint Sugar Shock Cartoons on websites or blogs, in magazines, newspapers, books, in talks or slide shows, movies, or other media, but you must adhere to the following "professional courtesy" conditions:
Cartoon creator Connie Bennett and artist Isabella Bannerman should be conspicuously credited.
Use the following whenever you reprint a cartoon: "Reprinted with permission from health and sugar expert Connie Bennett's website, ConnieB.com.
Cite the specific web address where you find the cartoon. (This should be listed directly below or adjacent to the cartoon in a conspicuous manner. If on the web, the link must be clickable.)
You may NOT use this cartoon in a disparaging context or manner.
You may NOT charge for this cartoon.
ConnieB.com retains all ownership, rights and copyrights.
Reprint rights may be revoked, without notice, on a case by case basis, if reprint courtesy is, in our opinion, abused.
To select the best Sugar Shock Cartoons for your needs, see a list here of all Sugar Shock Cartoons used, with links to all the images.
To create humorous Sugar Shock Cartoons, I've teamed up with the talented Isabella Bannerman, who is the Monday artist for
Six Chix , a clever, comic strip internationally syndicated by King Features .
Isabella's award-winning cartoons and illustrations have appeared in many publications, including The New York Times , Glamour , The Funny Times ,World War 3 Illustrated , and Hudson Mod Magazine. 

In addition, as an animator, Isabella also has worked on MTV's "Doug," "Pee Wee's Playhouse," MTV spots, and other television shows and commercials.
So why did we create Sugar Shock Cartoons?

Learn here about the value of humor and why Sugar Shock Cartoons are designed to amuse and entertain you but also to inspire you to positive action.