Normally, I don't reveal my vulnerabilities here, on this Sugar Shock Blog. Nor do I share a personal plight, but today, I feel a need to confess to you that I feel like the ultimate Health Hypocrite.
Sure, I eat healthy, wholesome, real foods. Yes, I religiously avoid sugary foods and carbs — and have since 1998 with only a handful of very minor infractions. I don't even smoke anymore. (Inhaling two packs of cigarettes is a thing of the past.) What's more, I've been shunning caffeine since a doctor suggested I do so more than a decade ago. And I don't even chew sugar-less gum or eat candies with artificial sweeteners anymore. In addition, I've triumphed over my diet soda slugging. Plus, I'm huge exercise aficionado. But feeding my body well and moving just aren't nearly enough.
My body craves — as does yours — ample sleep. We desperately need those zzzzzz's.Otherwise, I'm headed for sniffles, sneezing, coughing and congestion.
Well, lately — especially in the last week — I haven't walked my talk. Despite the fact that I know about the wonders of a good night's sleep and I'm even mentioning it as a "Smart Diet Habit" in my next book, I skimped on sleep myself last week. Now that I'm a health coach, I'm not going to indulge in self-blame. Rather, I'm going to use this realization as an opportunity.
The irony is that lately, I've been thinking a lot about and striving to do excellent self-care, because of my training as a health counselor and life coach and because I've been completing Cheryl Richardson's fabulous book, Take Time for Your Life, which was required reading for my life coaching program through iPEC.
I even just bought Cheryl Richardson's latest book, The Art of Extreme Self-Care, this weekend at this remarkable Hay House ouse Movers & Shakers conference. Both books have motivated me to think a lot about how we all will benefit if we devote ourselves wholeheartedly to treating ourselves with respect and reverence, even it it means we have to let go of current projects and disappoint people. 
Well, despite my commitment to treating myself right, last week, I neglected my needs when it came to snoozing. You see, I felt compelled to help you you a lot this month. I really wanted to:
Last week, I wanted to find time to:
Work on the book proposal for my next book, The Smart Diet Habits of Highly Successful Losers.
Promote my 6 talks (so far) in January — the one on New Year's Day at the Jewish Community Center in New York City on the Upper West Side, my free introductory talk on Jan. 5 at the New York Open Center and the four-week program, beginning Jan. 12, also at the New York Open Center.
Finish the 5 book reports, which are required to complete my certification from iPEC as a life coach. (I'm almost done.)
Coaching and counsel my wonderful clients, who seek to lick their sugar addiction and create a better, more fulfilled life.
Change the content on my autoresponders that automatically go out to you when you sign up for Free Stuff from my website.
Connect with you more and build my community on Facebook and Twitter, as well as in our Stop Sugar Shock social network, so I can offer you valuable tips and inspiring messages.
Educate you with Sugar Shock Blog posts about new studies such as this scary one about soda, pregnant woman and diabetes.  (More posts are in the works when I bring someone on board to help. See below.)
My goals also are to:
Help support a friend or two, who is doing valuable work. This week, I spread the word about Donna Sonkin's event tomorrow, which unfortunately I may not be well enough to attend now.
Send send out an email blast to my mailing list about the exciting programs offered.
Plan the 2nd annual Great Worldwide Sugar-Out Challenge in mid January, which includes lining up  top experts to join in our 24-hour twitfest and inviting them to add their names to a press release that will go out to members of the media as it did last year.
Send a pitch to The Dr. Oz Show suggesting a show about sugar addiction in January and to invite the producer to book both Stephen (Dr. Sinatra) and myself as well as other sugar experts and sugar addicts to appear on a much-needed episode. (Please help me suggest that we come on as guests to The Dr. Oz Show. And if you're a sugar addict in need of help, feel free to recommend yourself, too.)
Plan my radio shows for January. For example, on Wed., Jan. 6 at 2 p.m., you'll get valuable ideas from Gretchen Rubin on how to be happy. She is author of the new book, The Happiness Project: Or, Why I Spent a Year Trying to Sing in the Morning, Clean My Closets, Fight Right, Read Aristotle, and Generally Have More Fun. I'm also lining up shows tips with Gary Ryan Blair, the Goals Guy and author of the new book,Everything Counts: 52 Remarkable Ways to Inspire Excellence and Drive Results; and Annette Fix, who will give relationship pointers to use in the new year. (Stay tuned for details.)
Clear clutter in my apartment.
Buy a new printer, because my previous one broke down. 
Take time to exercise, meditate, do creative visualization, read inspiring passages and lay the groundwork to manifest a loving relationship.
Wow, I'm exhausted just reading my list. Clearly, last week, I overworked, didn't work out enough and ignored valuable sleep time. One day I even put in about 20 hours. Or was it 22?
Clearly, I know better! For goodness sake, I'm both a health counselor and a life coach. People even dub me as the "Smart Habits Girl" (on Twitter), "Smart Habits Coach" or "Sugar Liberator."
But skipping sleep sent me straight to a sore, scratchy throat, hacking cough, a stuffy head and sheer exhaustion. Ironically, recently, I began to research the subject of sleep deprivation for my next book by reading articles such as this one and this one.
Now I have to miss two holiday parties tonight because of being sick.
While I'd rather be sleeping now, I'm writing because I really need your help. In return, I will help to bring out the absolute best in you. With  your assistance, I could get more sleep, help more people, have more fun, be more energized, take more time for me and lead the kind of balanced life that I help my clients to achieve.
…So I'm currently seeking several part-time independent contractors (2 to 10 hours a week). My goal and intention is to find:
An assistant producer for my Gab With the Gurus radio show (a fun gig!);
Several people to help build my community through social media — especially my new Facebook fan page and Stop Sugar Shock social network on Ning (also fun!);
2 health writers or bloggers to research, write and post pieces about recent medical studies and other health and lifestyle developments on my Sugar Shock Blog and radio show updates on my Gab With the Gurus blog. The writers also would prepare press releases about upcoming programs to submit to ExpertClick.com (another fascinating project);
A marketing consultant, who can make suggestions about expanding my reach so I can help the people who most need my expertise;
1 or 2 assistants to warmly greet attendees at my talks, make them feel welcome, pass out fliers at a variety of places in New York (or wherever I'm booked) and help line up more talks. (Right now I'm seeking people for my January talks — you just need to be warm, friendly and into serving others);
A tech-savvy person, who can do website updates (on Microsoft Front Page) and/or possibly move my entire Sugar Shock website to WordPress. This person also would set up my new Smart Habits Blog on WordPress before I add too much content on its current site.
At present, don't have a budget for these independent contractors. The good news is that I do have a BIG desire to help you live a better life. Plus, I have superb training from the Institute for Professional Excellence in Coaching (iPEC) and the Institute for Integrative Nutrition (IIN), as well as my own experience being the Bad Habits Babe. I also have a proven track record, along with testimonials from clients about my ability to motivate, guide and coach people to break free of their self-sabotaging habits. (Check back here soon for more client kudos. I've been too busy coaching to get more testimonials.)
Even if you're free of destructive patterns, we can still swap services.
I can coach you so you'll finally realize your dreams. (I can help anyone, but I do specialize in health, wellness and personal empowerment, and, in particular, I work with sugar addicts, stay-at-home moms, small business owners, authors, writers, health counselors, marketing experts.)
In addition, if you need writing or marketing services, I'm your gal.
Here's how it will work. You would devote a designated amount of time each week to help me in one of the above areas. In exchange, I'll either coach you in health, wellness and writing, or I"ll help you to write and/or edit something. Depending on how many hours you work for me, you would get either private coaching or you would be part of one of my Break Free With Connie group coaching programs. 
Sound intriguing?
If you're a fellow health expert, please join in the discussion here and on Facebook. Do you, too, feel sometimes like a Health Hypocrite? How? How have you overcome this? I'd love your ideas to improve.  (Plus, I'm working on a story for several sites.)
Enough writing. My shoulder and arm are very sore from typing, and I need to sleep, drink liquids, finish my chicken soup, take herbs and supplements and recuperate.
Hope you will take advantage of this amazing offer to help you set and reach your goals, tap into your inner purpose and passion and connect that with your outer goals to achieve extraordinary and sustainable results.
In the meantime, I'm now committing to you, dear readers, that I will conquer my destructive sleep deprivation habits. I need to live up to my "Smart Habits Coach" title. Besides, I know that I can lick this bad habit just as I have all my other bad habits over the years. But feel free to wish me luck!
Please spread the word about this offer — and feel free to share your thoughts here and on Facebook about my unhealthy hypocrisy!
Please follow and like us: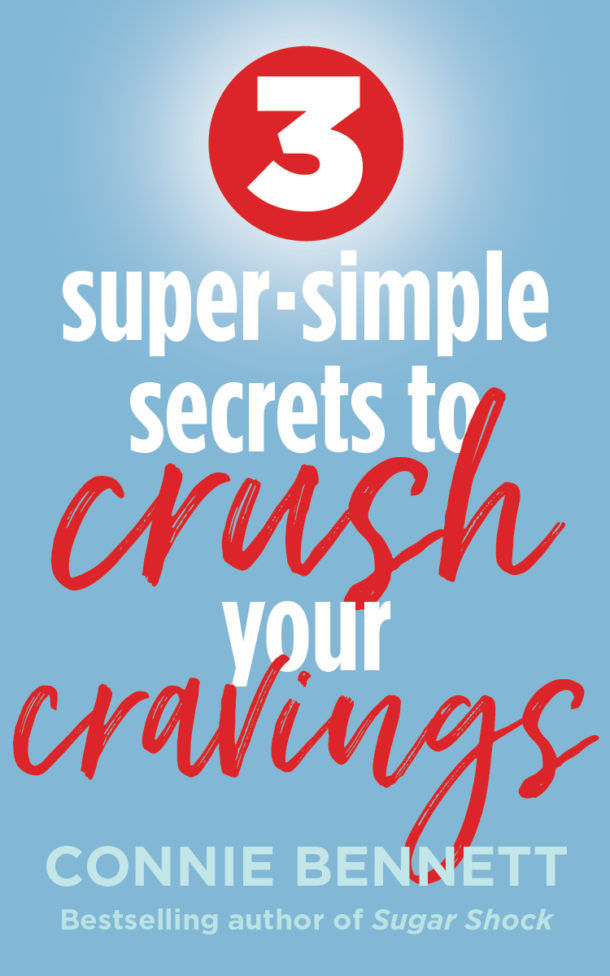 Get Your FREE Cravings-Crushing, Quick-Start Guide!
Do your cravings make you frustrated, frazzled and overweight?
Get Your FREE download now to Crush Your Cravings, starting today. 
This fun, fascinating, science-based, Cravings-Crushing, Quick-Start Guide will whisk you away from temptation for sugary, salty, fatty junk non-foods and and into the glorious, delicious, liberating world of self-control.
Welcome to the Cravings-Crushing Community. 
Please tell us here, on this blog, which of these tools you like best.