Has my book Sugar Shock motivated you to take control of your habit and move Beyond Sugar Shock?
Have you taken my Break Free Program and has it helped you to kick sugar, which has dramatically improved your life?
Have you been motivated by another author or expert to remove your sugar habit so that you now have an amazing sugar-free life?
If so, I want to hear from you!
Please help me to inspire other people so that they, too, can travel Beyond Sugar Shock, which, incidentally, is the name of the book I'm now writing.
I'Please share here how your life has changed by removing sweets from your life.
People get so many benefits from quitting sugar or at least cutting back on their consumption. For instance, perhaps you're one of those who've lost weight, boosted your moods, improved your concentration, experienced an improved sex drive, are more cheerful, etc.  
To tell your story, I've listed a few topics you may choose to adddress. (You can write about as little or as many topics as you like. You can even add your own subject.)
NAME and AGE (specific age or range, if you like)
LOCATION (CITY/STATE/COUNTRY)
EMAIL ADDRESS (I'll keep it private. I promise!)
WHAT I WAS LIKE "ON" SUGAR (For example, you could discuss mood swings, weight, relationshiips, how you always wanted more, how you felt like you were trapped in prison, etc.)
HOW I FIRST GOT "HOOKED"
MY ROCK BOTTOM MOMENT OR TURNING POINT (What was the incident(s), etc. which inspired you to finally quit?)
WHY I QUIT SUGAR
HOW KICKING SUGAR CHANGED MY LIFE (You could share about changes to your weight, sex drive, PMS, moods, relationships, cravings, how you look, what happened to  your cravings, etc.)
ON MY LIFE TODAY WITHOUT SUGAR
TIPS TO HELP OTHERS BECOME SUGAR-FREE
If you're not there yet, I invite you to consider quitting sugar or drastically reducing your consumption. Join us in discovering the Delicious Sweetness of Being™ without keep relying on constantly consuming sugar and other sweeteners, these potentially dangerous and deadly substances.  
By reducing the sugar, you'll be delighted. As you'll discover, you can Get a Sweeter Life Naturally™.
Thank you in advance for sharing your stories, which I also may include elsewhere. Please make sure to provide your email address so that I can contact you.
I do hope to continue to inspire you.
Gratefully,
Connie
P.S. I'm really eager to hear how your life has changed and to spread the word to others. Thanks again for contributing! 

Please follow and like us: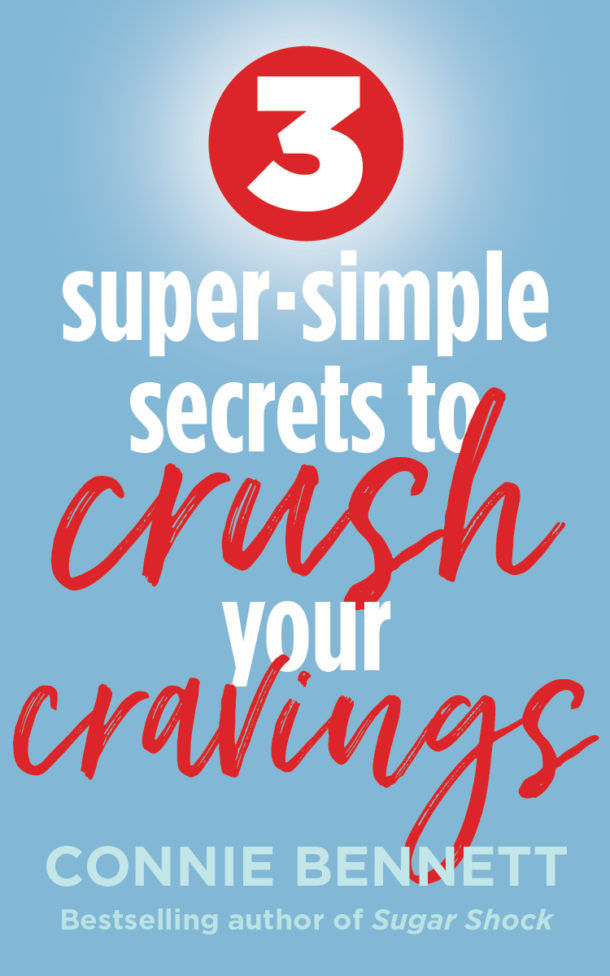 Get Your FREE Cravings-Crushing, Quick-Start Guide!
Do your cravings make you frustrated, frazzled and overweight?
Get Your FREE download now to Crush Your Cravings, starting today. 
This fun, fascinating, science-based, Cravings-Crushing, Quick-Start Guide will whisk you away from temptation for sugary, salty, fatty junk non-foods and and into the glorious, delicious, liberating world of self-control.
Welcome to the Cravings-Crushing Community. 
Please tell us here, on this blog, which of these tools you like best.