Have you seen the new Shock Cartoons™, which recently made their debut here, on this Sugar Shock Blog?

Why, you may wonder, am I inviting you to laugh at serious health and health and wellness subjects? That's because humor is powerful.
Smiling or laughing about something serious can inspire you to make positive changes.
Indeed, back in 1998, before I kicked sugar, I saw the humor in my sugar-seeking behavior.
Likewise, in 2012, after my Carb Relapse, I found silliness in my carb-crazed bingeing.
So let me help you laugh or smile and then change for the better.
[shareable cite="Connie Bennett on the 'Why' of the Sugar Shock Cartoons"]Smiling or laughing about something serious can inspire you to make positive changes.[/shareable]
To see all Sugar Shock Cartoons, go here.
And, of course, feel free to share Sugar Shock Cartoons with your friends, loved ones, and social media colleagues so they'll smile, chuckle, think and change, too.
Read on to get the Permissions to Use Guidelines.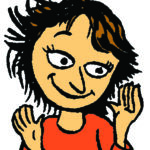 As I announced earlier, to create the Sugar Shock Cartoons, I've teamed up with talented cartoonist Isabella Bannerman, who is the Monday artist for Six Chix, a clever, comic strip internationally syndicated by King Features.
Isabella's award-winning cartoons and illustrations have appeared in many publications, including The New York Times, Glamour, The Funny Times,World War 3 Illustrated, and Hudson Mod Magazine. In addition, as an animator, she has worked on MTV's "Doug," "Pee Wee's Playhouse," MTV spots, and other television shows and commercials.
On this page, you'll find an updated Sugar Shock Funnies list so please check back here regularly.
Share the Sugar Shock Cartoons.
Isabella and I have created these cartoons for you to share. Here are the Permissions to Use Guidelines
Want to use this cartoon? We grant you specific, limited permission to reprint Sugar Shock Cartoons on websites or blogs, in magazines, newspapers, books, in talks or slide shows, movies, or other media under the following "professional courtesy"' conditions:
Cartoon creator Connie Bennett and artist Isabella Bannerman should be conspicuously credited.
Use the following whenever you reprint a cartoon: "Reprinted with permission from health and sugar expert Connie Bennett's website, www.Connie-Bennett.com.
The specific web address should be posted below and/or adjacent to the cartoon in a conspicuous manner. If on the web, the link must be clickable.
You may not use this cartoon in a disparaging context or manner.
You may not charge for this cartoon.
This website retains all ownership, rights and copyrights.
Reprint rights may be revoked, without notice, on a case by case basis, if reprint courtesy is, in our opinion, abused.
Thank you for playing fair!