Lately, I've been thinking a lot about the the amazing Louise L. Hay, who passed away August 30 at the age of 90.
It's tough to describe the profound influence on me by this remarkable, trailblazing, positive-thinking woman, who I've had the pleasure of meeting four or five times over the past few years.
In fact, one of my fondest memories about Louise Hay is that I had the distinct honor to talk with her at her fabulous, private 85th birthday party in San Diego in 2012.
The stunning party was for Hay House authors, and I was sooooooooo thrilled, because my second book, Beyond Sugar Shock, was but two months away from reality by none other than Hay House, the publishing house I so admired.
(Unfortunately, my joy at becoming a Hay House author and talking with Louise was greatly clouded by the fact that my mother had recently been diagnosed with stage 4 cancer. (In fact, I'd just flown in to San Diego for Louise's party after spending a heartbreaking week with with my dying mother. Later, I moved 3,000 miles, from the East Coast, to be with my Mom at the end of her life. But that's another story.)
You, too, I imagine — if you're into growing, reaching your potential and becoming the most wonderful person you can be — have been positively guided by Louise Hay.
All of us, thankfully, can still be guided by this legend  although Louise Hay is no longer on this earth.
[shareable cite="Connie Bennett, The Cravings Ninja™"]Join us here every Thursday for inspiring Louise Hay quotes through the end of the year. [/shareable]By the way, if you don't know much about Louise Hay, I urge you to find out now and I'm sure you'll be inspired when you do that. For instance, do you know the following  three tidbits?
Just think: This amazing woman, who had been abused while younger, ultimately started a worldwide company, which is committed to delivering products and services that empower and educate the individual, while helping to heal our planet."
Now, let me share four major times that Louise Hay has helped me in enormous ways.

The First Time Louise Hay Helped Me
To the best of my recollection, Louise Hay first influenced me back in 1998, when my I was kicking sugar and processed carbs on doctor's orders. As most of you know, cutting out sweets and fast carbs (as I call them) is no easy feat.
But Louise's positive thoughts (along with tips and tactics I created) sustained me.
Admittedly, my carefully researched tricks just weren't enough to help me quit tempting, sweet treats or processed carbs.  The tips and tricks I developed needed to be backed up by a positive, can-do mindset, which were encouraged and exhorted by Louise, especially in her book, You Can Heal Your Life.
At the time, Louise's powerful words and thoughts gave me courage that I would, in fact, definitely triumph. I could and would kick sugar and quickie carbs. And I did, thanks to Louise. Not only that,  but I've now been sugarfree since 1998.
The Second Time Louise Hay and Cheryl Richardson Lifted Me Up
The second time of several times Louise Hay inspired me was when I attended the the I Can Do It event in New York in Sept. 2011.
Louise was one of several highlighted speakers, because the conference took place close to the publication date of her new book, You Can Create an Exceptional Life, with Cheryl Richardson.
This time, I had the pleasure of watching both Cheryl and Louise speak, and they were quite a team the way they danced ideas off each other and showed how all of us could lead exceptional lives.
In short, this was yet another pivotal Hay House event that made me think bigger and better.
The Third Time Louise Hay Made Me Feel "I Can Do It"
The third time Louise Hay influenced me in person was after I attended the very first Movers & Shakers event in 2011, I believe. (The event is now called Speak, Write Promote).
The Movers & Shakers event took place a few years after my first book, Sugar Shock, has been published.
At the event, I learned so much about what it takes to be a bestselling author. More importantly, I heard and met Reid Tracy, president and CEO of Hay House, Inc., Cheryl Richardson (the co-leader), Louise Hay and many others talk about how important it was to serve serve people.
It was wonderful to find people, who believed as I did, and I instantly felt at home with these fabulous people.
Perhaps most important, the Movers and Shakers event helped me believe that I would and could help millions.
Not only that, but I became determined to become an author with Hay House, the publisher I so admired.
So when they announced a Movers & Shakes contest, I became determined to win, in large part, because the winner would become a Hay House author.
Here's the video I created for the contest.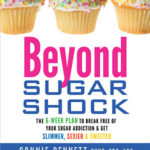 I never won the Hay House Movers & Shaker contest.
But then about a year later, something fabulous happened!
When my agent submitted a book proposal for my follow-up book, Hay House agreed to publish it.
So that led to my second book, Beyond Sugar Shock. Imagine how elated I became!
But, wait, I didn't tell you how I heard about the Movers & Shakers event quite coincidentally.
At the time, I was wrapping up my studies to be a certified life coach with iPEC .
One of our assignments was to complete a book report. So I picked Cheryl's Take Time for Your Life.
Journalist that I am, I wanted to learn more about Cheryl, and lo and behold I discovered that Cheryl would be speaking at the very first Movers & Shakers event in New York the very next weekend. So I showed up although tickets were sold out, kept thinking that they'd find a way for me to get in, and that's how I attended that first event, which ultimately led to my next book.
The Fourth Time Louise Hay Came Through for Me
The final time Louise Hay lifted me up and kept me going was  in late 2012, about a year after I'd been to her birthday party.  At the time, I'd just endured the most grueling, gut-wrenching, traumatic year standing by my angry, dying, unknowingly abusive mother.
I cannot begin to describe the pain that I went through during that Bitterweet Last Year with Mom.
After Mom passed away, my world fell apart, and I was walloped by plethora of challenges, including grief, PTSD, over-the-top Carb Cravings, shocking betrayals, family enmity, one painful revelation after another, robberies by surprising people, and much, much, much more.
During that difficult time, one CD and book helped me inordinately.  It was Louise Hays's I Can Do It.
In all, over a period of months or years, I probably listened thousands of times to the CD, especially while driving for days in my car, up and down the coast, trying to find a new place to live.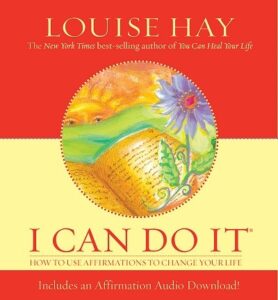 It was remarkable. I can't emphasize the power of Louise's I Can Do It CD. It nurtured me when I felt as if the world around me had collapsed.
Somehow, despite my grief, no home, Crazy Carb Cravings, etc., Louise kept me going.
The sections of the CD I listened to the most were Forgiveness,  Prosperity and Stress-Free Living  In fact, I've pretty much memorized the affirmations, which I repeated it over and over with her (well, her voice, of course).
Louise's kind, encouraging, soothing voice  kept my company for hours, while I drove from state to state or while I sat in front of the computer writing one book, then two, then three.
It was as if Louise's warmth, compassion and kindness were enveloping me, protecting me and uplifting me.
Likewise, Louise Hay's book, All is Well, with Mona Lisa Schulz and You Can Heal Your Heart with David Kessler. also helped me.
Now that we've recently lost Louise Hay and I've been facing several challenges, I've been listening repeatedly to her smart words, which can encourage you, too, especially if you're dealing with a crisis, tragedy or turning point.
In short, I highly recommend getting I Can Do It.
Stay tuned for more inspiring quotes and messages from the amazing from Louise Hay. In particular, check out shareable quotes, that I post here every Thursday.
Join the Conversation: How has Louise Hay influenced you?
Please follow and like us: