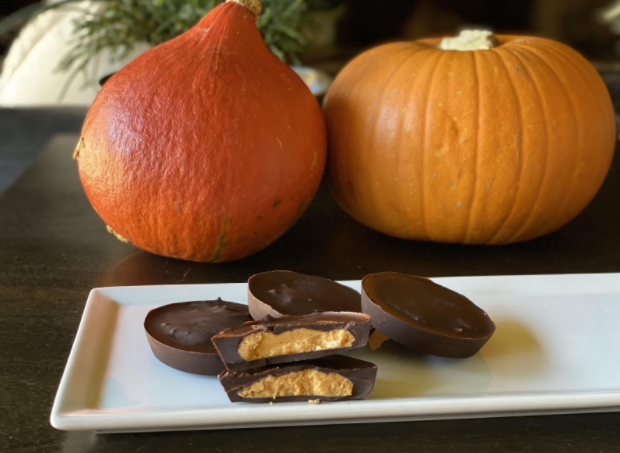 Ask mother or father what happens when Halloween comes around every year. Just as the sun sets every day, millions of people of all ages grab and clamor after unhealthy "treats" on National Sugar Overload Day, as I call it.
Then, inevitably, these sugar gorgers endure a challenging case of Sugar Shock, which entails a slew of unpleasant side effects from moodiness to difficulty concentrating to craving more sweets.
But what if there was a way to enjoy National Sugar Overload Day without eating sugar bombs? Instead, you can actually enjoy healthy candies. What's more they're tasty, sugar-free, gluten-free, dairy-free, and downright nutritious.
Now if you're one of those, who has a weakness for chocolate nut butter cups, you'll love this special recipe created by veteran recipe formulator Lizette Marx. What's so cool about this recipe is that it's sweet, but it doesn't sabotage your weight-loss or sugar-free goals.
In fact Marx—who tested and tasted many metallic-tasting batches before coming up with this recipe—has come up a brand new one for readers of this blog.
You'll truly find it hard to believe that these delicious confections have absolutely no high-calorie sweeteners. In fact, you won't have to worry about getting any sugar spikes when you indulge.

Marx came up with some creative combinations. For instance, she made coconut butter with whole coconut purée, which gives it a sumptuous, melt-in-your mouth texture and a mellow sweetness. Then she suggests using warming spices like cinnamon, ginger, nutmeg, and clove through the chocolate and in the pumpkin filling.

What's more, you get some awesome health benefits. For instance, you can enjoy antioxidant rich dark chocolate, blood sugar balancing spices, beta-carotenes from the pumpkin, and healthy fats from the coconut. Without further ado, meet this tasty, healthy Halloween dessert.
Sugar-Free, Dairy-Free, Gluten-Free Dark Chocolate Pumpkin Spice Butter Cups in Time for Halloween
Dark Chocolate Pumpkin Spice Butter Cups
Yield:
6 (when using standard-sized muffin tin)
Prep time: 15 Min
Inactive time: 30 Min
Total time: 45 Min
These decadent chocolate treats are filled with puréed pumpkin flavored with warming pumpkin pie spices like cinnamon, ginger, clove, and nutmeg. Coconut butter which has no sugar naturally sweetens both the filling and the chocolate! Savor these treats with a cup of tea.
Ingredients
1/4 cup coconut butter
1/2 cup unsweetened chocolate, chopped
1/2 teaspoon vanilla extract
1/4 teaspoon cinnamon or pumpkin pie spice
Pinch of sea salt
Filling
1/4 cup coconut butter
1/2 tsp ghee or coconut oil
1/4 cup pumpkin purée
1/4 teaspoon pumpkin pie spice
Pinch of sea salt
1/4 teaspoon vanilla powder, (optional)
Instructions
Prepare a double-boiler. Fill a saucepan with 2 1/2-inches of water and bring it to a low boil. Set a heat-proof bowl over the water (making sure the water doesn't touch the bottom of the bowl)
Add the coconut butter and chocolate and stir slowly until completely melted.
Remove bowl from double boiler and add vanilla extract, cinnamon or pumpkin pie spice, and a pinch of sea salt.
Spoon a small amount of chocolate into muffin cups, enough to cover the bottom. Place in the freezer for 10 minutes for until solid.
Make the filling:
Melt the coconut butter and ghee or coconut oil together over a double-boiler. Remove from heat and then stir in the pumpkin purée, pumpkin pie spice, sea salt, and vanilla if using.
Remove the chocolate cups from the freezer, gently place a tablespoon of filling mixture onto the chocolate base and pat down to flatten with the back of a spoon being careful not to let the filling get too close to the edge. For best results you want to leave a thin border of chocolate all the way around.
If the chocolate mixture has cooled, reheat the chocolate mixture if needed. When the chocolate is pourable, spoon into each muffin cup until filling is completely covered. Return the muffin tin to the freezer and chill for about 30-40 minutes to allow chocolate to set. Serve chilled.
Notes:
If you don't have a double-boiler, you can easily make one. Just fill a small saucepan 1/3 of the way with water and bring to a boil. Set a heat-proof bowl (stainless steel is ideal) over the top of the saucepan. Make sure the bottom of the bowl doesn't touch the water and that the edges of the bowl are easy to grab with an oven mitt when the chocolate and coconut butter are melted and ready to use.
Lizette Marx is a certified nutrition consultant, professional chef, cookbook author, and recipe developer, who coaches aspiring Culinary Nutrition Experts at the Academy of Culinary Nutrition and trains students to become professional holistic chefs at Bauman College. She teaches healthy online cooking classes and has developed an ongoing plant-rich cooking demo program for Kaiser Permanente. More tasty, healthy recipes from Lizette and her husband Geoff are included in my upcoming book, I blew my diet! Now what? To learn more, visit Lizette's website at Marxculinary.com.