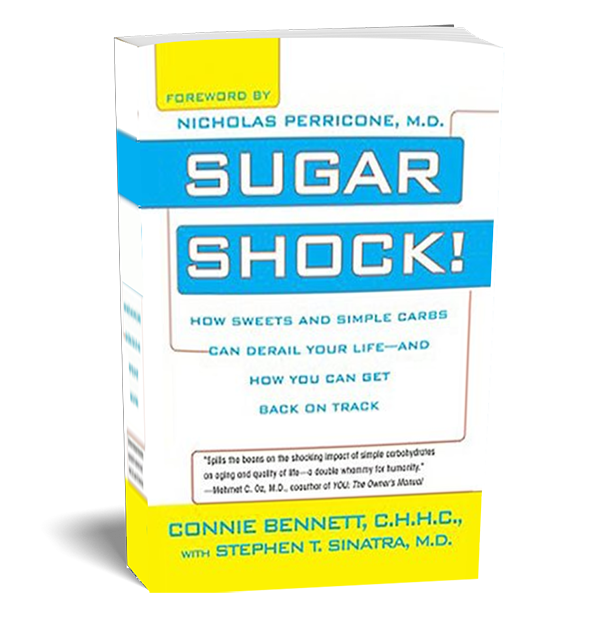 Welcome, readers. I'm so glad you're here. I invite you to get the sweet inside scoop about this Sugar Shock Blog, which I founded on June 7, 2005.
First, let me share a little history. I starfted this blog soon after researching and writing my first book, Sugar Shock: How Sweets and Simple Carbs Can Derail Your Life– and How You Can Get Back on Track.
At the time, the respected physician Dr. Stephen T. Sinatra had come on board as medical consultant.
Before I began blogging, I'd been helping thousands of sugar addicts worldwide since November 2002 in my KickSugar support group on Yahoo. (Connect with us now instead here, on Facebook, or SparkPeople.)
To the best of my recollection, the inspiring Steve O'Keefe of Patron Saint Productions deserves credit for this Sugar Shock Blog, which I founded after hearing him speak at a conference sponsored by the Independent Book Publishers Association.
Now, eight years later, my goals and objectives for this Sugar Shock Bog have evolved, but my fundamental missions remain the same. For instance, as I noted in 2005 and as you can see from the Most Popular Blog Posts, I still seek:
To provide you with relevant, up-to-date information on new research relating to the dangers of sugars and artificial sweeteners.
To bring you up to speed on the status of the movement to boot soda, candy, and junk food out of our nation's schools. (I'd also love to  spur you to action to speak and act on behalf of our kids.)
To tell you about certain marketing programs that Big Food and Big Sugar have launched — including ones that are encouraging or discouraging.
To invite you to exciting, free, informative, empowering telesummits, during which I or another host interviews top doctors, researchers, nutritionists, and health advocates, as well as relationship, tapping, social media, and Law of Attraction experts. (Please note that I also host my Gab with the Gurus Show to do just that.)
To entertain, soothe, intrigue or challenge you.
Over time, I've discovered that you, readers, have additional needs. Therefore, on this Sugar Shock Blog, you'll also find:
Super-simple tools and tactics that make it easy and effortless for you to release or dissolve your sugar or carb habit, which, if left running unabated, can lead to more than 100 ailments and devastating diseases, including cancer, heart disease, and type 2 diabetes. (The research keeps mounting that over-consumption of sugar and refined carbs can kill you.)
Ideas for fun, uplifting, exhilarating activities, including dancing to Woo-Hoo, Feel-Good Tunes.
Tasty Sugar-Free, Gluten-Free Recipes. Please note that recipes will NOT include agave, honey, brown rice syrup or any other so-called healthy sweeteners (other than Stevia).
Other motivating tidbits and valuable information, which will help you create a slimmer, sexier, sweeter you, as my most recent book, Beyond Sugar Shock urges and guides you to do.
This Sugar Shock Blog also is designed:
To help those of you who feel "trapped" by your habit of eating too many sweets and refined, Much-Like-Sugar carbs.
To inspire you to examine your consumption patterns of sugars, gluten, and refined carbohydrates and to explore whether or not your heavy habit might be harming your health, moods, and relationships.
To encourage you to consider kicking processed sweets and refined, fast-acting, quickie carbs (like white bread, white rice, and refined pasta) so that you can become more healthy, happy, and focused.
To provide a health-conscious, life-affirming, mutually supportive online community.
Meanwhile, although eight years have passed since I founded this Sugar Shock Blog, my motives for spreading the sour scoop about sly, seductive sweeteners and deceptively alluring desserts are much the same.
Life is not fun if you feel enslaved by your sugar addiction or carb addiction. It's utterly awful to feel controlled by your fixes. (Yes, I'm knowingly using drug jargon).
Even worse, your health and moods can quickly deteriorate if you keep shoveling in the sweets and quickie carbs. (Alas, I know just how bad it can get. Read my story here.)
After helping thousands of sugar addicts through Sugar Shock, Beyond Sugar Shock, my online support group, Sweet Freedom Now Course and thousands of Sugar Shock Blog posts, I've now come to an appreciation of the sublime sweetness that life can bring.
But this is a sweetness you only get by eliminating or reducing your consumption of sugar and culprit carbs.  In fact, one of my big passions is to help you realize that Life is Sweeter Naturally™ and that Life is Sweeter Without Sweets™", as I shared in 2005.
Or, to put it another way, Life is Sweeter When Sugar Doesn't Seduce You!™ (as I share on my website).
By the way, although I recommend that people remove sugar or scale back at their own pace, I still advocate small amounts of natural sugars — especially from strawberries, blueberries, and blackberries. Yum!
But please note that when I'm talking about being sugar-free, I am NOT talking about consuming agave, honey, brown rice syrup, evaporated cane juice, etc. I am against those so-called natural sweeteners but potentially dangerous sweeteners. Likewise, I am not a fan of artificial sweeteners.
Of course, I know that quitting or letting go of sugar may feel overwhelming, if not impossible. That's why I'm dedicated to making the transition easy and fun.
Now, for the Sugar Shock Blog's eighth year, you can expect some sweet additions, visual enticements, and uplifting diversions. For instance, you'll find:
Sweet Sunsets to Savor. (Stay tuned for some spectacular sights — watching sunsets and taking photos of them is one of my newest, fun hobbies.)
Fabulous Finds and Frustrating Finds. (Check back to get "Oh, Cool" or "Ugh!" reactions.)
Sweet Success Stories from Sugar Kickers, Carb Kickers, and healthy eaters, who are now enjoying a slimmer, sexier, sweeter life.
Juicy, empowering tidbits.
Provocative Musings.
Social Media Pointers.
Weight loss tips.
Tasty Sugar-Free, Gluten-Free, Dairy-Free Recipes
In.fo about celebrities, bestselling authors, and motivational people, who will appear on my Gab with the Gurus Show  (I ask all guests to give you valuable tips and pointers, which can change your life.)
As always, I want to hear from you! Please share your thoughts, ideas, and suggestions.
And feel free to contact me with your suggestions for future blog items.
Disclosures
Please note that other than a select items such as from Hay House, my wonderful publisher, and Vital Choice, which sells the best seafood, I've avoided taking ads for this site.
Also, when I interview an author for my Gab with the Gurus Show, I've usually, like most reviewers, radio hosts or reporters, received the book at no cost to me.
Read here to learn more about disclosures. Beginning December 1, 2009, the FTC requires bloggers to disclose whenever there could be hidden interests or unspoken biases related to recommendations.

Again, please talk to us. Share your ideas, insights, and tips.
Also, please see My Comments Policy.
Please follow and like us: