Are you a sugar addict?  Would you like to easily shed excess weight? Do you often get headaches, "brain fog" and fatigue? And are you suffering from a low libido, severe PMS or infertility?
Either way, this is for you.
I'm really excited and thrilled to announce that – after repeated requests from many of you – the follow-up book to my book Sugar Shock is on the way.
Sugar Shock's successor is coming to you, thanks to my new publisher, Hay House, which is the international leader in self-help and transformational publishing.
How will my next book help you sugar addicts? Well, let's face it, cutting out – or even cutting back – on sugar and refined carbs is really tough for most people.
In fact, sugar addiction is a challenging situation to solve EVEN if you know that overcoming it can help you to lose weight, get more energy, boost your libido, prevent or reverse diabetes and live longer.
So, in my follow-up book to Sugar Shock, you'll get valuable tools and tips that will make letting go of your sugar addiction simple – and even fun.

Keep reading, because I'm inviting you to share some ideas for my next book's title. (You can even invite your friends and loved ones to weigh in with titles — just send them here ==== >>>>
http://tinyurl.com/NameMyBook-SugarShockFollow-Up
How is Sugar Shock Different from my Next Book?
Naturally, you may be wondering how this new book will be different from my first book, Sugar Shock.
Sugar Shock is primarily an exposé that spotlights sugar's many dangers. One of my goals is for it to shock you into wanting to kick your bad habit. For instance, this book includes scary information about the link between excess sweets and obesity, memory loss, mood swings, troubled relationships, heart disease, diabetes, cancer, female problems and early aging.
On the other hand, my next book will give you a simple, compassionate, step-by-step plan to help you stop sugar shock and break free of your sugar habit for good.
In other words, my first book Sugar Shock dishes the sour DIRT about sweets. Now, my intention with Sugar Shock's baby (so to speak) is to tell you HOW to ditch desserts and get a healthier, happier, longer and much sweeter life.
After reading my new book, you will — I hope and believe — escape sugar shock, easily release weight, say goodbye to mid-afternoon crashes, experience joyous freedom, look and feel better than you have in years, and build a better life in the bedroom, if you catch my drift. (You'll also get many other benefits.)
In this follow-up book to Sugar
Shock:
You'll get many tried-and-true tactics — ones I created, starting in 1998, when I kicked sugar on doctor's orders and ones recommended by dozens of other health experts. You'll also benefit from my 12 years of coaching or connecting with sugar addicts around the world. (Yes, this year marks a dozen years of helping people to achieve sugar liberation.)
You'll undertake simple, interactive adventurcises™ (my word for adventurous exercises), which will drive you to major self-discoveries.. 
You'll find out several dozen ways to stomp out your sugar
cravings.
You'll learn what sugar color code you are. (Yes, we're all different in our relationship with sweets, and this knowledge will empower you to make the right choices for you.) 
You'll detox gradually so that your body, mind and even soul won't go into shock as you move away from your sugar obsessions.
You'll get healthy meal plans and tasty recipes from a recognized nutritionist and exercise physiologist. 
You'll learn to Enjoy a Sweeter Life Without Refined Sweets™.
And much more.
Calling all Creative People: Please Help Us to Name My New Book

Dear readers, please help me to name my upcoming book.
You see, although I know what I'm including in the follow-up to Sugar Shock — thanks to questions and feedback I've received from many of you — my wonderful Hay House editor and I still haven't settled on the book's title.
We have a number of thoughts, but right now, we're going to let ideas percolate for the next week or two. So would you be kind enough to give us your input?
Since you're my target audience, what is a title — and subtitle — that would entice you to buy this follow-up book to Sugar Shock?
If my Hay House editor and I pick your title, you'll get several gifts.
You'll get one hour of complimentary coaching from me very soon.
You'll get complimentary admission to an audio replay of my Break Free of Your Sugar Addiction in 6 Weeks program, which includes access to a private, members-only website. (Learn more at http://www.BreakFreeWithConnie.com)
And you'll be one of the very first people to get a copy of my new book, the follow-up to Sugar Shock.
That's not all. You'll also get my profound gratitude.
Then, I'll thank you in the book.
And I'll also spotlight you here, on my Sugar Shock Blog.
Even if we don't pick your title, you'll still get a gift from me. I plan to host a teleseminar just for people who've contributed title ideas. In the program, you can ask me questions, get tips to break free and more. 
Please share your great ideas for book titles now. What should my follow-up book to Sugar Shock be called? And, in your opinion, what is the best subtitle? 
Gratitude Moment
Now, before I part, let me take a Gratitude Moment. I just want to extend my heartfelt thanks to my new friends at Hay House for deciding to help me help you by agreeing to bring my follow-up book to Sugar Shock into the world.
By the way, I highly recommend that you look into life-changing, empowering Movers & Shakers events from Hay House, a company that was founded in 1984 by inspiring author Louise L. Hay, author of You Can
Heal Your Life and Heal Your Body as a way to self-publish her first two books.
Both of Louise's books went on to become international bestsellers. In fact, You Can
Heal Your Life — which helped me as I was struggling with sugar addiction — has sold a whopping 35 million copies worldwide . It established Louise
as a leader in the transformational movement. And now the company is committed to presenting programs and releasing products that have a positive self-help slant and are conducive to healing our planet.
Hay House Events Are Great

Events sponsored by Hay House are amazing, as I discovered upon attending the Movers & Shakers conference in New
York City in December. (That wonderful event was, in fact, where I met Louise, which was a big thrill for me, because I've been a fan of hers for years. At the Movers
& Shakers conference in New York, I also had the pleasure of meeting Hay House's motivating president and CEO Reid Tracy, the dazzling author Cheryl
Richardson, author of the life-changing book, The
Art of Extreme Self-Care, and my fabulous, charming Hay House editor, who gave me the OK to announce this now.
I encourage you to learn more about Hay House's conferences. In fact, if you're a speaker, author or coach, I recommend that you find out how to be Mover and Shaker. Just go to ====  >>>> http://tinyurl.com/HayHouseMoversAndShakersConnie
And if you'd like to hear inspiring speakers, check out the I
Can Do It conference in Tampa in November.
Please note that I'm an enthusiastic, compensated affiliate for Hay House. But I
only share information about programs or services that I recommend.

More Gratitude is Due to Dana Kennedy and Cheryl Richardson.
There are two other people I want to thank now from the bottom of my heart.
First, my profound gratitude goes to veteran journalist Dana Kennedy, founder of the original, entertaining A Year Without Candy Blog.
The articulate anti-candy crusader — who is now on Day 118 without sweets (go Dana!) — is the main person, who pushed me to "Get going" with my next book.
During one of our conversations (we coached each other), Dana insisted that that I should lay out my kick-sugar plan (that I'd been developing on for years) in a new book. So after her great advice, I did the book proposal for the follow-up to my book Sugar
Shock. And that paved the way for my next book.
By the way, Dana is one inspiring lady. Read my previous post about her here.
I also want to extend heartfelt thanks to the inspiring Cheryl Richardson, author of the fabulous book, The Art of Extreme Self-Care. If it weren't for Cheryl, I would never have known about the amazing Hay House Movers & Shakers conference at which I met all those fabulous Hay House people.
You see, last December, I was finishing writing six required book reports so I could get certified from my life coaching school school (the fabulous Institute for Professional Excellence in Coaching or IPEC). One of our assigned books was Take Time for Your Life from Cheryl.
I fell so in love with Take
Time for Your Life that I visited Cheryl's awesome website and learned that the following weekend she would be co-hosting a Hay House Movers & Shakers conference. I was intrigued.
But it was sold out. However, despite being told I couldn't get in, my intuition told me I absolutely HAD to attend that event. Ever had one of those feelings? I just KNEW in my gut that I had to be there.
To make the long story short, I visualized Hay House personnel welcoming me with open arms even though it was sold out, and that's exactly what happened. So without realizing it, Cheryl paved the way for my next book. Thank you so much , Cheryl! 
So What Do You Think? What Should Be the Title for My Next Book?
So have you come up with some ideas for the title of my upcoming book that helps you break out of sugar shock and break free into a happier, healthier, sweeter life?
I hope you'll give this some thought as you go off and play, eat healthy foods or try to steer clear of health-harming, sugary desserts.
Remember, if your title for my follow-up book to Sugar Shock is selected, you'll get some nice gifts. And if your title is not selected, you'll still get a gift. 
Please post your great ideas now for the title to my follow-up book to Sugar Shock.
Feel free to invite your colleagues and loved ones to share their title suggestions, too. Just send them to:
==== >>>>
http://tinyurl.com/NameMyBook-SugarShockFollow-Up
I look forward to your contributions.

Please follow and like us: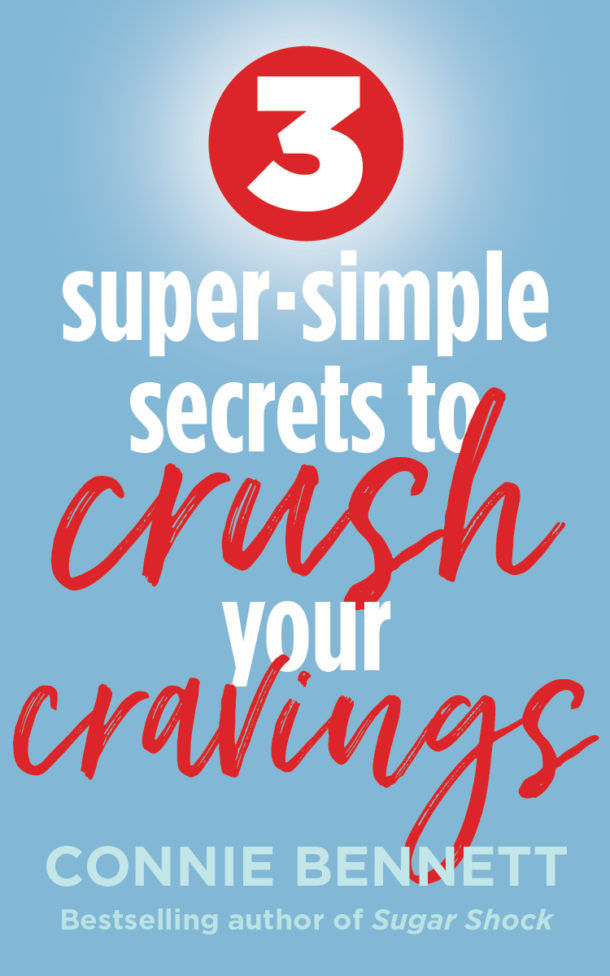 Get Your FREE Cravings-Crushing, Quick-Start Guide!
Do your cravings make you frustrated, frazzled and overweight?
Get Your FREE download now to Crush Your Cravings, starting today. 
This fun, fascinating, science-based, Cravings-Crushing, Quick-Start Guide will whisk you away from temptation for sugary, salty, fatty junk non-foods and and into the glorious, delicious, liberating world of self-control.
Welcome to the Cravings-Crushing Community. 
Please tell us here, on this blog, which of these tools you like best.