Independence Day in the United States is, of course, in the height of the picnic season. That means you'll be offered and partake of a veritable feast of sugar-laden snacks and main courses — whether you know it or not.
If you suffer from sugar cravings — or even if you don't — this holiday can be tricky, especially if you aren't armed with the right information.
You don't need to be a nutritionist to know that it's best to avoid sugar-sweetened cookies, brownies or cake cake—no matter how patriotically you decorate them.
[shareable cite="Connie Bennett, The Cravings Ninja"]Picnics can trap you with Sneaky Hidden Sugars.[/shareable]But the Sneakiest Sugars in Disguise often grace your picnic tables.
And you wonder why you get Crazy Cravings after your ostensibly healthy meal?
Here's a list of some popular picnic favorites and better options, which will help you to get through the day (or any sugar-laden holiday) feeling good.
Remember, the American Heart Association recommends that you limit your daily intake of added sugars to no more than 6 teaspoons if you're a woman, or 9 teaspoons if you're a man. And, as I've shared, I always advise eating less.
So here are a few tips to avoid big picnic offenders, many of which aren't even sweet.
Don't let the sauce be the "boss." Whether it's slathered on racks of ribs or grilled chicken or it's offered as a condiment for burgers, barbeque sauce is basically dessert for dinner, with 3 teaspoons of sugar for every tablespoon of sauce. Even if you opt for a nice grilled chicken breast or grass-fed beef burger without the bun, if you add ketchup, low-fat mayonnaise or honey mustard, you'll also add roughly 3 teaspoons of sugar. Sweet, Smart Switcheroo: Forget the BBQ sauce. Just go for mustard, onions or dill pickles for a zing of flavor.
Know that pickles are not created equal. Watch out for another picnic favorite, sweet gherkin pickles. Sure, they may seem innocuous, but they have a surprisingly high amount of sugar, at 2 teaspoons per serving. Sweet, Smart Switcheroo: Opt instead for dilled pickles, which don't contain any sugar.
Keep your beverages simple, as in H20. When you're at that fun picnic, watch what you drink. One 12-ounce can of cola contains about 8 teaspoons of added sugar, while lemonade, a picnic favorite, can have more than 7 teaspoons of sugar. Sweet, Smart Switcheroo: Water is always the best way to avoid added sugars. You can even add fruit (such as lemon on strawberries) for flavor.
Don't let salad dressing seduce you. You think you're being "so good" by filling your paper plate with a nice, healthy serving of salad. But when you add one or two tablespoons of balsamic vinaigrette dressing, you've adding 1 1/4 teaspoons of added sugars. Sweet, Smart Switcheroo: Eat your salad without dressing. Or add a squeeze of lemon. You can even bring along your own homemade, sugar-free salad dressing made with lemon, apple cider vinegar and some kelp salt.
Skip baked beans. Sure, beans are fiber-rich and a good source of protein, but when they come out of a can, they can be full of hidden sugars. A measly ½ cup of baked beans can give you 4 teaspoons of sugar. Sweet, Smart Switcheroo: Go for green beans, if available, or make baked beans yourself with tomato, garlic and olive oil or with sliced almonds.
Be fruit-salad savvy. If it comes out of a can, fruit salad is drenched in added sugars, as in about 5 teaspoons. Sweet, Smart Switcheroo: Buy or make your own fruit salad from fresh fruit.
Beware of nibbler foods. It's easy to get fooled by popular grazing foods, such as cheese and wheat crackers, peanuts or dried fruit. All of them may contain hidden sugars. For instance, a handful of crackers can contain about 1 teaspoon of sugar, a large bag of honey roasted peanuts may include 6 teaspoons of sugar, and 1/3 cup of dried cranberries  can have 9 1/2 teaspoons of added sugars.
But picnics can be super-fun. Here are three quick strategies to help you enjoy your gathering:
Make a quick escape from the food table. Once you fill up your plate and eat, get away from the table so you don't keep munching.
Distract yourself by joining a Frisbee or bocce ball game.
Grab a friend or relative and take a walk. This is a good thing to do when tempting desserts come round.
Join the Cravings Conversation:
What are your favorite healthy, sugar-free picnic foods?
Please follow and like us: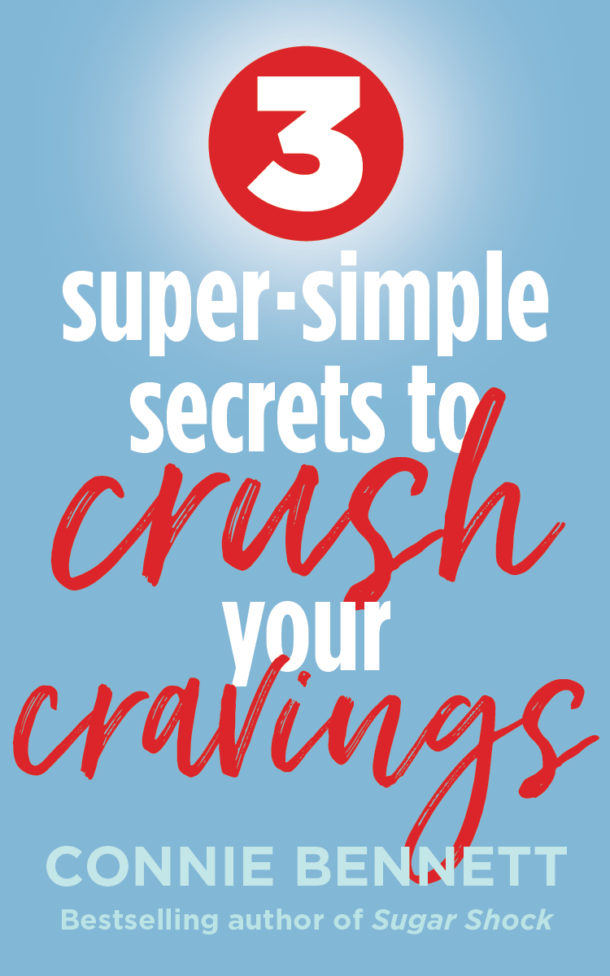 Get Your FREE Cravings-Crushing, Quick-Start Guide!
Do your cravings make you frustrated, frazzled and overweight?
Get Your FREE download now to Crush Your Cravings, starting today. 
This fun, fascinating, science-based, Cravings-Crushing, Quick-Start Guide will whisk you away from temptation for sugary, salty, fatty junk non-foods and and into the glorious, delicious, liberating world of self-control.
Welcome to the Cravings-Crushing Community. 
Please tell us here, on this blog, which of these tools you like best.