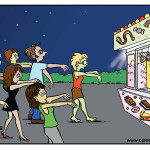 Do you find that you're often hounded by what I call Crazy Cravings™?
Take heart. You're in the company of millions. More than nine out of ten of us have food cravings, especially the females among us.
People just like you from around the world get overwhelmed—well, more like assaulted, pounced on, and then pummeled—by Crazy Cravings™, as I call them.
Indeed, studies have discovered that most of us have cravings.[bctt tweet=""Most of us get cravings, but you can break free."" username="SmartHabitsGirl"]
Let's quickly review a few statistics, which I've been recently reviewing:
Some 97 percent of women and 68 percent of men have cravings, according to a study from the Jean Mayer USDA Human Nutrition Research Center on Aging in Boston, which surveyed 95 people, average age of 49 years. Results were published in the October 2014 issue of the peer-reviewed journal, Appetite.
Rather, 95 percent of young women and men aged 29.5 (the average) experience daily cravings, according to another study, published in the August 2014 in the journal Eating Behaviors. Not only that, but the 646 women and men surveyed by scientists from Yale University's School of Nursing, School of Medicine and the Yale Stress Center, showed "a significant positive relationship between BMI [Body Mass Index, which measures body fat] and food cravings."
Instead, 91 percent of females have cravings, according to Tufts University researchers, who found that after six months of dieting, cravings rose to 94 percent among the 32 healthy, overweight women, aged 20 to 42, as they reported in the International Journal of Obesity But there's some good news, too: The women, who lost more weight had fewer food cravings.
In short, more than 94 percent of us have food cravings. Let's take a brief look at the intriguing results from these three studies:
More than nine out of ten of us have food cravings, especially the females among us.
If you're overweight or obese, you're more likely to have cravings.
If you diet, your cravings may escalate.
But once you lose weight, your cravings dial down.
Indeed, the facts are evident: Cravings are a constant problem for most of us.
Now, I'm here to help. I just wanted to give you the facts first. Stay tuned for help to Crush Your Cravings on the Go™.
Each week, get insights, research updates, and fast, easy, powerful tools to Crush Your Cravings™ and to Bounce Back Boldly™ after you blew your diet. Also, sign up to get your free 3 Super-Simple Secrets to Crush Your Cravings Quick-Start Guide. Then, look out for updates in your in-box every week (one to three times) so you can easily, calmly, joyfully Crush Your Cravings in our convenience-foods jungle.
More Sources:
https://www.sciencedirect.com/science/article/abs/pii/S0031938420304376
https://www.ncbi.nlm.nih.gov/pmc/articles/PMC3619301/
https://www.ncbi.nlm.nih.gov/pmc/articles/PMC6186388/
https://www.sciencedaily.com/releases/2018/12/181211190021.htm
https://www.ncbi.nlm.nih.gov/pmc/articles/PMC7399671/
https://pubmed.ncbi.nlm.nih.gov/22306437/
https://pubmed.ncbi.nlm.nih.gov/27966566/