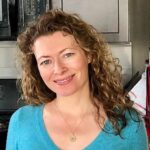 Note from Connie: March is National Noodle Month. Up until a few years ago, you had to use vegetables for fake noodles. But now, when you're on a low-carb food plan, you can enjoy the fat-free, calorie-free, fat-free, gluten-free noodles. Meet the healthy, no-sugar Shirataki or Miracle Noodle (which I discussed five years ago).
Check out the tasty, low-carb noodle dish, which my friend Angelika Ilina developed.
Please note that this tasty recipe features oysters, which are often considered an aphrodisiac.
Make sure to share photos of the noodle dishes you create, thanks to Angelika's recipe:
[shareable cite="Connie Bennett, The Rebound-After-Relapse Ninja Coach™"]You can still enjoy noodles if you're eating low carb. Learn how.[/shareable]
Serves 2
Ingredients:
2 packages Shirataki noodles (I use Miracle Noodle® Angel Hair or House Foods brands)
2 packages smoked oysters in pure olive oil (I use Crown Prince Natural brand)
2 tablespoons grass-fed butter (or cooking fat of choice such as ghee, coconut oil, or avocado oil)
2 cloves garlic, minced
4 cups baby greens such as spinach, arugula, kale, Swiss chard or a blend
¼ teaspoon sea salt, or to taste (I use Himalayan pink salt)
1/8 teaspoon ground white pepper, or to taste
Flat-leaf Italian parsley for garnish (optional)
Directions: 
Prepare Shirataki noodles according to package instructions. First, bring a small pot of water to a boil. Meanwhile, rinse the noodles in cool water for 15 seconds. Then place the noodles in the boiling water for 2 minutes. Finally, dry the noodles in a non-oiled pan over medium heat stirring occasionally until the water evaporates.
Remove the noodles from the pan and place in a bowl.
Melt butter in a frying pan over medium-high heat.
Chop and then add garlic and sauté for 30 seconds.
Next, add baby greens and sauté for 1 minute stirring occasionally.
Add the noodles, sea salt, and white pepper. Sauté for about 1 minute stirring occasionally or until the noodles are warmed through.
Then add smoked oysters. Gently toss everything together.
Garnish with flat-leaf Italian parsley, if desired.
Serve immediately.
Note from Connie: Have you tried Angelika's Low-Carb Buttered Noodles with Smoked Oysters and Baby Greens made the low-carb way? Tell us about your experiences here on my blog or on my Facebook fan page.