Sugar Shock! (My First Book, Berkley Books, 2006)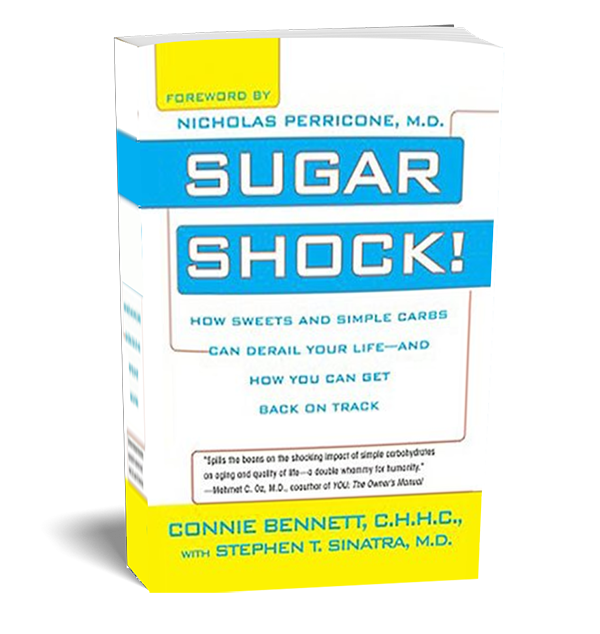 Most people already know that succumbing to candies, cookies and other sugary foods too often can lead to obesity and diabetes. What many people don't know, however, is that too many sweets and fast-acting carbohydrates (think quickie carbs such as potato chips, refined crackers and popcorn) also can bring on a host of other maladies-such as brain fog, fatigue, mood swings, heart disease, Alzheimer's disease, and even cancer.
Therefore, millions may be suffering from Sugar Shock — without knowing it — because of their sugar or carb habits.
Once besieged by 44 seemingly unconnected symptoms, former sugar addict Connie Bennett — an experienced journalist, who "needed" her sugar fixed to meet her frequent, demanding deadlines — kicked sweets and simple carbs on doctor's orders in 1998.
Not only did her health dramatically improve, but she then went on to uncover extensive medical research, which substantiated her theory that people who eat too many low-caliber, culprit carbs are Sugar Shock.
Based on hundreds of interviews with and the insights of physicians, nutritionists, researchers, and sugar sufferers worldwide, Sugar Shock! not only addresses how badly sugar affects your body, but it demonstrates how everyone can easily kick the sugar habit. Order now on Amazon.
PRAISE FOR Sugar Shock!:
"Connie's work spills the beans on the shocking impact of simple carbohydrates on aging and quality of life—a double whammy for humanity."
– Mehmet Oz, M.D., coauthor of the # 1 New York Times bestseller, YOU: The Owner's Manual
"This book is long overdue. Millions of people, including me, have been plagued by their relationship with Sugar, and Connie Bennett has done a superb job bringing the topic into the public's eye. I wholeheartedly recommend SUGAR SHOCK! to anyone interested in improving their health."
– Film producer Harvey Weinstein ("Chicago," "The English Patient," "Pulp Fiction," "Life is Beautiful," "Good Will Hunting," and many more)
"How can the once-sickly, depressed, unfocused Connie—who sought medical treatment from me in 1998—be the same woman, who, years later, researched and wrote this groundbreaking book about sugar's many dangers? Little did I realize that by helping Connie to confront her sugar habit that she would turn around and help countless others to conquer their sugar problems, too. Sugar Shock! is an easy-to-read encyclopedia of information about the negative effects of refined sugars and carbohydrates on the human body. I am sure that it will become the leading authority on this subject."
– Keith DeOrio, M.D., integrative physician and Connie's doctor (and hero) back in 1998
"This groundbreaking, hard-to-put-down book opens your eyes to little-known facts about how the typical American diet [high in sugar and refined carbs] could be wreaking havoc on your health, emotions, and relationships. You're hooked from the first chapter, when author and journalist Connie Bennett offers an entertaining, insightful account of how her sugar habit made her so moody that her boyfriend bid her farewell. SUGAR SHOCK! is a must-read—especially if you want harmony in your relationships."
– Human relations expert Barbara DeAngelis, Ph.D., author of 14 bestsellers, including the # 1 New York Times bestsellers, Secrets About Men Every Woman Should Know and Are You The One For Me? 
"SUGAR SHOCK! offers the best kind of `sweet' that exists. This book is `Brain Candy' for the smart consumer!"
– Marilu Henner, actress and author of Marilu Henner's Total Health Makeover
"What's holding you back from having the energy and body you want? What's holding you back from being the best you can be? Connie Bennett has the answer! For so many people, it's the sugar habit. Like a poison, sugar takes your body on a roller coaster ride of highs and lows, wreaking havoc on your blood sugar and nervous system as you tailspin out of control and reach for more. Follow Connie's powerful advice in SUGAR SHOCK! and finally break the sugar habit for good."
– Fitness expert Kathy Smith, author/creator of bestselling books and DVDs
"This book accurately depicts sugar addiction as a disease, which has many similarities to and underlying mechanisms in common with drug and alcohol abuse. Through Connie's exhaustive research, interviews, and citations, she convinces us that, like drug addiction, sugar addiction is an environmental-biological disorder and a disease, not a moral weakness. Fortunately, Connie's interesting and clear writing, combined with a positive overtone, gives us hope that through behavioral change, people can reverse their SUGAR SHOCK! disease and live longer, healthier, and happier lives."
– Marilyn E. Carroll, Ph.D., professor of psychiatry and neuroscience at the University of Minnesota, who has spent 30 years researching drug addiction and its interaction with feeding behavior
"Sweet as sin and deadly as a bullet. Sugar will make you fat, ruin your health, and end your life. In SUGAR SHOCK! Connie Bennett tells us all about it—and how we can stop it. A must read!"
– Dharma Singh Khalsa, M.D., author of the international bestseller, Brain Longevity
"Sugar Shock! tells the shocking truth about the devastating physical and mental effects of over consumption of sugar and refined carbs. And most importantly, it lays out the path to kicking the sugar habit and reclaiming your health!"
– Christiane Northrup, M.D., author of the bestsellers, Mother-Daughter Wisdom, The Wisdom of Menopause, and Women's Bodies, Women's Wisdom 
"Sugar Shock! gives us the opportunity to waken from our sweetened slumber to the serious, well-researched health implications of consuming a diet high in sugar and flour. Read this book. It could save your life."
– Mark Hyman, M.D., author of New York Times bestseller Ultra-Metabolism