Note from Connie: As readers of this SUGAR SHOCK! Blog know by now, I like to write about a variety of topics other than health. Here's a fun personal essay, which I wrote too late (alas) to get published elsewhere. I encourage you to pass it around, post it on Facebook, tweet about it and/or Digg it. Hope it entertains you.
I Committed a "Robbery" on Rosh Hashanah! The Economy Made Me Do It By Connie Bennett

NEW YORK CITY—On Rosh Hashanah, when I should have been atoning for my sins of the past year, pulled off a smart, but stingy sin. In my defense, the economy made me do it.
Fully cognizant of my High Holidays wrongdoing, I stuck into services at a fancy hotel in New York City. By arriving late, no one was checking tickets at the door anymore. So, holding my head high, I quickly took my place among the worshippers.
In short, on Rosh Hashanah no less, I committed the perfect sin for this economic climate. I "robbed" a worthwhile Jewish organization of $150. (That was the fee to attend all High Holiday services.)
Sad to say, but I didn't feel guilty about my transgression. That's because, like many Americans, the economy has impacted me. If anything, I was proud that I'd saved $150 of my hard-earned money.
Certainly, I'm not alone in my economically driven High Holidays quandary. Many of us fellow Jews, I'm sure, are facing the same frustrations, especially now that we may have given up our expensive synagogue dues. This leaves us with a challenge. We want to atone, but we'd rather not pay to pray. (Of course, this plight holds true for people of all religions.)

Back to my Rosh Hashanah transgression. As if it wasn't bad enough that I "ripped" off a Jewish charity of $150, I sinned further by dozing off and then leaving the Orthodox services early. (Since I was raised Reform, I felt so out of place that it was tough to be penitent. You see, I'm accustomed to synagogue services where we read a lot in English, listen to beautiful hymns, complete with musical accompaniment, and sit with the opposite sex—something I appreciate since I'm single and I'm always open to meeting the right man, especially at services.)
Anyhow, after feeling naughty for skipping out of services early, I went home and got on my computer to listen repeatedly to Barbra Streisand sing the "Avinu Malkeinu" ("Our Father, Our King"), thanks to YouTube.com. (I'm now listening another 30 times as I write this admission.) I also caught streaming prayers on the Internet, thanks to Temple Emanu-El in Manhattan. (See below for both URLs.)
Oy, there's more. A few days before Yom Kippur, I sinned again. Instead of calling the Jewish organization I "robbed" last week and sending in money, when funds finally came in (thanks to new coaching clients and a fast-dwindling investment), I spent more than the $150 I'd saved to buy a high-definition Flip Video™.
My rationale? A fellow author friend suggested that I get a Flip Video to build a following on YouTube. (As an author, you need a huge "platform" to inspire throngs to buy your books, purchase your coaching services, hire you to speak and snag more book deals.)
While I'm hopeful that G-d will forgive me for my Rosh Hashanah "robbery," I won't commit the same sin on Yom Kippur. Fortunately, I found a synagogue where I can attend services for free—Temple Emanu-El in Manhattan. While there, I'll not only atone, but I'll promise G-d to donate time instead of money to various charities in the coming months.
And next year in New York City (or wherever I end up living), I'll repay that $150 and set aside money to join a synagogue again. In the meantime, I'm listening to Barbra, atoning at home, having hopeful thoughts, writing as I confess and wishing you (those of you who are Jewish) a sweet, happy new year ( L'Shanah Tovah).
Connie Bennett is a freelance journalist, life coach, certified health counselor, radio host ("Gab With the Gurus"), Smart Habits Girl™ and author of the book SUGAR SHOCK! How Sweets and Simple Carbs Can Derail Your Life—And You Can Get Back On Track. To listen to Barbra Streisand sing the Avinu Malkeinu (4-plus minutes), go to Connie's blog: http://www.sugarshockblog.com/2009/09/barbra-streisand-sings-beautiful-rosh-hashanah-song.html. For Jews suffering sickness or facing economic challenges, you can listen to High Holiday services for free at: http://www.emanuelnyc.org/simple.php/wor_broadcast

Did you like this personal essay?
Please follow and like us: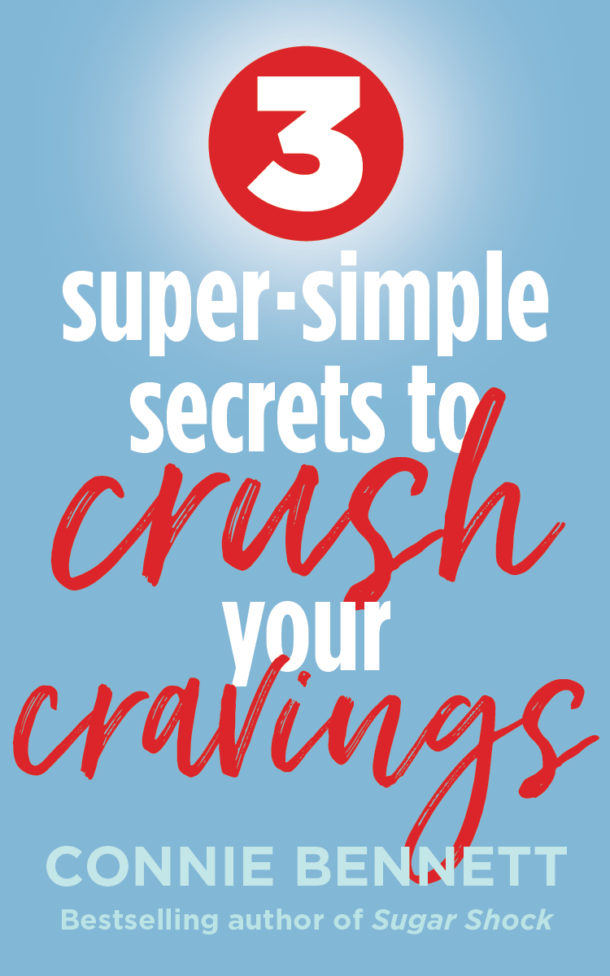 Get Your FREE Cravings-Crushing, Quick-Start Guide!
Do your cravings make you frustrated, frazzled and overweight?
Get Your FREE download now to Crush Your Cravings, starting today. 
This fun, fascinating, science-based, Cravings-Crushing, Quick-Start Guide will whisk you away from temptation for sugary, salty, fatty junk non-foods and and into the glorious, delicious, liberating world of self-control.
Welcome to the Cravings-Crushing Community. 
Please tell us here, on this blog, which of these tools you like best.