For nearly five years, I've been fascinated by the subject of cravings, because after 14-plus years of almost no cravings, Crazy Cravings viciously attacked me after my mother died, following what I now call My Bittersweet Last Year with Mom.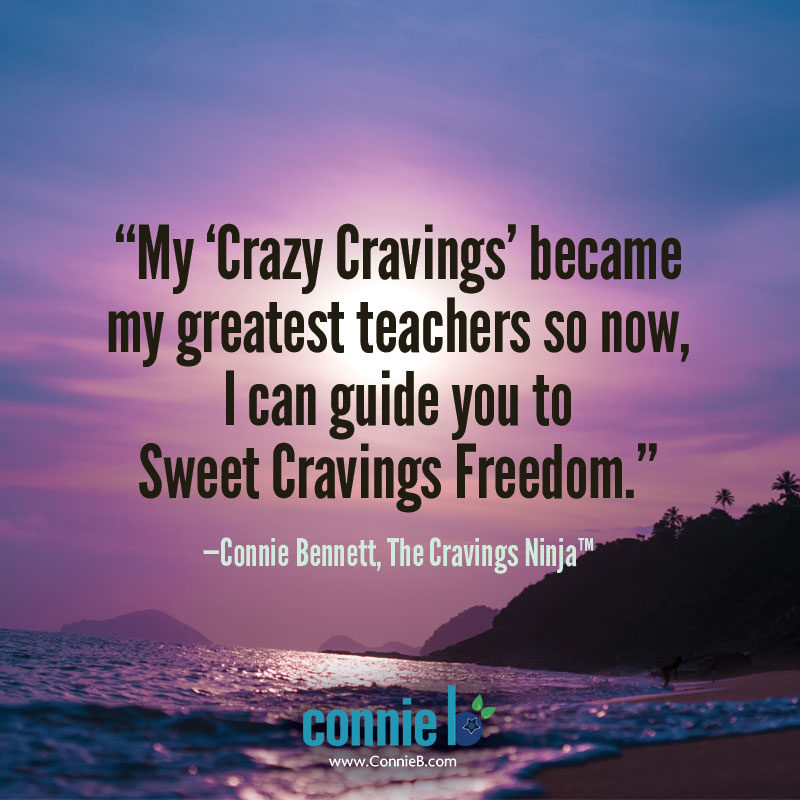 While finding and creating Cravings-Crushing tactics to shed the 21 pounds I gained while healing from PTSD, anxiety, grief, etc., I became furious, embarrassed, exasperated, upset, endlessly (it seemed) frustrated and then utterly fascinated by the subject of cravings.
Initially, it took me two years to get the courage to publicly confess to My Crazy Carb Cravings and my weight gain.
But since my relapse five years ago, I've been intrigued by cravings.
Since I'm a journalist by training, the questions have been pouring in:
Why did I get such utterly ferocious cravings (what I call Crazy Cravings™) almost immediately after Mom passed away and after I'd stood by helplessly watching her fade away and get more and more angry and irrational?
In short, why did Crazy Cravings strike me with such intensity after My Bittersweet Last Year with Mom?
Sure enough, I discovered, people often gain weight after someone close to them dies. They do something that I call Heartbreak Bingeing™.
That led me to to speculate:  Does the  death of a loved one often lead to pigging out on carbs to stuff grief? (Fellow writer Carolyn Thomas had a similiar experience. )
What about divorce? Does that lead to weight gain or loss? (Turns out, both things can happen.)
Then I conducted five surveys of people on my mailing list to find out more about your experiences. Sure enough, certain patterns emerged.
[shareable cite="Connie Bennett, The Cravings Ninja™"]I'm doing a documentary dedicated to helping you discover, "Why Do I Get Cravings?'[/shareable]
Still more questions flooded in:
What times of day are folks most often buffeted about the most by cravings?
When do people feel the weakest and cave in the most to their cravings?
What are other reasons do cravings hit?
Do women get more cravings than men? (Actually, the answer is yes, I discovered, as I shared here previously.)
Why else do people get Crazy Cravings?
And why the heck, do we always crave the worst possible foods — mostly refined, sugary or carb-laden?
At first, my  curiosity and incessant question-asking led me to find out the main reasons people get cravings and to begin writing my next book, Crush Your Cravings On the Go. 
In addition, since I wanted to offer solutions, I've been building my upcoming Crush Your Cravings PlayCamp.
But I still wanted to know how to help people in a much bigger way.
Then I got an idea, thanks to Pedram Shojai, a.k.a. The Urban Monk, who I'd recently seen at JJ Virgin's Mindshare Summit for health colleagues.
Then things moved quickly. In late August, I reached out to Pedram, whose film Prosperity goes live Oct. 5, because I decided I wanted to make a documentary.
Already, last weekend, I joined and attended the fabulous Moviemaker Academy founded by Pedram, along with Nick Polizzi and Jeff Hays.
So that brings me to my announcement:  Thanks to the amazing Pedram Shojai, Nick Polizzi, Jeff Hays and their amazing Moviemaker Academy, I'm going to create a documentary or a docu-series to help millions of us (maybe you?) find out why you get ferocious cravings for junk foods full of sugar, processed carbs and how you can Crush Your Cravings™ for good.
Stay tuned for updates, but in the meantime, let me know.
Please talk to me now. Do you have cravings for carbs or sweets? Would you be interested in being in my documentary? Please post a reply here. And shortly, you'll find an application here to be considered for inclusion in my cravings documentary.
Please follow and like us: