Special Announcement:
Greetings, wonderful, savvy people,
Exactly 11 years ago today, I first kicked sugar and refined carbs and got a better life.
And today, more than a decade since I became reborn, I'm launching an unusual marketing campaign to promote my next book, The White-Out Diet.
The catch is that it's not out yet. My goal is to have it hit bookstores and your favorite online retailer Jan. 2009.
The economy is prompting me to do something really
different so that I can get a book deal for my next book, The White-Out Diet,
which I know could help many.
Please see this email (below), which I just sent to members of my mailing list.
If you can help, I'd really, really appreciate it!
Anyhow, my goal is to help millions, and I think I can, but I need wonderful people like you to spread the word! Please read on.
Thanks in advance ever so much!See letter below.
Warmly and gratefully,
Connie
Subject: Help me, please… The White-Out Diet, my next book, is coming with your help — benefits galore
Dear [Your Name Goes Here],
Would you like to lose weight for good,banish fatigue,
boost your energy, feel and look
more youthful, get more oomph in the bedroom
and build a life of passion, purpose and pizzazz?
Well, The White-Out Diet, my next book (the follow-up to SUGAR SHOCK!), is intended to help YOU
achieve ALL of that — and more.
This book, I hope, will come out in January 2010.
But here's the catch: I need your help so that this book will become a reality and be available to you through bookstores,libraries and
online retailers.
You see, while this fun, easy-to-read,
friendly, compassionate book can help
you in so many ways, these challenging
economic times are prompting me to
rely on you.
Let me explain.
Like all other industries, the
publishing industry has been hit
by the economic downturn.
Publishers are tightening their belts and making less
acquisitions.
So my literary agent explains to me.
More importantly, major publishers only want to make book
deals with people, who are household names
— movie stars, TV personalities, celebrities and so on.
And publishers only want authors with a "Big
Platform"
— this means millions (or least hundreds of
thousands) of followers, fans and friends.
Therein lies my challenge.
While editors at publishing houses loved my White-Out
Diet
concept and my background as author of an acclaimed
book (SUGAR SHOCK!)
from a major publisher (Berkley Books,
part of the Penguin Group), their
enthusiasm was dampened
because I'm not a household name — yet.
And while I do have a Big Platform,
it's not big ENOUGH — yet.
But I'm determined to get The White-Out Diet published so
it can help you.
So I realized that it's time to put the Law of Attraction
into action.
And I'd be grateful to you for any help you can give to
make this happen.
The White-Out Diet is a great book, and it deserves to be
in your
hands next January, 2010, so it can help you.
Ultimately, this challenge presents an
incredible opportunity.
It's time for me to become pro-active,
creative and what I call "author-preneurial."
I'm even planning some outrageous, exciting activities
to
drum up the necessary attention in The White-Out Diet, because
I KNOW this book
can really enhance, improve and change your life.
(Got any clever, out-of-the-box marketing and promotion
ideas? Know any celebrities?
Please share this info with me
ASAP, but privately.)
So would you be kind enough to act now (spending only
about a
minute or two) to support the campaign to get The White-Out Diet
into
the hands of people who need it?
Act now, please. Just go here:
=====>>>>>
=======================================
My Intention: Get 500,000 or More in Pre-Sales
Commitments

for The White-Out Diet From People Like You

=======================================
So here's my intention, my wonderful,
health-minded friends, fans and colleagues.
I would like to guarantee publishers that The White-Out
Diet will
sell 500,000 or more copies.
Will you help me — and yourself? Would you please:
1) Promise to buy 1 or more copies of
The White-Out Diet
2) Tell 2 or more friends and loved ones about this fun,
friendly, helpful
book. Just send them to www.WhiteOutDiet.com
and
3) Tell your entire online community and friends through
social media sites. This
means posting (preferably several times) links to http://www.WhiteOutDiet.com
on your
Facebook page and those of your friends.
And for those of you on Twitter.com,
would you send out lots of tweets? Just refer people to http://www.WhiteOutDiet.com
Here's one I wrote for you:
Join the White-Out Diet Super Friends campaign. This could help you, your friends, etc. http://www.WhiteOutDiet.com
=======================================
Visualize With Me: The White-Out Diet
Is In Your Hands Now, Helping YOU
=======================================
Will you join with me now?
You see, I'm utterly convinced that with your support,
we'll get an
amazing momentum going.
Just envision this: Even if only 1 percent of the people
on Facebook
(200 million) and Twitter (6 million) spread the word and make
pre-sales
commitments, this book will become a mega-bestseller before it's even
published!
In fact, if hundreds of your friends and friends of
friends get involved, The White-Out Diet
will get way more than 500,000 in
pre-sales commitments.
I've now shared my dream with you. (Guess it's not
private any more? LOL!)
Will you join me in this dream so that I can help you and
your friends with The White-Out Diet?
Just think: You could be on the ground floor of an
empowering, cutting-edge, life-changing
guerilla marketing campaign that helps
millions.
Do you feel great or what?
I hope you're excited.
Just imagine The White-Out Diet helping you to become
healthier and to
accomplish amazing things.
=======================================
More About The White-Out Diet
=======================================
Let me tell you more about this book
so you can understand why I'm so eager for you to be able
to get it in January 2010.
The White-Out Diet — whose
subtitle is A 21-Day Plan to Peel Off
Pounds, Boost Energy, Rev Up Libido,
Banish Toxins & Turn Back the Clock —
could help you to:
* Easily lose weigh*t for good
* Feel and look more youthful
* Banish fatigue and boost your energy
* Rev up your libido
* Become more calm, cheerful and content
* Have a better memory
* Find out which "white" foods are
wiping you out and doing you in;
* Learn 21 days of easy tools, tips and
tactics to accomplish all of the above;
* Turn your life around so that you can
plunge into a life of passion, purpose & pizzazz; and
* Open up your life in new ways (you
see, this isn't just a diet book — it's more of a
lifestyle book)
The White-Out Diet also has the
participation of cutting-edge people in
the fields of health and wellness. For instance:
* Joshua Rosenthal, MScED, Founder &
Director of the Institute for
Integrative Nutrition (IIN)– has kindly agreed to write
the introduction.
(I'm so honored, excited and
grateful to Joshua, because he's busy running the largest
nutrition school  in the world.
I just love IIN, which I attended.
It attracts the most wonderful, fellow grads, students
and staffers.)
The White-Out Diet also will involve the participation of
other acclaimed
health experts and celebrities:
* A famous medical expert will do
the foreword. (I'm eagerly awaiting
word from someone who is really famous.) Dr. Nicholas
Perricone wrote
the foreword for my first book, SUGAR SHOCK!
* Integrative physician Richard M.
Linchitz, M.D. – a cancer survivor
himself — will serve as medical
consultant for The White-Out Diet.
(Dr. Linchitz has an amazing
tale himself. Back in 1998, he
overcame lung cancer making many of the lifestyle changes
we tell you about in The White-Out Diet. (FYI, he got cancer despite never
having smoked.)
* Plus, The White-Out Diet will have meal plans created
by
recognized nutritionist Jill Lane, C.N.C.
* In addition, as with SUGAR
SHOCK!, The White-Out Diet will have
numerous endorsements from well-known
health experts and celebrities.
Dr. Mehmet Oz, Dr. Christiane Northrup,
Kathy Smith, actress/author Marilu Henner
and Dr. Joseph Mercola were among those
who have endorsed SUGAR SHOCK!
So, can I count on you to spread the
word about The White-Out Diet to help me get a book deal?
Just go now to
======>>>>>
=======================================
Gifts to You For Helping Bring
The White-Out Diet to Bookstores,
& Online Retailers
=======================================
Of course, because of you're providing
vital help so The White-Out Diet can
get into your hands, you'll get benefits as a token of my
gratitude.
To find out what these gifts are and to join the exciting
White-Out Diet,
Royal Treatment Super Friend campaign, go here now:
=====>>>>
From the bottom of my heart, I thank
you in advance for your invaluable support!
Just imagine: Because of you, The White-Out Diet will be
in your hands
in January 2010, and it will help you and millions like you.
Again, thank you so much for helping me
to help you by guaranteeing that The White-Out Diet can
help people like you.
Gratefully yours,
Connie
P.S. Make sure to spread the word to 2 or more friends
now. Just send them to the new blog:
===== >>>>>
While there, you'll see a really fun, creative White-Out
Diet design from the
talented Hillary Carlip, whose clients have included such
big names as Jennifer Anniston.
P.P.S. If you have great marketing ideas, contacts in the
media or celebrity friends,
please write to me ASAP at connie@sugarshock.com
Connie Bennett. C.H.H.C. – Stop Sugar Shock
Please follow and like us: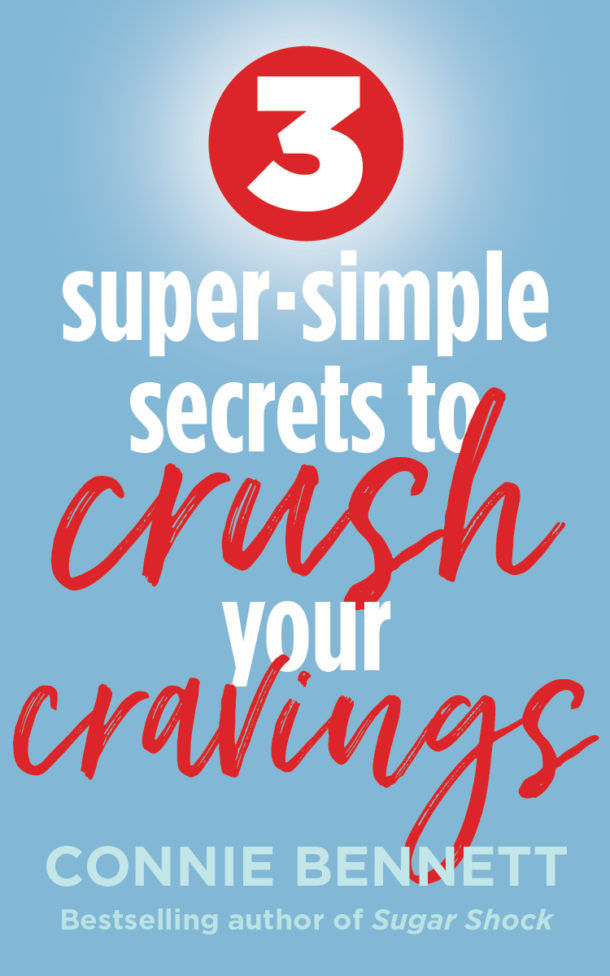 Get Your FREE Cravings-Crushing, Quick-Start Guide!
Do your cravings make you frustrated, frazzled and overweight?
Get Your FREE download now to Crush Your Cravings, starting today. 
This fun, fascinating, science-based, Cravings-Crushing, Quick-Start Guide will whisk you away from temptation for sugary, salty, fatty junk non-foods and and into the glorious, delicious, liberating world of self-control.
Welcome to the Cravings-Crushing Community. 
Please tell us here, on this blog, which of these tools you like best.