"We need time to unplug to refresh, recover and reinvigorate." – Connie Bennett, The Cravings Ninja.
Of course, nowadays, you need to be social, even if you're a naturally introverted person. You need to be on your phone often and you need to check emails.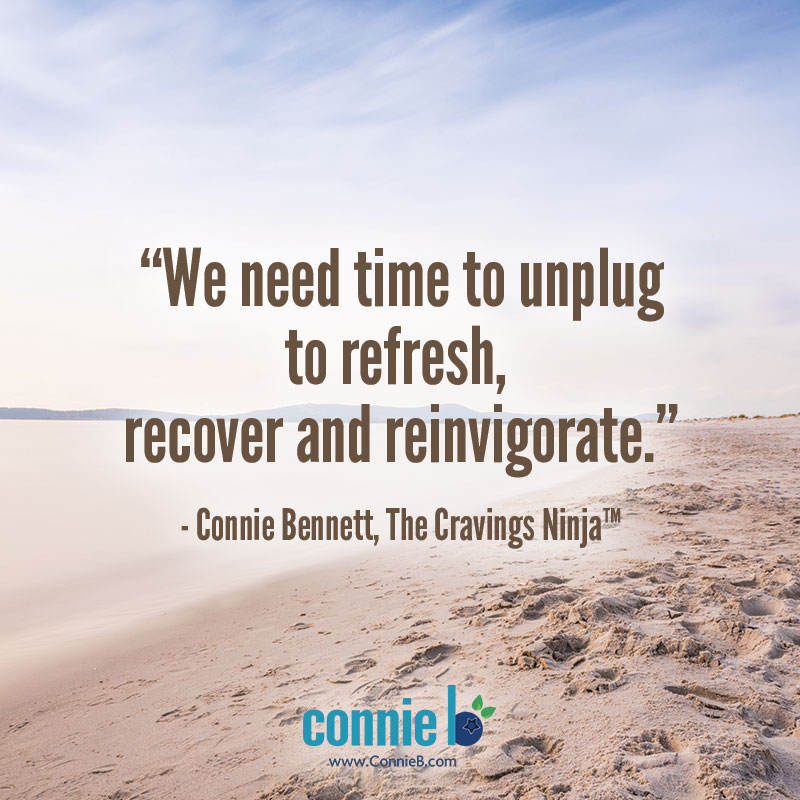 Plus, if your goal is to serve lots of people — as I do — you need to be active on such social media platforms as Facebook, Twitter, Pinterest, Instagram, and, of course, on your blog, if you have one.
But what if you're feeling burn out after facing and meeting lots of deadlines, pursuing additional training, writing a book or online course, and gearing up to serve even more people than before?
Should you continue to post regularly to Facebook, Twitter, Pinterest and your blog when you feel a need to unplug so you can refresh, recover and recuperate?
I contend that at least twice a year, You Need a Social Media Vacation.
And that's what I'm now doing in the next week. What's so cool with our world's amazing technology is that you can post things in advance.
[shareable cite="Connie Bennett, The Cravings Ninja™"]Overwhelmed, stressed out, exhausted? Take a Social Media Vacation.[/shareable]
Now, what if you've endured a family crisis such the terminally illness of a parent, sibling or spouse, the breakup of your long-term marriage, or the death of a cherished loved one?
Then you really need time off.
Discover 11 of many benefits of taking a Social Media Vacation:
When you take a social media time-out, you can calm down and smell the roses more, so to speak.
When you're absent from social media, you'll become more present in your life.
You'll be able to connect more your significant other, children, siblings, nieces and nephews, friends, etc. In fact, social media (despite its name) can make you less social in real life.
You'll have and be open to more fun and exciting, new experiences.
When you're not distracted by social media or overly focused on replies you're getting on Facebook, Twitter, Pinterest, Instagram or your blog, you can get clearer about your long-term goals.
When you take a social media break, you "fill yourself up" in a way that food can never do. Like a car, you need to refuel and put healing, rejuvenating "gas" into your tank.
When you give yourself what you most need — necessary R & R — you'll emerge with more energy, passion, and enthusiasm to share valuable information to your fans through social media.
When you turn off your social media brain, you'll gain valuable perspective.
Social Media Vacations, like regular vacations, are good for your health. For instance, you'll gain better focus and relieve stress.
You may need to break what's now been recognized as an addiction.
A social media break can ultimately make you more social.
Learn more here about how Social Media Breaks can help you when your heart is breaking.
I'm now back from a five-day Digital Detox. It was fabulous! I feel calmer, more focused, more driven now to serve and relieved. What a wonderful experience! 
Have you ever taken a Strategic Social Media Break? How did being anti-social help you to become social again? Are you taking a Social Media Break this President's Day weekend or week? What do you hope to get from it? Post your Commments here.