Sugar Shock Cartoons™ makes its debut today.
Mirth and merriment, giggles and guffaws are exactly what we need, especially when we look at serious health and wellness subjects.
Today's comic strip pokes fun at the Blood Sugar Rollercoaster effect, which you get when you over-indulge — as do millions — in sugary and quickie-carb "treats."
[shareable cite="Enid Blyton, Mr Galliano's Circus "]"…Laugh at [obstacles]… and let them lead you to something better.[/shareable]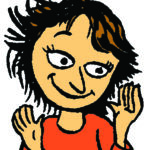 To create Sugar Shock Cartoons, I've teamed up with the talented Isabella Bannerman, who is the Monday artist for Six Chix, a clever, comic strip internationally syndicated by King Features.
Isabella's award-winning cartoons and illustrations have appeared in many publications, including The New York Times, Glamour, The Funny Times, World War 3 Illustrated, and Hudson Mod Magazine. In addition, as an animator, she has worked on MTV's "Doug," "Pee Wee's Playhouse," MTV spots, and other television shows and commercials.
So what's the purpose of this new Sugar Shock Funnies? And how can you run a cartoon on your website or blog? Read on.
The goal of Sugar Shock Cartoons is to amuse and entertain you but also to inspire you to positive action.
Laughter, after all, has been hailed as the best medicine.
Which is what I invite you to do now with today's s Blood Sugar Rollercoaster cartoon.
When you eat too many of those rapidly processed culprit carbs, you land in what I dub Sugar Shock.
Sugar Shock, as I define it, is a mood-damaging, personality-bending, health-destroying, confusion-creating constellation of symptoms affecting millions of people worldwide, who often eat or overeat processed sweets and much-like-sugar carbs, which send their blood sugar levels wildly soaring and plummeting.
In other words, when you eat quickie carbs, your blood sugar levels rise and fall much like a rollercoaster, as you can see in this first of the Sugar Shock Funnies.
Sugar Shock also refers to the often-misdiagnosed and misunderstood condition of reactive hypoglycemia (low blood sugar), as well as other blood sugar disorders, from insulin resistance to type 2 diabetes.
As you may already know, considerable research reveals that when you repeatedly overdose on sweeteners, dessert foods, and quickie carbs (such as white rice, French bread, chips, etc.), you wreak havoc on your blood sugar levels.
All those sweets and fast carbs overstimulate insulin release, trigger inflammation, and can to more than 150 health problems, including obesity, diabetes, heart disease, cancer, polycystic ovary syndrome, severe PMS, failing memory, sexual dysfunction, infertility, wrinkles, acne, and early aging.
Victims of Sugar Shock also may experience depression, fatigue, mental confusion (brain fog), mood swings, headaches, dizziness, cold sweats, anxiety, irritability, tremors, crying spells, drowsiness or the opposite (sleeplessness), forgetfulness, heart palpitations, nightmares, blurred vision, muscle pains, temper outbursts, suicidal thoughts, and more.
In short, the repeated Sugar Shock Rollercoaster effect brought on by eating too many inferior carbs can cause many ailments and diseases that can cut your life short.
Of course, Sugar Shock Cartoons are meant to be shared. So pass this on to friends, colleagues, and loved ones, Facebook fans or friends, Twitter followers, Pinterest buddies and LinkedIn contacts.
And remember to share this with your sugar-addicted loved ones, acquaintances or even frenemies.
If you'd like to run Sugar Shock Funnies on your blog or website, please contact me so you can play fair and find out about reprint rights.
Please note that we have many giggle-inducing and rib-tickling ideas for future funnies, but we'd love your input.
Connect with Us & Join the Conversation: Please tell us: What's your biggest Ahah from seeing this Blood Sugar Rollercoaster cartoon, the debut of our Sugar Shock Cartoons?
What ideas do you suggest for future topics?
Permissions to use: Want to use this cartoon? Specific, limited permission is granted to reprint Sugar Shock Funnies in any website, magazine, newspaper, book, movie, animation or other media under the following "professional courtesy"' conditions:
Cartoon creator Connie Bennett and artist Isabella Bannerman should be conspicuously credited.
To reprint a cartoon, write to us first and then make sure to include the following every time:  Sugar Shock Funnies reprinted with permission of www.ConnieB.com, home of Cravings Crusher™ and sugar expert Connie Bennett.
The specific web address should be posted below and/or adjacent to the cartoon in a conspicuous manner. If on the web, the link must be clickable.
You may not use this cartoon in a disparaging context or manner.
You may not charge for this cartoon.
This website retains all ownership, rights and copyrights.
Reprint rights may be revoked, without notice, on a case by case basis, if reprint courtesy is, in our opinion, abused.
Thank you for playing fair!