[contact-form-7 404 "Not Found"]
Are you overly attached to sugar, desserts and simple carbs?
If so, please tell me what you need and want in the way of help so that you can easily release your sugar or carb habit.
You see, I'm currently working on my next book, Beyond Sugar Shock for Hay House, and I'd like to know what would help you.
As you may already know — I hope you do since you're here — my first book is Sugar Shock, which provides an expose about sugar's dangers.
Please share your questions here so I can better help you.
By the way, I also run a companion Break Free of Your Sugar Addiction in 6 Weeks Program, which is delivered using a variety of technologies, including:
Dozens of emails;
Six teleseminars/webinars;
Short audio messages for all 42 days of the program (plus more);
Weveral bonus audio replays featuring interviews with top experts in mindful eating, meditation, fitness, Emotional Freedom Technique (EFT) and stress management;
Access to a private membership website full of content; and
Live, weekly half-hour Laser Liberation Coaching.
The next Break Free of Your Sugar Addiction in 6 Weeks Program begins again Sept. 14. To join us, please visit www.BreakFreeWithConnie.com
I look forward to your input. What will help you to let go of your sugar or carb addiction?
Please follow and like us: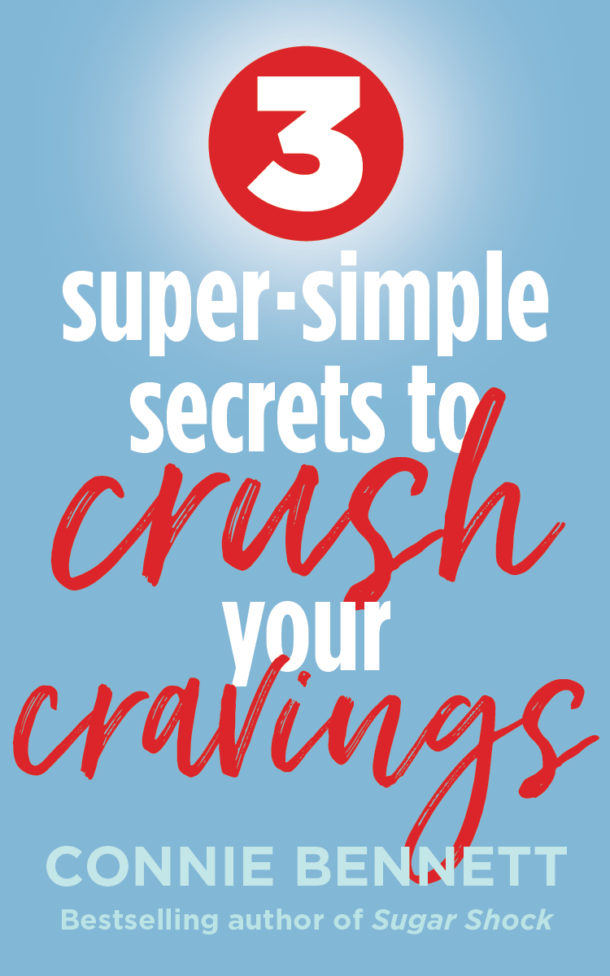 Get Your FREE Cravings-Crushing, Quick-Start Guide!
Do your cravings make you frustrated, frazzled and overweight?
Get Your FREE download now to Crush Your Cravings, starting today. 
This fun, fascinating, science-based, Cravings-Crushing, Quick-Start Guide will whisk you away from temptation for sugary, salty, fatty junk non-foods and and into the glorious, delicious, liberating world of self-control.
Welcome to the Cravings-Crushing Community. 
Please tell us here, on this blog, which of these tools you like best.