Whenever a new year arrives, millions of Americans and people
around the world put losing weight, improving health and getting in
better shape as top resolutions.
A
group of us health experts challenge you to confront and defeat your
sugar habit as a vital, potentially life-changing step to help you peel
off pounds and perhaps resolve numerous health issues.
Please
join about a dozen of us — authors of books about sugar, doctors and
nutritionists — on Jan. 16 at 12 noon Eastern on my Gab With the Gurus Radio Show when we issue the Great Worldwide Sugar-Out Challenge.
On Jan. 16, a little over two weeks into the new year, we will
invite you sugar addicts out there (you know who you are) and
overweight or obese people, to either cut back or totally kick sugar
and refined carbs to lose weight, as well as help your mind, moods and
overall health.  
We also want to draw attention to the fact that
the average American consumes about 170 pounds of sugar per year or one
cup a day. (By "sugar," we mean all caloric sweeteners, including high
fructose corn syrup, glucose syrup and dextrose and honey.) People in
other countries take in too much sugar as well.
All of these
excess sweeteners could lead to more than more than 100 health
problems, including obesity, type 2 diabetes, heart disease, cancer,
Alzheimer's

disease, polycystic ovary syndrome (PCOS), failing memory, anxiey,
mental confusion, sexual dysfunction and infertility.In addition, too
much sugar can cut your life short and age you more quickly.
Among the experts who will join us for the special, hour-long Gab With the Gurus Radio Show is Dr. Nancy Appleton, Ph.D., author of Lick the Sugar Habit.
Nancy — one of my inspirations — is an anti-sugar pioneer, who has
been warning about the dangers of sugar since the 1970s. Perhaps you've
seen her jaw-droppingly large list of 146 Reasons Why Sugar is Ruining Your Health, an amazing, continually expanding checklist that's been been widely circulated.
We'll also be joined by "First Lady of Nutrition" Ann Louise Gittleman, Ph.D., the diet/detox expert, visionary and author of the really helpful, practical book, Get the Sugar Out: 501 Simple Ways to Cut the Sugar Out of Any Diet. (Ann Louise's picture is at the top of this page.)
I'm
honored and delighted that both Nancy and Ann Louise are joining us,
because their books, along with William Dufty's eye-opening  Sugar Blues,were my main sources of comfort when I was kicking sugar back in 1998. (My own book SUGAR SHOCK! didn't come out until years later, in 2007.)
Also appearing for our Great Worldwide Sugar-Out Challenge on the Gab With the Gurus Radio Show will be pediatric neurosurgeon Dr. Larry McCleary, author of The Brain Trust Program. He will tell you how too much sugar can make your brain shrink, wither or atrophy. As I mentioned last January on my SUGAR SHOCK! Blog, he says that if you want to age your brain, all you have to do is eat the typical American diet!
Of course, kicking sugar to lose weight or resolve other horrible
health problems already has been proven by millions, who've followed
this advice offered in such books as The Atkins Diet, The South Beach Diet, Sugar Busters: Cut Sugar to Trim Fat, Dr. Gott's No Flour, No Sugar Diet and Potatoes, Not Prozac.
The idea for a worldwide challenge comes from

Dr. Scott Olson, a Colorado-based naturopath, researcher and health adviser, whose 30-day challenge I chanced upon, thanks to Google alerts. Dr. Olson just released the new book, Sugarettes, whose title, of course, is intended to make you think of cigarettes. (Clever, eh?)
Anyhow, I was so impressed by Scott's passion and commitment to
helping
people give up sugar for better health and and an improved life that I
immediately tracked him down in late December, called him and asked if
I could join his effort. When Scott eagerly invited me to come on
board, we then discussed designating one day to issue a challenge.
That's when I decided to hold a special,
hour-long Great Worldwide Sugar-Out Challenge on my Gab With the Gurus
Radio Show and to invite  some experts or fellow sugar-book authors,
whom I'd  interviewed for my book SUGAR SHOCK!
I'm still inviting more authors of sugar books and experts, who've
endorsed my book. (Collaboration — even among so-called "competing
authors" — is so much more fun and
rewarding than doing things on your own.)
The concept of challenge is an effective one that appeals to people
the world over. In fact, I've heard from thousands of people from all
over the U.S., Canada, Great Britain, Costa Rica, etc. who've read my
book SUGAR SHOCK! How Sweets and Simple Carbs Can Derail Your Life–And How You Can Get Back on Track and then took us (contributing author Dr. Stephen Sinatra and I) up on the 21-day challenge that we issued.
These
happy (what I call) "Sugar Kickers" write to proudly share that they've
taken the challenge to heart and found that removing sugar completely
transformed their lives, enabling them to get rid of excess weight, as
well as banish heart palpitations, infertility, low libido, anxiety and
severe PMS. Kicking or curtailing your sugar intake could even prevent
or enable you to manage type 2 diabetes, resolve or improve heart
problems and help cancer to go into remission. So join us on Friday,
Jan. 16 at 12 noon Eastern (or listen afterwards, at your convenience).
By the way, during our Great Worldwide Sugar-Out Challenge on the Gab With the Gurus Radio Show,
you may hear differing points of view from the sugar experts about how,
why or how long you should quit sugar, because we just don't agree with
each other about everything. What this means is that you'll get ample
information to allow you to make a decision that works for you. (Some
of us strongly disagree about artificial sweeteners so you may hear one
person say it's OK while another such as myself might adamantly urge
you to cut them out entirely. You'll also get opposing views as to
whether you should kick cold turkey or gradually.)
What
all of us experts and authors of sugar books do agree upon is that too
much sugar — which is typically consumed by the average American or
typical person in other "civilized" countries around the world — can
wreak dangers galore on you, from heart disease to type 2 diabetes.
If you haven't quit sugar yet as a new year's resolution, you don't
have to turn your back on the substance yet. Just join us on Jan. 16 on
the Gab With The Gurus Radio Show
to learn how too much sugar could harm you and how your life will be
much better and healthier without sweets and refined carbs. You're sure
to be educated, inspired and motivated by us to take action that day.
Stay tuned for more details and names of guests to appear on The Great Worldwide Sugar-Out Challenge,
because I'm still working on getting more authors with "competing"
books. I'm getting such a kick out of doing this, and it'll be so fun
and inspiring to have us all together on Blog Talk Radio!
Please note that participants in The Great Worldwide Sugar-Out Challenge will be invited to use Twitter as a valuable tool and ally to help them while they're quitting. In fact, in addition to posting encouraging messages and other tidbits all day on Jan. 16 on www.Twitter.com/ConnieBennett, I will be posting tweets using my new account. (Name coming shortly.)
Please follow and like us: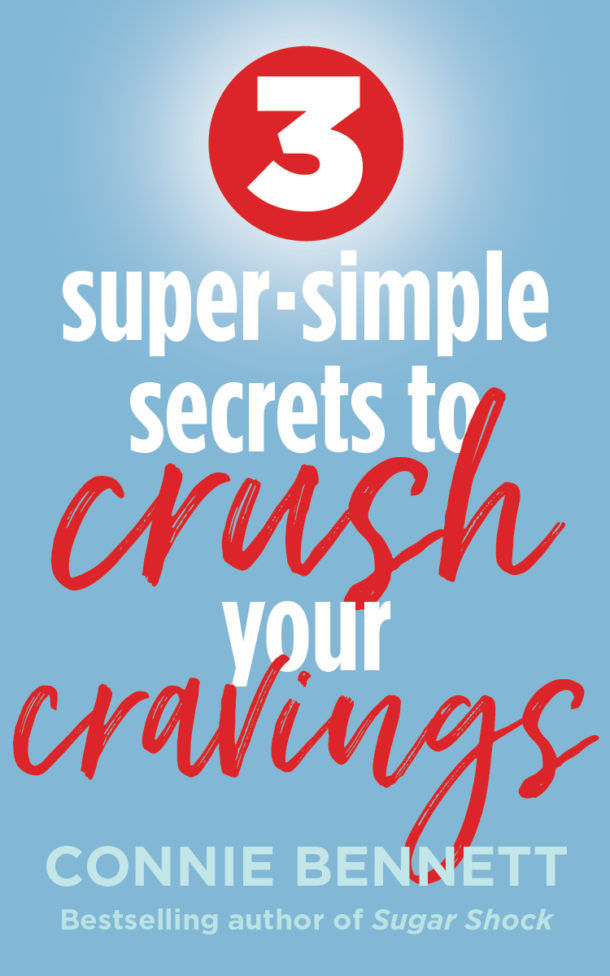 Get Your FREE Cravings-Crushing, Quick-Start Guide!
Do your cravings make you frustrated, frazzled and overweight?
Get Your FREE download now to Crush Your Cravings, starting today. 
This fun, fascinating, science-based, Cravings-Crushing, Quick-Start Guide will whisk you away from temptation for sugary, salty, fatty junk non-foods and and into the glorious, delicious, liberating world of self-control.
Welcome to the Cravings-Crushing Community. 
Please tell us here, on this blog, which of these tools you like best.