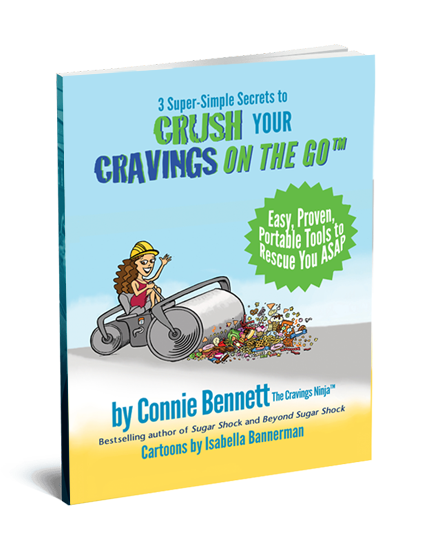 You know how just about wherever you go, temptation lurks in the form of sugary, fatty, salty, creamy junk foods and processed carb snacks?
No need to be frustrated, anxious or frazzled anymore.
Let me help you in the exact moment your craving strikes.
Tadum (drum roll here). I'm pleased to announced that I've now released a small, portable Cravings-Crushing, Quick-Start Guide for you to use when you're tempted on the go.
In short, you can pack me into your handbag, briefcase or fanny pack so you can Crush Your Cravings.
What do I mean by this?
Well, since most cravings pounce when you're on the go, you want to have some support at your fingertips — even if you can't reach your best friend, sweetie or cravings-crushing budy.
Just click here to download my small Quick-Start Guide, which is now available as a little booklet that measures 4 1/4 x 5.5 inches.
Get My Quick-Start Guide now to take with you and rely on while you're enticed by junk foods.
Remember, if you haven't already, get your free 8 1/2-by-11 download here.
And then when you're on the go, just bring along a smaller version. (You can just print it out and cut it out smaller, as shown).