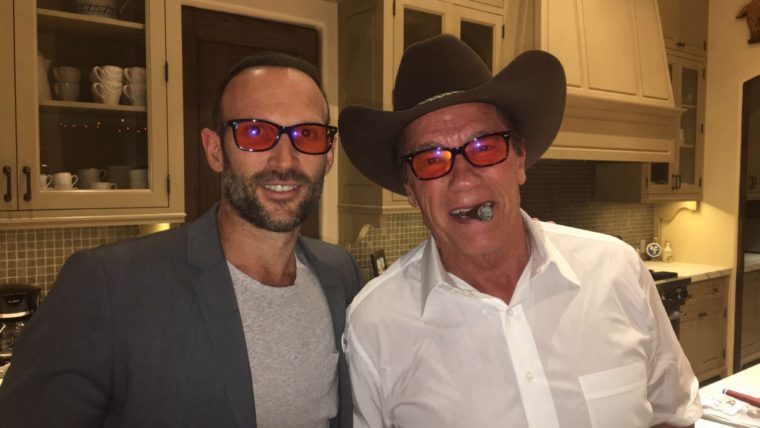 Do you use your cell phone, tablet or laptop after sundown? If so, you're in good company, because 9 out of 10 of us use some type of electronic device at least an hour before bed.  But if  being so wired can ruin your sleep,  alter your metabolism  and make you gain weight. (Read on, because this photo with Arnold Schwarzenegger and James Swanwick shows you an easy way to stay wired at night but sleep better.)
So here's our 21st century problem: Your favorite electronic gizmos before bedtime emit light of a blue wavelength, which trick your brain into thinking that it's daytime. Not only that, but poor sleep is linked to heart disease, type 2 diabetes and depression.
But, let's face it, most of us probably won't change our unhealthy tech habits once the sun sets.
Now for my confession. My really bad habit (or babit™, as I call it)—which, I've finally broken (well, mostly)—is that I like to write blog posts or books into the wee hours. Lately, since nearly fainting, I've been getting off the computer between 4 to 6 pm, but, admittedly, I still need to lick my watching-TV-in-bed babit.
What about you? Do you, too, have any of these popular 21st-century bad electronic habits?
Do you send texts or check emails on your computer, iPad, cell phone or laptop after sundown?
Do you often watch TV at night?
Do you hop on Facebook and social media sites at night?
Do you light up your place with fluorescent and LED light bulbs?
Do you or your children play hand-held video games or use other electronic gadgets at night?
Do you use on an LED digital clock?
And do you or your loved ones keep your cell phone next to your bed and use it as your alarm clock?
If you or your kids surf the web, use your cell phone or play video games before bedtime, you're setting yourself up for some health problems.
Blue light from our popular electronic devices, from cell phones to TVs to video games, emit massive amounts of melatonin-suppressing blue light, which can mess up our sleep, make us gain weight, and even cause depression. (Melatonin, at you may know, is a hormone found naturally in the body, and it helps us sleep.)
But in our wired society, many of us are walking around sleep deprived,  which may, as I've discovered, can cause weight gain, dumb you down and make it harder to keep your emotions in check.
]Is your cell phone or TV ruining your sleep, making you fat & harming your health?[/shareable]Of course, we're not going to turn the clock back to the time of light-bulb-founder Thomas Edison, when sunlight was once our major source of blue spectrum light.
But you need to be aware of the research about blue light's dangers. It's both fascinating and frightening. Here are my shocking takeaways.
Don't worry, you don't have to toss your cell phone or turn off your TV to sleep better and improve your health.
Here are 8 Simple Ways to limit your blue-light exposure at night and enjoy better sleep: