Drum roll… I'm pleased to announce that my next book — the follow-up to Sugar Shock — has a new title. It's called http://2blades.org/ generic viagra without prescription Beyond Sugar Shock.
The subtitle is cheap generic viagra mail order pharmacy The 6-Week Plan to Break Free of Your Sugar Addiction & Get a Slimmer, Sexier, Sweeter Life click here .
The winner of the Name My Next Book Contest is Donna, the innovative, helpful Twitter user @RHfan58, who was sweet enough to tweet not one, but five suggestions, for the book title.
She suggested Beyond Sugar. She's the hands-down winner, because after looking at her suggestion, I simply added Shock to the title — it was so obvious. Donna, thank you for your fabulous idea! We love it! And please reply to my personal message on Twitter so I can give you your gifts. (See below for your gifts.)
Also, thanks to the many amazing people who helped give the follow-up to Sugar Shock a title. I'm so grateful to all of you for taking time out of your busy schedule to enter the Name My Next Book Contest and submit suggestions on this Sugar Shock Blog, the Facebook Smart Habits Fans page or via emails to me.
As I shared previously here and also here, my next book — now called Beyond Sugar Shock — will provide a six-week, step-by-step program to help you escape from sugar shock. This book is designed to help you if you're a sugar addict, overweight, obeseor plagued by headaches, headaches, depression, "brain fog, fatigue, low libido or severe PMS.
Beyond Sugar Shock is coming to you, thanks to my new publisher, Hay House, which is the international leader in self-help and transformational publishing.
Let's face it, kicking sugar can be tough to do even though you know that kicking it can help you to lose weight, get more energy, boost your libido, prevent or reverse diabetes and live longer.
Therefore, in Beyond Sugar Shock, you'll get valuable tools and tips that will make letting go of your sugar addiction simple – and even fun. In it:
You'll get a mind/body/spirit approach to breaking free.
You'll undertake simple, interactive adventurcises™ (my word for adventurous exercises), which will drive you to important self-discoveries..
You'll get several dozen ways to stomp out your sugar cravings.
You'll discover your sugar color code. (Yes, we're all different in our relationship with sweets, and this knowledge will empower you to make the right choices for you.)
You'll detox gradually so that your body, mind and even soul won't go into shock as you move beyond your sugar obsessions and towards a better life.
You'll get healthy meal plans and tasty recipes from a nutritionist and exercise physiologist.
You'll learn to Enjoy a Sweeter Life Without Refined Sweets™.
And much more.
In Beyond Sugar Shock, you'll get many tried-and-true tactics — ones I created, starting in 1998, when I kicked sugar on doctor's orders and ones recommended by dozens of other health experts. You'll also benefit from my 12 years of coaching or connecting with sugar addicts around the world.
click here Donna, the winner of the Name My Next Book Contest, please contact me so you can get:
Your one hour of private, strategy session coaching with me
Complimentary admission to my upcoming Break Free of Your Sugar Addiction in 6 Weeks program, which begins Sept. 7, includes access to a private website (http://www.BreakFreeWithConnie.com) and provides at least 42 audio messages. ($177 value but now priced at $97)
An advance copy of Beyond Sugar Shock (of course).
A special thank you post you on this Sugar Shock Blog
A mention on the Acknowledgments page of Beyond Sugar Shock
And my profound gratitude
https://sheisfiercehq.com/shop/ cheap viagra 100mg worldwide shipping drugstore Free Teleseminar on Tues., Aug. 31 at 8 pm Eastern to Everyone Who Submitted Ideas
As previously announced, everyone who submitted a title suggestion is now invited to a free, thank you teleseminar. It will be held Tuesday, Aug. 31 at 8 pm Eastern. During this call, you can get your questions answered, possibly get selected for laser coaching, get tips to break free and more.
Those who attend the call live also will have a chance to win:
A half-hour laser coaching, strategy session with me. (Two winners will be picked.)
Admission to the upcoming Break Free of Your Sugar Addiction in 6 Weeks program, which begins Sept. 7. (One winner will be selected.)
Now that I'm knee deep in working Beyond Sugar Shock, please tell me what would you like to see in my next book. What do you crave, need or desire?
Again, thank you so much to the many wonderful people, who partcipated in the Name My Next Book Contest.
Stay tuned for details about the free teleseminar for all of you on Tues., Aug. 31.
Please follow and like us: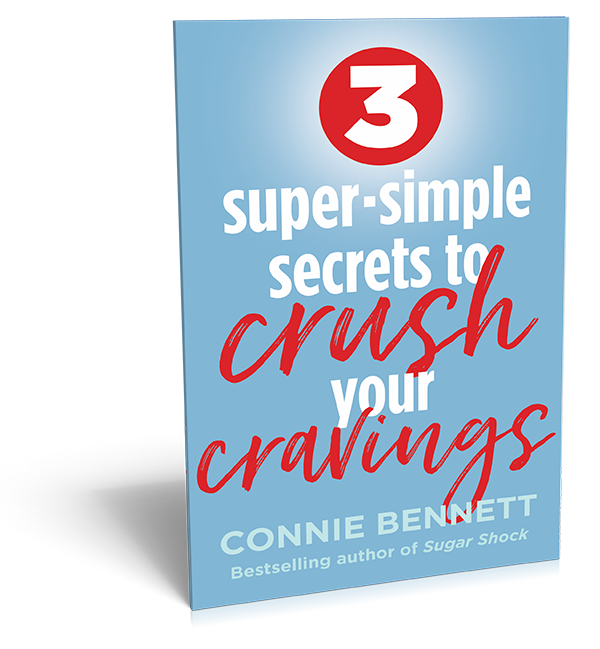 Get Your FREE Cravings-Crushing, Quick-Start Guide!
Do your cravings make you frustrated, frazzled and overweight?
Get Your FREE download now to Crush Your Cravings, starting today. 
This fun, fascinating, science-based, Cravings-Crushing, Quick-Start Guide will whisk you away from temptation for sugary, salty, fatty junk non-foods and and into the glorious, delicious, liberating world of self-control.
Welcome to the Cravings-Crushing Community. 
Please tell us here, on this blog, which of these tools you like best.