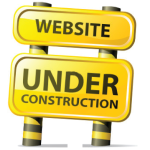 Please note that my new Website is under construction, and a number of changes are in the works:
For the first time in 10 years — since I started my Sugar Shock Blog elsewhere — my blog will be part of my main Website.
My new Website will be more user-friendly.
You'll find it easier to share posts, quotes, tantalizing tidbits, and fun graphics to your Facebook friends, Twitter followers, Pinterest buddies, etc.
Soon, you'll find my new logo and branding, too.
I'm eager to get your ideas and input so this site will be awesome! What changes do you recommend that will make this site more provocative, user-friendly, and inspiring?